MCI allows Telephonic, online consutlations, releases Telemedicine practice guidelines for doctors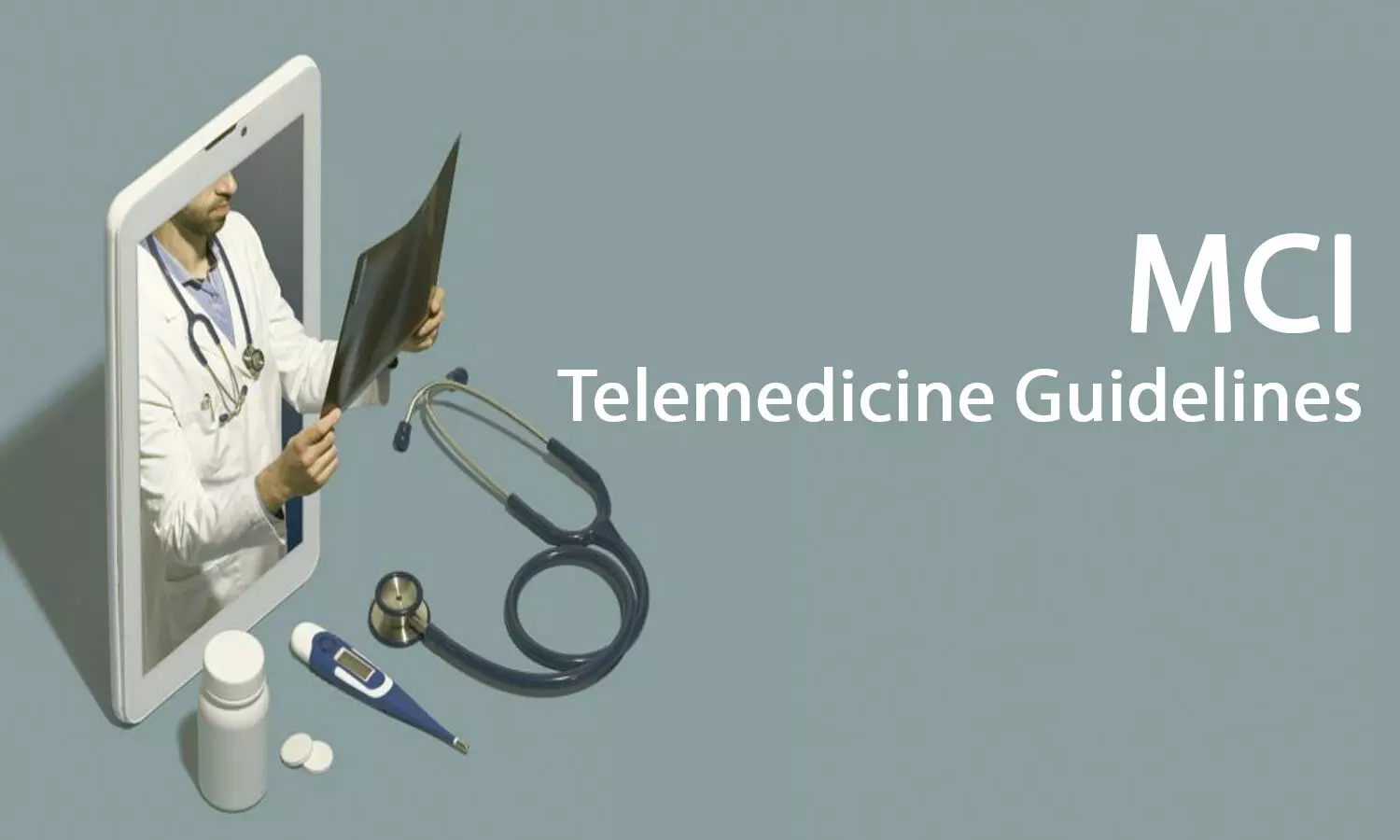 New Delhi: In a significant move that is going to bring a strong sense of relief to doctors and patients alike in the current scenario of coronavirus, the Medical Council of India Board of Governors ( MCI BOG) have permitted the practice through telemedicine by its registered doctors and released the Telemedicine practice guidelines for the same.
Telemedicine has been defined as 'The delivery of health care services, where distance is a critical factor, by all health care professionals using information and communication technologies for the exchange of valid information for diagnosis, treatment and prevention of disease and injuries, research and evaluation, and for the continuing education of health care providers, all in the interests of advancing the healthof individuals and their communities.'
The guidelines have now been made part of the MCI Code of Medical Ethics by being in included as an amendment to the Indian Medical Council (Professional Conduct, Etiquette and Ethics) Regulations, 2002, by adding Regulation 3.8 titled as "Consultation by Telemedicine" in the said Regulations. The said regulation now states
3.8 Consultation by Telemedicine
3.8.1 Consultation through Telemedicine by the Registered Medical Practitioner under the Indian Medical Council Act, 1956 shall be permissible in accordance with the Telemedicine Practice Guidelines contained in Appendix 5.
3.8.2 Telemedicine Practice Guidelines are designed to serve as an aid and tool to enable Registered Medical Practitioners to effectively leverage telemedicine to enhance health services and access to all in India.
3.8.3 Telemedicine Practice Guidelines are not applicable to the use of digital technology to conduct surgical or invasive procedure remotely.
3.8.4 Any of the drugs lists contained in Telemedicine Practice Guidelines can be modified by the Board of Governors in super-session of the Medical Council of India/Medical Council of India from time to time, as required.
3.8.5 The Board of Governors in super-session of the Medical Council of India may issue necessary directions or advisories or clarifications in regard to these Guidelines, as required.
3.8.6 The Telemedicine Practice Guidelines can be amended from time to time in larger public interest with the prior approval of Central Government [Ministry of Health and Family Welfare, Government of India].
Besides this "Telemedicine Practice Guidelines" have been included as "Appendix 5" to the Indian Medical Council (Professional Conduct, Etiquette and Ethics) Regulations, 2002, asthese Regulations has four Appendices already included.
As per the guidelines RMP may use any telemedicine tool suitable for carrying out technology-based patient consultation e.g. telephone, video, devices connected over LAN, WAN, Internet, mobile or landline phones, Chat Platforms like WhatsApp, Facebook Messenger etc., or Mobile App or internet based digital platforms for telemedicine or data transmission systems like Skype/ email/ fax etc.
The guidelines also note that Telemedicine applications can be classified into four basic types, according to the mode of communication, timing of the information transmitted, the purpose of the consultation and the interaction between the individuals involved—be it RMP-to-patient / caregiver, or RMP to RMP.
It then discusses in detail the strengths and limitations of each of the modality, highlighting what the doctor needs to take care while each of the modality. Seven Elements to be considered before any medicine consultation, namely
1 Context
2 Identification of RMP and Patient
3 Mode of Communication- Primarily there are 3 modes: Video, Audio or Text (chat, images, messaging, email, fax etc.) notes the guidelines. Their strengths, limitations and appropriateness need to be considered by the RMP, as per the guidelines
4 Consent- Patient consent is necessary for any telemedicine consultation, notes this section
5 Type of Consultation- First consultation/followup consultaiton
6 Patient Evaluation- The section deals with the information sharing noting that RMPs must make all efforts to gather sufficient medical information about the patient's condition before making any professional judgment.
7 Patient Management: Health Education, Counselling and Medication-The guidelines also specify which medicines can be prescribed by doctors using Telemedicine, including specifying the prohibited list
The guidelines further lays down the framework of Telemedicine for RMPs besides also specifying scenarios of telemedicine consultation between an RMP as well as another healthcare worker such as a nurse or an allied healthcare professional or another doctor or RMP.
It also specifies about telemedicine in emergency situation
To read the full guidelines, read below