No deficiency in Service: MCI exonerates psychiatrist given suspension by TS Medical council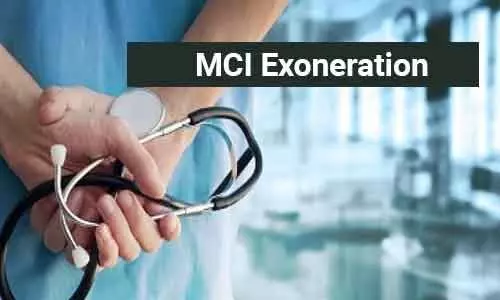 New Delhi: MCI BOG brought major relief to psychiatrist Dr Sona Kakar, who in 2018 was suspended by the Telangana State Medical Council when after going through her matter as well as taking expert opinion the apex medical regulator, MCI found no deficiency in service by her.
The matter goes back to 2018 when Telangana State Medical Council examined a complaint dated filed by one Smt. T. Haritha Reddy alleging professional misconduct on the part of Dr Sona Kakar due to misguidedness for marital counselling. Based on the complaint of the patient, the state medical council removed the name of the doctor from state Medical Register for a period of six (6) months under Regulation 8.2 of Indian Medical Council (Professional Conduct, Etiquette and Ethics) Regulations, 2002.
Read also: Improper Counselling: Psychiatrist Suspended for 6 months By TS Medical Council
Challenging her suspension by the state medical council Dr Sona Kakar filed an appeal with the Medical Council of india. The Ethics Committee further discussed the matter in detail and after detailed deliberation, the Committee decided to accept the said appeal.
Further, the Ethics Committee of the Council investigated the matter and recorded the statements of Dr Sona Kakar and expert opinion of Dr Smita Deshpandey, Prof. & Head, Deptt. of Psychiatry, Dr RML Hospital, New Delhi.
The MCI ethics committee further considered the matter thoroughly in various meeting and found no deficiency on part of the doctors. The decision of the council stated
"....the Committee also noted that Dr Smita vide e-mail dated 15.11.2018 provided her opinion in the matter. Further, Dr Sona Kakkar appeared before the Committee on 16.11.2018, the Committee heard her in detail and directed her to submit his statement, to which she complied. The original complainant, Smt. T. Haritha Reddy vide her e-mail dated 15.11.2018 informed that she would not be able to attend the meeting. The Committee deliberated upon the matter at length and noted the opinion of Dr Smita that there was no deficiency of service by Dr Sona Kakkar and that the cancellation of her registration should be revoked.
"In view of the aforesaid, the Ethics Committee decided to exonerate Dr Sona Kakkar from all the charges levelled against her and to set aside the order of the Telangana State Medical Council," the council
Relieved with the judgment exonerating her, Dr Sona Kakar informed Medical Dialogues team that through various RTI 's, she has obtained material relating to the functioning of the Telangana State Medical Council pertaining to her case and will be pursuing the matter further.