AHPI Global Conclave 2020 to re-imagine Healthcare for the next decade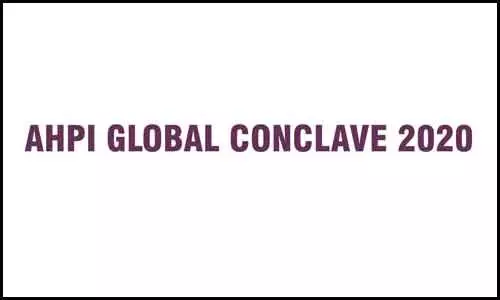 Bengaluru: To hold an intellectual discussion on present healthcare scenario in the country and deliberating emerging challenges and solutions, the Association of Healthcare Providers (AHPI India) is going to conduct a Global Conclave 2020. The event is going to be hosted by Ramaiah Group of Hospitals on 7th and 8th February at MS Ramaiah Medical College, Bengaluru.

The key sessions of the event will be stressed on current challenges and corporate governance in Healthcare industry including IT and innovations as well as sustainable healthcare practices.
The delegates there are going to focus on bridging the overall gaps concerning the availability of doctors and jobs for them. Moreover, clinical governance, patient-centric matters regarding safety management are going to be mulled upon.
This event is going to see the participation of various policymakers, government officials, CEOs and business heads from the healthcare industry, medical consultants, hospital administrators, managers in marketing, quality and nursing; various NGOs engaged in health sector and medicos.
There will be a growing emphasis on preventive care models. Hospitals will be expected to partner the government-led initiatives for clean drinking water, nutrition, clean environment and use of telehealth in screening for NCDs.
The key speakers on the occasion will be AHPI Director-General Dr Gyani, President Dr Alexander Thomas, Dr Devi Shetty, founder and chairman Narayana Health Patron AHPI, the organizing committee member of the event, Dr Shetty, Ramaiah Hospital President and several other authorities at prominent healthcare holdings.
According to the organizers, patient safety will emerge as the key driver from patients, payers and government regulators. Outcome-based healthcare models will soon be a reality, placing patients firmly in control of their own health. Technology will play a big role by way of connected devices like sensors, wearable, implantable that will enable patients and clinicians to proactively track and manage health any time and from anywhere. Bio-printing synthetic organs and clinicians decision support systems (CDSS) are some other developments which will drive healthcare in the coming decade
Given this, the theme of the healthcare conference would be
Speaking to Medical Dialogues about the conclave, Dr Thomas stated, "Past 5-years have been disruptive in healthcare on various accounts. It needs to quickly settle down. Next decade will be a defining moment, which will hopefully catapult healthcare services to new heights aimed at complete wellbeing of population at large."

"All in all, healthcare is going to be in new AVATAR in next decade. The AHPI conclave will capitulate all dimensions of this AVATAR and how it will impact all stakeholders including Patient, Provider, Payer, Pharmaceuticals, Medical Technology and Government/ Regulating Bodies etc," the AHPI president stated.
The conclave will also encompass the unique blend of 6th edition of 'AHPI AWARDS for Excellence in Healthcare' in defined categories and will be presented over Gala dinner on eve of 7th February 2020.
The AHPI has begun the registration for the event (both online and offline). Those who want to register, Click on the link of the official website mentioned below:
http://ahpi.in/ahpi_global_conclave/index.html
Association of Healthcare Providers (India) represents the majority of healthcare providers in India. It works as "not for profit" organization and advocates with the government, regulatory bodies and other stakeholders on issues, which have bearing on enabling its member organizations to deliver appropriate healthcare services to the community at large. The association functions through an empowered secretariat which facilitates the member organizations in improving their systems, processes and outcomes on a continuous basis, in line with the vision, mission and objectives of the association.
Source : Association of Healthcare Providers of India