Attention Candidates: NBE declares Round 1 DNB Counselling Results, details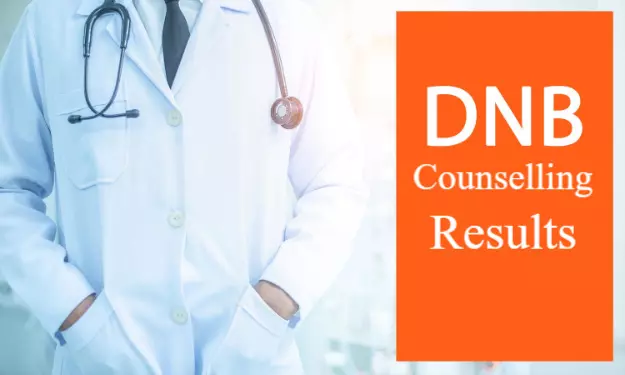 New Delhi: The National Board of Examination (NBE) has released the Round 1 allotment results for DNB counselling 2020 for admission to DNB Post Diploma and DNB Post MBBS courses this academic year.
All NEET PG 2020 Qualified Candidates who had appeared in Round 1 counselling for admission to DNB courses are requested to view the results attached below as uploaded by the NBE on its official website:

The Result of 1st Round of Counseling for DNB Courses (Post MBBS and Post Diploma) for 2020-21 admission session
Allotment Details of DNB Post MBBS Counseling(2020 Admission Session) (Round-1)

The revised scheduled for online Centralized Merit Based Counseling- DNB (Post MBBS) 2020 Admission Session is as follows:
S. No.

COUNSELLING PROCESS

PERIOD

FIRST ROUND

1.

The last date for Registration and filling Options/Choices of available seats.

22-05-2020

(Upto 05:00 PM)

2.

Processing of Allotment

23nd - 24th May 2020

3.

Result of First Round Allotment

By 25th May 2020

4.

Payment of First-Year Course Fee

25th – 31st May 2020
In an earlier notice, the NBE had issued the following instructions:
Candidates may note that the allotment of seat in the counselling is subject to the candidates being eligible in all respects and verification of their original documents at the time of joining the allotted institute.
Candidate allotted with a seat during the counselling process is required to deposit a One-year non-refundable Course Fee of Rs. 1,25,000/- (excluding payment gateway charges) to confirm and FREEZE the allotment of seat.
Candidates who have been allotted with a seat in the first round of counselling are eligible to change/modify the choice of seats in the second round of counselling. However, those candidates who have opted for freezing of the seat allotted to them in the first round of counselling will not be allowed to participate in any subsequent round of counselling.
Failure to make payment for the seat that the candidate has opted for freezing shall lead to the loss of the said seat and the said candidate shall stand exited from the process of counselling altogether. The said seat shall then be made available to other candidates in the subsequent rounds of counselling.
Candidates will be allowed to report to the allotted institute only after allotments pursuant to the Second Round of Counseling. The original documents are to be verified by the allotted institute.