DNB Post MBBS, Post Diploma Counselling: NBE releases Schedule of 2nd & 3rd Round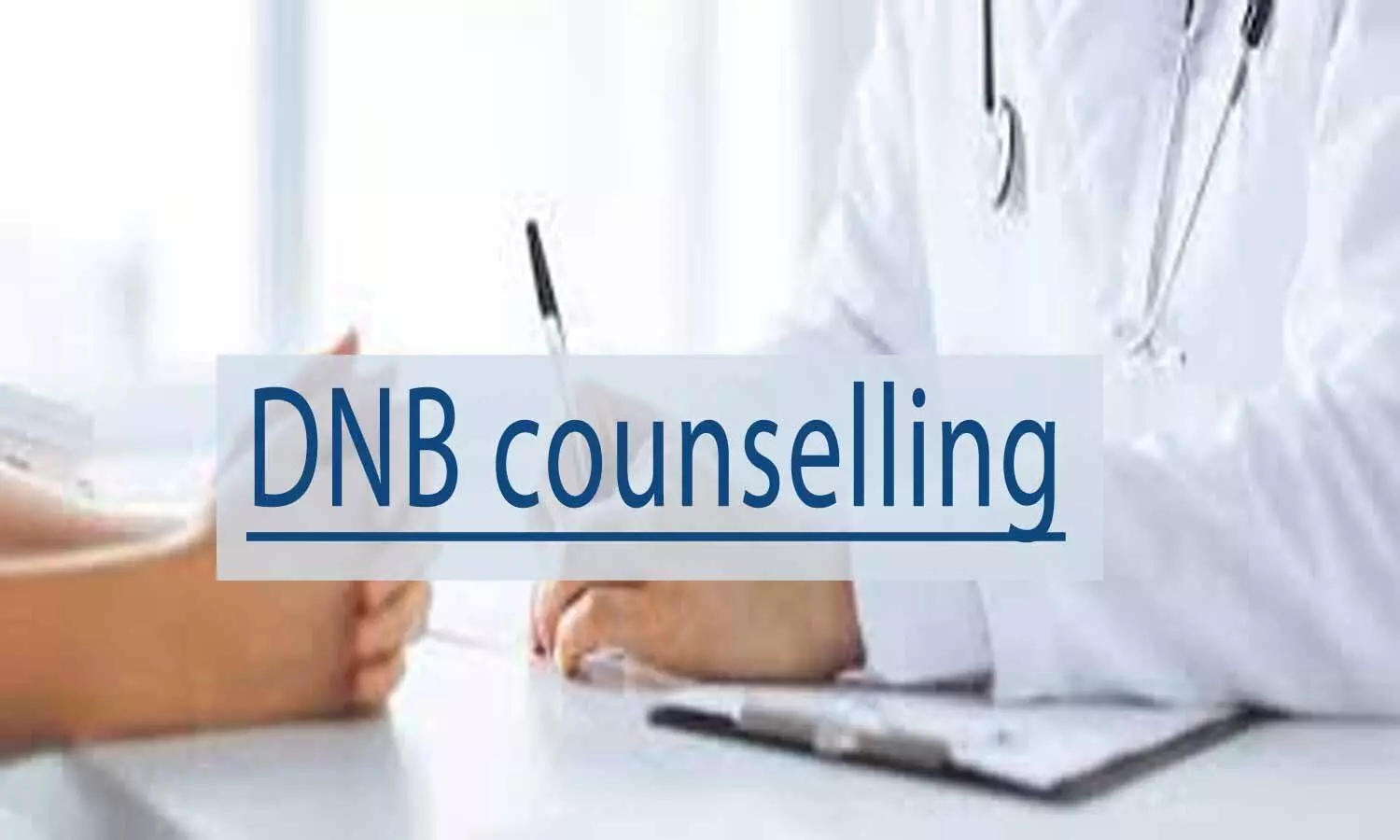 New Delhi: With the counselling and admission procedure of Round 1 DNB Counselling about to be over, the National Board of Examinations (NBE) has released the schedule for 2nd and 3rd round of counselling sessions for admission to DNB Post MBBS and Post Diploma courses this academic year.
All the concerned candidates who are set to appear for Round 2 and 3 of DNB counselling are requested to view the below-mentioned schedule, instructions and reporting format as uploaded by the NBE on its official website:
The 2nd & 3rd Round of the Centralized Online Merit Based counseling for admission to DNB (Post MBBS) and DNB (Post Diploma) courses for 2020 Admission Session shall be conducted by NBE as per the schedule given below:

S. No.

COUNSELING PROCESS

PERIOD

SECOND ROUND

1.

Adding/Editing/Reordering of filled Options/Choices for Second Round of counseling

15th – 19th June 2020 (Up to 05:00 PM)

2.

Processing of Second round Allotment

20th – 21st June 2020

3.

Result of Second Round Allotment

By 22nd June 2020

4.

Payment of First-Year Course Fee

22nd – 25th June 2020

5

E-joining joining

22nd – 28th June 2020

6

Physical joining at allotted Institute

22nd June – 3rd July

2020

THIRD ROUND

7.

Adding/Editing/Reordering of filled Options/Choices for Third Round of counseling

8th – 12th July 2020 (Upto 05:00 PM)

8.

Processing of Third round Allotment

13th – 14th July 2020

9.

Result of Third Round Allotment

By 15th July 2020

10.

Payment of First-Year Course fee

15th – 18th July 2020

11

E-joining joining

15th – 20th July 2020

12

Physical joining at Medical Institute

15th – 21st July 2020

Mop-up Round

13

Mop-up round counseling shall depend on the no. of the vacant seats after 3rd round of counseling. The decision to conduct Mop-up round is purely discretionary and the decision of the NBE in this regard shall be final and

binding.

27th – 29th July 2020

14

Physical joining at Medical Institute

27th – 31st July 2020
The Indicative seat matrix shall be uploaded on the website on commencement of the 2nd Round of online counseling.
Candidates may note that the allotment of seat in the counseling is subject to the candidates being eligible in all respects and verification of their original documents at the time of joining the allotted institute.
Candidate allotted with a seat during the counseling process is required to deposit a One-year non- refundable Course Fee of Rs. 1,25,000/- (excluding payment gateway charges) to confirm and FREEZE the allotment of seat.

Those candidates who have opted for freezing of the seat allotted to them in the Second/Third round of counseling will not be allowed to participate in any subsequent round of counseling.
If there is inaction i.e. the candidate neither chooses Yes for locking and Freezing of the seat leading to payment and exit from the counseling process nor chooses No which leads to release of the seat and opting for proceeding for the subsequent round of counseling, the System will read *Inaction as No with the release of the Allotted seat and the candidate will be moved by the System to the subsequent round of counseling.
The seats vacant after completion of the first and second round of counseling due to Nonjoining/resignation by the candidates shall be included in the third round of counseling.
Candidates who have registered for the counseling and have not been allotted any DNB seat also move automatically to the subsequent round of counseling.
Candidates are also advised to carefully go through the "Process of Online DNB (Post MBBS and Diploma) Counseling – 2020 Admission Session Flowchart" given separately on the website of NBE.
Format of E-joining and Physical Joining are attached herewith at Annexure- "A1" and "A2"
For any further clarification/assistance related to DNB (Post MBBS) and DNB(Post Diploma) Centralized Merit Based Counseling - 2020 admission session, kindly contact by phone at 011- 45593000 and by email at counseling@natboard.edu.in
The formats for E-Reporting and Physical reporting for the seat allotted in 2nd OR 3rd Round of DNB Counselling (Post MBBS/Post Diploma) 2020 Admission Session are attached below
https://medicaldialogues.in/pdf_upload/pdf_upload-129762.pdf