37 drug samples including Cipla Acivir-200DT fail to clear CDSCO test, 1 declared misbranded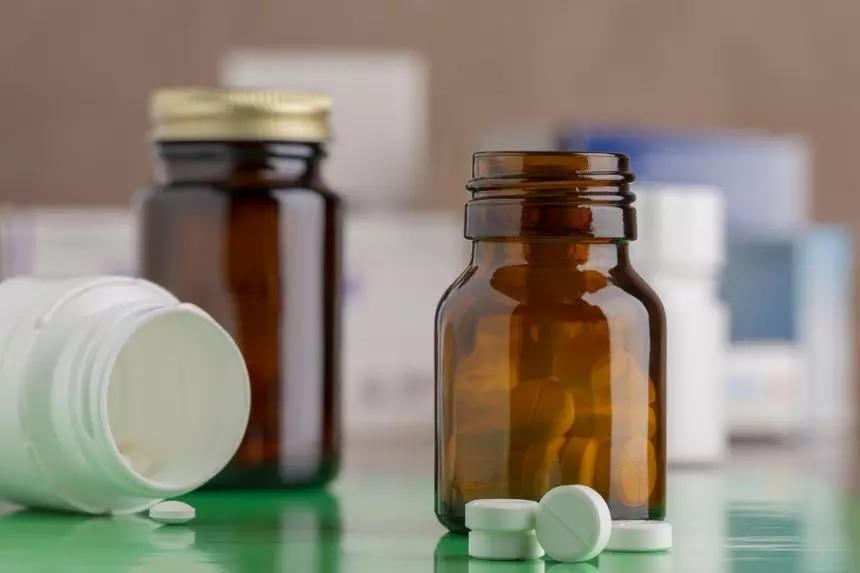 New Delhi: In its latest drug safety alert, the apex drug regulatory body, the Central Drugs Standard Control Organization (CDSCO), flagged 37 medicine batches for failing to qualify for a random drug sample test for the month of August, while 1 drug sample has been declared misbranded.
These drug samples which are declared as 'Not Of Standard Quality' include Cipla's antiviral drug Acivir-200DT (Aciclovir Dispersible Tablets I.P. 200 mg), Hetero Healthcare's antiviral medicine Fluvir (Oseltamivir Phosphate Oral Suspension I.P. 12mg/ ml), and Bharat Parenteral's anticonvulsant drug Phenytoin Sodium Injection 50mg / ml.
In addition to this, the list of Not of Standard Quality drug samples includes Dispersible Paracetamol Tablets manufactured by Micron Phamaceuticals, Dexamethasone Sodium Phosphate IP manufactured by Anuh Pharma, Paracetamol Tablets IP 500 mg (TEMPNIL-500) manufactured by Nuclotec Remedies, Ranitidine Tablet 150 mg (ACITEK-150) manufactured by Actinova Private Limited, Norfloxacin tablets IP 400 mg manufactured by Omega Pharma and others.
Furthermore, Atorvastatin Tablet I.P. 20 mg. manufactured by Unicure India and Galpha Laboratories is also on the list. Favipiravir Tablets 400 mg (Favimax-400), a popular COVID drug manufactured by Max Relief Health Care, has also been declared to be of substandard quality.
Apart from that, Life Plus Hand Sanitizer (Alcohol 70% v/v, Chlorhexidine Gluconate Soln 2.5 percent w/v) has been declared misbranded due to the absence of batch number and manufacturer name.
This came after analysis and tests conducted by the CDSCO Drugs Control Department on 1245 samples. Out of these, 1207 samples were found to be of standard quality while 37 of them were declared as Not of Standard Quality (NSQ) and 1 drug was declared misbranded.
A few of the reasons why the drug samples tested failed were the failure of the assay, failure of the dissolution test, failure of disintegration, failure of the Uniformity of Dispersion test, failure of Identification test & Assay etc.
The samples collected were tested in four laboratories, namely CDL Kolkata, CDTL Mumbai, RDTL Chandigarh and RDTL Guwahati.
| | |
| --- | --- |
| Total number of samples tested | 1245 |
| Total number of samples declared as of Standard Quality | 1207 |
| Total number of samples declared as Not of Standard Quality | 37 |
| Total number of samples declared as Spurious | 0 |
| Total number of samples declared as Misbranded | 01 |
S.No.

Name of Drugs/medical device/cosmetics

Batch No./Date of Manufacture/Date of Expiry/Manufactured

By

Reason for failure

Drawn By

From

1.

Acivir-200 DT (Aciclovir Dispersible Tablets I.P. 200 mg)

B. No.: SA91192

Mfg dt: 02.2019 Exp dt: 01/2022

Mfd by: M/s. Cipla Ltd., Kumrek, Rangpo, Sikkim 737132.

Uniformity of Dispersion

CDSCO

Hyderabad

CDL

Kolkata

2.

Phenytoin Sodium Injection 50mg / ml

B. No.: P0492

Mfg dt: 09/2020 Exp dt: 08/2022 Mfd by: M/s. Bharat Parenterals Ltd.,Vill. Haripura, Ta. Savli, Dist. Vadodara -391520 Gujarat.

pH & Volume

CDSCO

Hyderabad

CDL

Kolkata

3.

Folic Acid & Ferrous Sulphate Tablets I.P. (IFA Large)

B. No.: 086

Mfg dt: 02/2021 Exp dt: 01/2023 Mfd by: M/s. Deep Pharma, Khedut Sabha Building, Dholka – 382 225, Dist. Ahmedabad, Gujarat.

Description

CDSCO

Ahmedabad

CDL

Kolkata

4.

Folic Acid & Ferrous Sulphate Tablets I.P. (IFA Large)

B. No.: 017

Mfg dt: 01/2021 Exp dt: 12/2022 Mfd by: M/s. Deep Pharma, Khedut Sabha Building, Dholka – 382 225, Dist. Ahmedabad.

Description

CDSCO

Ahmedabad

CDL

Kolkata
5.

Folic Acid & Ferrous Sulphate Tablets I.P. (IFA Large)

B. No.: 085

Mfg dt: 02/2021 Exp dt: 01/2023 Mfd by: M/s. Deep Pharma, Khedut Sabha Building, Dholka – 382 225, Dist. Ahmedabad.

Description

CDSCO

Ahmedabad

CDL

Kolkata

6.

Folic Acid & Ferrous Sulphate Tablets I.P. (IFA Large)

B. No.: 154

Mfg dt: 02/2021 Exp dt: 01/2023 Mfd by: M/s. Deep Pharma, Khedut Sabha Building, Dholka – 382 225, Dist. Ahmedabad.

Description

CDSCO

Ahmedabad

CDL

Kolkata

7.

Folic Acid & Ferrous Sulphate Tablets I.P. (IFA Large)

B. No.: 150

Mfg dt: 02/2021 Exp dt: 01/2023 Mfd by: M/s. Deep Pharma, Khedut Sabha Building, Dholka – 382 225, Dist. Ahmedabad.

Description

CDSCO

Ahmedabad

CDL

Kolkata

8.

Dispersible Paracetamol Tablets

B.P. 125 mg

B. No.: T200558

Mfg dt: 05/2020 Exp dt: 04/2022 Mfd by: M/s. Micron Phamaceuticals, 2117, A-2, Phase III,G.I.D.C, Vapi- 396195 Gujarat.

Fineness of Dispersion

CDSCO

Ahmedabad

CDL

Kolkata

9.

Favimax - 400 (Favipiravir Tablets 400 mg)

B. No.: TP-0421907

Mfg dt: 04/2021 Exp dt: 03/2023

Mfd by: M/s. Max Relief Health Care, Vill. - Anji, Solan, Himachal Pradesh– 173 212.

Identification & Assay

Drug Control Department Odisha

CDL

Kolkata

10.

Favimax - 400 (Favipiravir Tablets 400 mg)

B. No.: TP-0421903

Mfg dt: 04/2021 Exp dt: 03/2023

Mfd by: M/s. Max Relief Health Care, Vill. - Anji, Solan, Himachal Pradesh– 173 212.

Identification & Assay

Drug Control Department Odisha

CDL

Kolkata
11.

Hydrocortisone Sodium Succinate Injection I.P.

B. No.: HDI121A Mfg dt: 01/2020 Exp dt: 12/2021

Mfd by: M/s. Himalaya Meditek Private Limited, Plot No. 35 & 36, Pharmacity, Selaqui Industrial Area, Dehradun, Uttarakhand - 248197.

Clarity of Solution, Particulate matter, Assay of

Hydrocortisone

Drug Control Department Odisha

CDL

Kolkata

12.

Cofset - AT Syrup, (Ambroxol Hydrochloride, Terbutaline Sulphate, Guaiphenesin & Menthol Syrup, 100 ml)

B. No.: DVLD950 Mfg dt: 11/2019 Exp dt: 10/2021 Mfd by: M/s. Digital Vision, 176, Mauza Ogli, Nahan Road, Kala-Amb, Distt. Sirmour, Himachal Pradesh – 173 030.

Assay of Terbutaline Sulphate

Drug Control Department Andhra Pradesh

CDL

Kolkata

13.

Absorbent Cotton Wool I.P.

B. No.: C150520

Mfg dt: 05/2020 Exp dt: 04/2023 Mfd by: M/s. Shanti Surgicals Pvt. Ltd., G-28, Panki Industrial Area, Site No. 1, Kanpur, Uttar Pradesh - 208 022.

Sulphated Ash

CDSCO

South Zone Chennai

CDL

Kolkata

14.

Fluvir (Oseltamivir Phosphate Oral Suspension I.P. 12mg/ ml)

B. No.: GD20430A Mfg dt: 04/2020 Exp dt: 03/2022

Mfd by: M/s. Hetero Healthcare Limited, AIIDC Industrial Growth Centre, Changsari, NIZ Sindurighopa (Village), Sila Sindurighopa (Mouza), Kamrup (Dist.) Assam –

781 101.

Related Substances

CDSCO

South Zone Chennai

CDL

Kolkata

15.

Dexamethasone Sodium Phosphate IP

B. No.: APL/02020/E-21

Mfg dt: 05/2021 Exp dt: 04/2024 Mfd by: M/s. Anuh Pharma Ltd., M/s. Great Pacific Exports Pvt. Ltd., Plot No. D-5/8 & 5/9, TTC, Industrial Area,

Related Substances

CDSCO West Zone Mumbai

CDTL

Mumbai
MIDC Turbhe, Navi

Mumbai – 400703.

16.

Atenolol Tablets I.P.

50 mg.

B. No.: ATTJ20002 Mfg dt: 04/2020

Exp dt: 03/2022

Disintegration

CDSCO Sub-

Zone Guwahati

RDTL

Guwahati

Mfd by: M/s. Vivek Pharmachem (India)

Ltd.EPIP, Bari Brahmana, Jammu-181133.

17.

Paracetamol Tablets IP 500 mg. (TEMPNIL-500)

B. No.: 20NT0404

Mfg dt: 04/2020 Exp dt: 03/2022

Dissolution

CDSCO Sub-

Zone Guwahati

RDTL

Guwahati

Mfd by: M/s. Nuclotec Remedies Pvt. Ltd. 14 Mile Stone, Rudrapur- Kashipur Road, Gadarpur, Dist. U.S. Nagar,

Uttarakhand - 263152.

18.

Ciprofloxacin Tablets IP 500 mg

B. No.: CPT20005

Mfg dt: 06/2020 Exp dt: 05/2022

Dissolution

Drug Control Department Guwahati

RDTL

Guwahati

Mfd by: M/s. Vivek Pharmachem (India) Ltd., NH-8, Chimanpura, Amer, Jaipur, Rajasthan - 303102.

19.

Paracetamol Tablets IP 500 mg. (TEMPNIL-500)

B. No.: 20NT0310

Mfg dt: 03/2020 Exp dt: 02/2022

Dissolution

Drug Control Department Assam

RDTL

Guwahati

Mfd by: M/s. Nuclotec Remedies Pvt. Ltd. 14 Mile Stone, Rudrapur- Kashipur Road, Gadarpur, Dist. U.S. Nagar, Uttarakhand - 263152.

20.

Ranitidine Tablet 150 mg (ACITEK-150)

B. No.: AT1A020 Mfg dt: 01/2021

Exp dt: 12/2022, Mfd by: M/s. Actinova Private Limited, At-147, Mauza Sansiwala, Post- Barottwala, Tehsil- Kasauli, Distt.-Solan, 173205, Himachal Pradesh.

Dissolution

Drug Control Department Jharkhand

RDTL

Guwahati



| | | | | | |
| --- | --- | --- | --- | --- | --- |
| 21 | Atorvastatin Tablets I.P. 20 mg. | B. No.: AVBT806 Mfg dt: 10/2020 Exp dt: 09/2022 Mfd by: M/s. Unicure India Ltd. C-21, 22 & 23, Sector-3, Noida-201301, Distt.- Gautam Budh Nagar, Uttar Pradesh. | Dissolution | CDSCO SubZone Guwahati | RDTL Guwahati |
| 22 | Atorvastatin Tablets I.P. 20 mg. | B. No.: AVAT21001 Mfg dt: 02/2021 Exp dt: 01/2023 Mfd by: M/s. Galpha Laboratories Ltd. Vill. Thana, Baddi, Himachal Pradesh - 173205 | Dissolution | Drug Control Department Assam | RDTL Guwahati |
| 23 | Pregabalin Capsules IP 75 mg | B. No.: T20056 Mfg dt: 05/2020 Exp dt: 04/2022 Mfd by: M/s. Trugen Pharmaceuticals Pvt. Ltd., Vill: Tejjupur, Near Chodiala Rly Station Roorkee, Dist. Haridwar, Uttarakhand | Dissolution | Drug Control Department Assam | RDTL Guwahati |
| 24 | Life Plus Hand Sanitizer (Alcohol 70% v/v, Chlorhexidine Gluconate Soln 2.5% w/v) | B. No.: Not mentioned Mfg dt: 03/2020 Exp dt: 03/2022 Mfd by: Not Printed, One Address mentioned: Life Plus Healthcare Private Limited, India, Head Office: 18 Ganesh Chandra Avenue, Kolkata-700013. | Misbranded | Drug Control Department Jharkhand | RDTL Guwahati |
| 25 | Doulcet-M Tablets, (Levocetrizine Dihydrochloride & Montelukast Sodium) | B. No.: UDT-20163C Mfg dt: 02/2020 Exp dt: 01/2022 Mfd by: M/S Ultra Drugs Pvt. Ltd. Manpura, Nalagarh, Disttt-Solan, Himachal Pradesh | Dissolution of Montelukast | Drug Control Department Bihar | RDTL Guwahati |
26.

BETAMETHASONE SODIUM PHOSPHATE TABLETS IP 0.5 mg (BETNECON)

B. No.: VNT-19L17 Mfg dt: 12/2019 Exp dt: 11/2021 Mfd by: M/s. Venus biosciences Pvt. Ltd. 116,

Export Promotion Industrial Park, Phase –I, Jharmajri, Baddi, Dist. Solan-173205, Himachal Pradesh.

Assay

Drug Control Department Jharkhand

RDTL

Guwahati

27.

Atenolol Tablets IP 50 mg

B. No.: ATTJ20002 Mfg dt: 04/2020 Exp dt: 03/2022 Mfd by: M/s. Vivek Pharmachem (India) Ltd., EPIP, Bari Brahmana, Jammu-181133.

Disintegration

Drug Control Department Assam

RDTL

Guwahati

28.

Oxytocin as per test for identification

Sample in plastic bottle does not bear label of the product.

The drug contained in plastic bottle in colorless liquid/solution. black particles are visible with

bare eyes

Drug Control Department Patna

RDTL

Guwahati

29.

AFFTITUDE HAND RUB

B. No.: HI-102 Mfg dt: 05/2021 Exp dt: 04/2023

Mfd by: M/s. HERBS INIDA J-2977, DSIIDC, Narela Indl.Area, New Delhi-110040.

Identification (Negative for Ethyl Alcohol)

Drug Control Department Delhi

RDTL

Chandigarh

30.

OXYTOCIN INJECTION I.P.

B. No.: OTC-232A Mfg dt: 02/2021 Exp dt: 07/2022

Mfd by: M/s. Pushkar Pharma Bhandariwala, Kheri, Kala-Amb-173030 Himachal Pradesh.

Assay of Oxytocin Activity

Drug Control Department Jammu

& Kashmir

RDTL

Chandigarh

31.

Bupropion Hydrochloride Extended Release Tablets USP 150 mg (BUPIDEP-150 ER TABLETS)

B. No.: CT-12330321

Mfg dt: 03/2021 Exp dt: 08/2022 Mfd by: M/s. Clevus Lifesciences, Near Apple Terminal Market, Sector6, Parwanoo-173220, Himachal Pradesh

Dissolution

Drug Control Department Himachal

Pradesh

RDTL

Chandigarh
| | | | | | |
| --- | --- | --- | --- | --- | --- |
| 32 | DEXTROMETHORPHAN HYDROBROMIDE SYRUP IP 30MG/5ML | B. No.: GL0015 Mfg dt: 04/2021 Exp dt: 03/2023 Mfd by: M/s. OMEGA PHARMA Khasra No.482, Village Saliyar Roorkee-247667, Distt.- Haridwar, Uttarakhand. | Assay | Drug Control Department Uttar Pradesh | RDTL Chandigarh |
| 33 | DEXTROMETHORP HAN HYDROBROMIDE SYRUP IP 30MG/5ML. | B. No.: GL0016 Mfg dt: 04/2021 Exp dt: 03/2023 Mfd by: M/s. OMEGA PHARMA Khasra No.482, Village Saliyar Roorkee-247667, Distt.- Haridwar, Uttarakhand. | Assay | Drug Control Department Uttar Pradesh | RDTL Chandigarh |
| 34 | Piroxicam Capsules IP 20 mg PIROCAM-20 CAPSULES | B. No.: PC0014 Mfg dt: 04/2021 Exp dt: 03/2023 Mfd by: M/s. OMEGA PHARMA Khasra No.482, Village-Saliyar, Roorkee-247667, Distt.Haridwar, Uttarakhand | Water | Drug Control Department Uttar Pradesh | RDTL Chandigarh |
| 35 | NORFLOXACIN TABLETS IP 400 MG | B. No.: GPT9412 Mfg dt: 12/2019 Exp dt: 11/2021 Mfd by: M/s. OMEGA PHARMA Khasra No.482, Village-Saliyar, Roorkee, Distt. Haridwar, Uttarakhand - 247667. | Dissolution | Drug Control Department Uttar Pradesh | RDTL Chandigarh |
| 36 | ACECLOFENAC IP | B. No.: MIACE085420 Mfg dt: 12/2020 Exp dt: 11/2025 Mfd by: M/s. Magma Industries Limited C-24 28, UPSIDC Industrial Area, Begrajpur, Muzaffarnagar, Uttar Pradesh - 251203. | Related Substances | Drug Control Department Himachal Pradesh | RDTL Chandigarh |
To view the official alert, click on the link below:
Also Read:44 drug samples including Cipla Remdesivir fail to qualify CDSCO test, 1 declared misbranded