CDSCO Declares 14 Drug Samples Including BP, dyslipidemia Drug As Not Of Standard Quality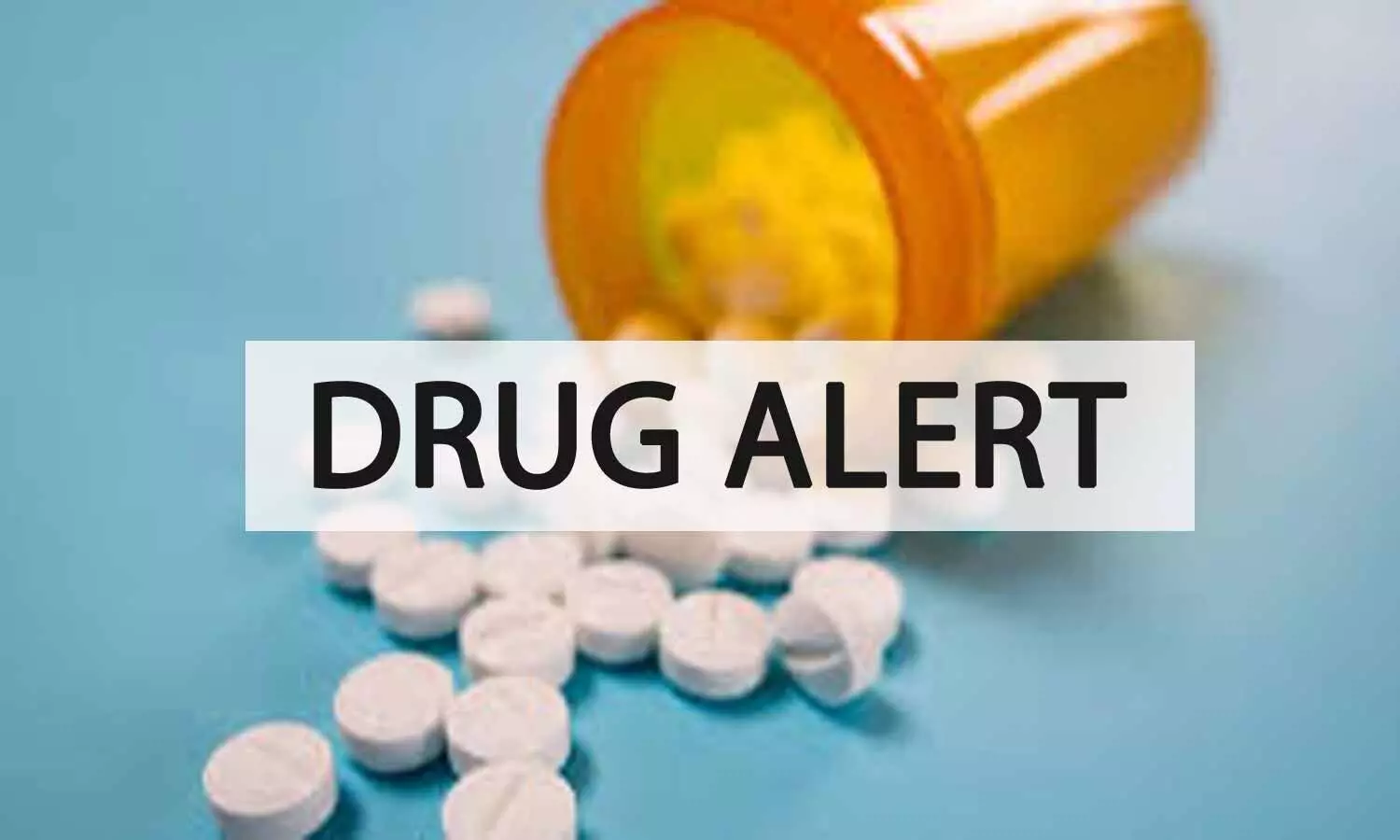 New Delhi: The apex drug regulatory body, Central Drugs Standard Organization (CDSCO) has flagged 14 drug samples as "Not of Standard Quality" after they failed to qualify a random drug sample test for the month of November.

These drug samples include popular formulations and brands like Paracetamol Paediatric oral Suspension IP (Parawin –DS Suspension), Paracetamol Tablets I.P. 500 mg, and others. The list also includes samples of Isopropyl Rubbing Alcohol IP Hand Sanitizer (Pure-hand Zenitizer) and Ranitidine Injection IP 25mg/ml (ACILOC Injection).
This came after the analysis and test conducted by the CDSCO on 746 drug samples. Out of this,731 samples were found of Standard quality while 14 of them were declared as Not of Standard Quality (NSQ).
Prominent drugmakers including Cadila Pharma, Synokem Pharma, Goa Antibiotics & Pharmaceuticals Ltd., Goa, (Subsidiary of HLL Lifecare Ltd. A Government of India Enterprise and others are involved in manufacturing the formulations collected by the authorities for random testing.
A few of the causes why the drug samples tested failed were due to Hydrolysis Products & Assay, Related Substances, Particulate Matter, Assay of Rosuvastatin, and others.
The samples collected were tested in three laboratories namely CDTL Mumbai, RDTL Chandigarh, CDL Kolkata.
List of Drugs, Medical Devices and Cosmetics declared as Not of Standard Quality/Spurious/Adulterated/Misbranded, for the Month of November-2020

| | |
| --- | --- |
| Total number of samples tested | 746 |
| Total number of samples declared as of Standard Quality | 731 |
| Total number of samples declared as Not of Standard Quality | 14 |
| Total number of samples declared as Spurious | 0 |
| Total number of samples declared as Misbranded | 0 |
S.No.

Name of Drugs/medical device/cosmetics

Batch No./Date of Manufacture/Date of

Expiry/Manufactured By

Reason for failure

Drawn By

From

1.

Pheniramine Maleate Tablets I.P.

B. No.: TPNM-003 Mfg dt: 12/2018 Exp dt: 11/2020

Mfd by: M/s. Medipol Pharmaceutical India Pvt. Ltd., 1199/3, Bhud, Baddi, Distt, Solan, Himachal Pradesh.

Description

CDSCO,

East Zone Kolkata

CDL,

Kolkata

2.

Folic Acid Tablets I.P.

B. No.: FA-1901

Mfg dt: 08/2019, Exp dt: 01/2021

Mfd by: M/s. HLL Lifecare limited, 11A-1 & 12/C-1, Sector-E, Industrial Area, Sanwer road, Indore- 452015.

Hydrolysis Products & Assay

CDSCO

East Zone Kolkata

CDL,

Kolkata

3.

Levocetrizine Tablets

I.P. 5mg

B. No.: 1911

Mfg dt: 10/2019 Exp dt: 09/2021 Mfd by: M/s. Deepin

Pharmaceuticals Pvt. Ltd.,

Village: Dharawara, Post: Kalaria-453001, Tehsil: Depalpur (Madhya.Pradesh).

Description

CDSCO

Zonal Office Hyderabad

CDL,

Kolkata

4.

Glimas-1,Glimepiride Tablets I.P. 5mg

B. No.: MT191240

Mfg dt: 08/2019 Exp dt: 07/2021

Mfd by: M/s. Mascot Health Series Pvt. Ltd. Plot no. 79, 80, Sec-6A, IIE, Sidcul, Haridwar- 249403, Uttarakhand.

Dissolution

CDSCO

Zonal Office Hyderabad

CDL,

Kolkata
5.

Erythromycin Stearate Tablets I.P. 250 mg

B. No.: ENT1911 Mfg dt: 12/2019 Exp dt: 11/2021

Mfd by: M/s. Modern Laboratories 45-47, Sector D- 2, Sanwer Road, Indore (MP) 452015.

Description & Dissolution

CDSCO

South Zone

CDL,

Kolkata

6.

Ethyl Alcohol, Isopropyl Alcohol (Xerorub Hand Santizer)

B. No.: S-34520

Mfg dt: 05/2020 Exp dt: 04/2022

Mfd by: M/s. Seamac Formulations Pvt. Ltd. Plot No. 35, Phase 3rd, Industrial Area, Sansarpur Terrace, Distt.

Kangra (Himachal Pradesh) – 176501.

Assay of Ethyl Alcohol, Isopropyl Alcohol

Drugs Control Department Himachal Pradesh

RDTL,

Chandigarh

7.

Telmisartan Tablets

I.P. (Telmimac 40 mg Tablets)

B. No.: TC4T-027 Mfg dt: 05/2020 Exp dt: 10/2022

Mfd by: M/s. IOSIS Remedies, Rajpura road, Village- Khera Nihla, Tehsil-Nalagarh, District- Solan Himachal Pradesh- 174101.

Dissolution

Drugs Control Department Himachal Pradesh

RDTL,

Chandigarh

8.

Isopropyl Rubbing Alcohol IP Hand Sanitizer (Pure-hand Zenitizer)

B. No.: SRI-331 Mfg dt: 03/2020 Exp dt: 02/2022

Mfd by: M/s. Shri Ramesth Industry Pvt. Ltd. Baddi Barotiwala Road Vill. Juddi Kalan, P.O. & teh Baddi, Distt. Solan 173205 (Himachal Pradesh).

Specific Gravity, Acidity, Limit of non Volatile residue and Assay of Isopropyl Alcohol

Drugs Control Department

Himachal Pradesh

RDTL,

Chandigarh

9.

Paracetamol Paediatric oral Suspension IP (Parawin –DS Suspension)

B. No.: PWS-1905 Mfg dt: 12/2019 Exp dt: 11/2021 Mfd by: M/s. Apple

Formulations Pvt. Ltd. plot No.

208, Kishanpur, Roorkee-

247667 (U.K.).

Related Substances

CDSCO

Sub-Zone Jammu

RDTL,

Chandigarh

10.

Ranitidine Injection IP 25mg/ml (ACILOC Injection)

B. No.: RP20139

Mfg dt: 06/2020 Exp dt: 05/2023 Mfd by: M/s. Cadila

Pharmaceuticals Ltd. 1389,

Particulate Matter

Office of the Dy. Controller Jammu

RDTL,

Chandigarh
Dholka-382225, Distt.: Ahmedabad.

11.

Pregabalin and Methylcobalamin Capsules I.P. (Mobil-P Capsules)

B. No.: C9090149C

Mfg dt: 09/2019 Exp dt: 02/2021

Mfd by: M/s. ION Healthcare Pvt. Ltd. Baddi-Barotiwala Road, Baddi, Distt. Solan (H.P.). 173205.

Description

Drugs Control Department Himachal

Pradesh

RDTL,

Chandigarh

12.

Hebose-50 (Acarbose Tablets IP 50 mg)

B. No.: MT190814

Mfg dt: 06/2019 Exp dt: 05/2021

Mfd by: M/s. Mascot health Series Pvt. LTD., Plot No. 79, 80, Sec-6A, IIE, Sidcul, Haridwar-249403 Uttarakhand.

Dissolution & Assay

CDSCO

West Zone Mumbai

CDTL,

Mumbai

13.

Paracetamol Tablets

I.P. 500 mg

B. No.: 251907

Mfg dt: 06/2019 Exp dt: 05/2022

Mfd by: M/s. Goa Antibiotics & Pharmaceuticals Ltd., Goa, (Subsidiary of HLL Lifecare Ltd. A Government of India Enterprise), Near Tuem Industrial Estate, Tuem, Pernem- Goa- 403512.

Dissolution

CDSCO

West Zone Mumbai

CDTL,

Mumbai

14.

Rosloy ASP 10/75 (Rosuvastatin & Aspirin Capsules)

B. No.: 19ISGC040 Mfg dt: 09/2019 Exp dt: 02/2021

Mfd by: M/s. Synokem Pharmaceuticals Ltd, Plot No. 56-57, Sector 6 A. I.I.E. (SIDCUL), Ranipur (BHEL),

Haridwar- 249403 Uttarakhand.

Assay of Rosuvastatin

CDSCO

West Zone Mumbai

CDTL,

Mumbai
To access the official document, click on the link below-