CDSCO declares 20 drug samples including Cough Syrup, Diabetes drugs as Not of Standard Quality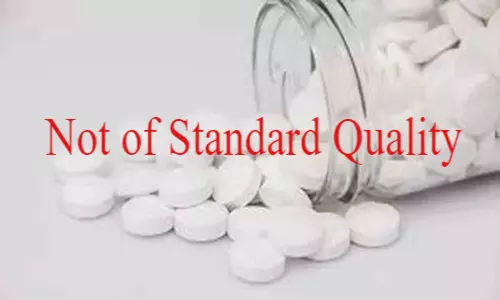 New Delhi: The apex drug regulatory body, Central Drugs Standard Control Organization (CDSCO) has flagged 20 drug samples as 'Not of Standard Quality' after they failed to qualify a random drug sample test for the month of June.

These drug samples including popular formulations and brands like Pioglitazone & Metformin Hydrochloride (Prolonged Release) Tablets; Heel-DX Syrup; Calcium And Vitamin D3 Tablets IP and others. The list also includes sample of
Cefotaxime Sodium Injection IP 250 mg
manufactured by
Hindustan Antibiotics.
This came after analysis and test conducted by the CDSCO, Drugs Control Departments, on 790 drug samples. Out of this, 770 samples were found of Standard quality while 20 of them were declared as Not of Standard Quality (NSQ).
A few of the causes why the drug samples tested failed were due to the Assay, Uniformity of Weight, Length, Acid value (Type 1 & Type 3), Dissolution, Description & Disintegration, Assay of Chloramphenicol, Dissolution of Metformin Hydrochloride, Assay of Folic Acid, Dissolution of Calcium Carbonate and others.
The samples collected were tested in four laboratories namely CDL Mumbai, CDL Kolkata, RDTL Chandigarh, RDTL Guwahati.
List of Drugs, Medical Devices and Cosmetics declared as Not of Standard Quality/Spurious/Adulterated/Misbranded, for the Month of June 2020
| | |
| --- | --- |
| Total number of samples tested | 790 |
| Total number of samples declared as of Standard Quality | 770 |
| Total number of samples declared as Not of Standard Quality | 20 |
| Total number of samples declared as Spurious | 0 |
| Total number of samples declared as Misbranded | 0 |
S.No.

Name of Drugs/medical device/cosmetics

Batch No./Date of Manufacture/Date of Expiry/Manufactured By

Reason for failure

Drawn By

From

1.

Mometran Cream (Mometasone Furoate Cream IP)

B. No.: 716,

Mfg dt: 06/2019,

Exp dt: 07/2021,

Mfd by: M/s. Mascot Health Series Pvt. Ltd., Plot No. 79, 80, Sector-6A, IIE Sidcul, Haridwar- 249403 (Uttarakhand).

Assay

CDSCO,

West Zone, Mumbai.

CDTL,

Mumbai

2.

Eudox-100 (Doxycycline Capsules I.P.)

B. No.: EDX-1006,

Mfg dt: 03/2019,

Exp dt: 02/2021,

Mfd by: M/s. Ultra-Chiron Pharmaceuticals Pvt. Ltd., 575, Phase-IX, Industrial Area, Mohali-160062 Punjab.

Uniformity of Weight

CDSCO,

West Zone, Mumbai.

CDTL,

Mumbai

3.

Absorbent Guaze

B. No.: 304,

Mfg dt: 01/2019,

Exp dt: 12/2021,

Mfd by: M/s. Balu Surgicals, 1/243, Labhvinayagar Kovil Street, Samusigapuram- 626102 Tamil Nadu.

Length

Drugs Control Department, Kerala.

RDTL,

Guwahati

4.

Doxyrap-100 (Doxycycline & Lactic Acid Bacillus Tablets)

B. No.: DET-02830,

Mfg dt: 01/2019,

Exp dt: 12/2020,

Mfd by: M/s. Dr. Edwin Lab Plot No. 517, Indl. Area, Phase IX, Sas Nagar- 160059 (PB).

Uniformity of weight, Assay

Drugs Control Department, Mizoram.

RDTL,

Guwahati
5.

Bhringraj Hair oil 200 ml. (Liquid

Parafin 55% vegetable oil including seasame oil, Eclipta Alba)

B. No.: A0014,

Mfg dt: 05/2019,

Exp dt: 04/2022,

Mfd by: M/s. Ananya Herbal Pvt. Ltd., Khasra no. 6/67/8/2 min 10- village, Safiabad Dist. Sonepat Haryana-131209.

Acid value (Type 1 & Type 3)

Drugs Control Department, Bihar.

RDTL,

Guwahati

6.

Nitrobact-100 (Nitrofurantoin Capsules U.S.P.)

B. No.: A6JQS030,

Mfg dt: 09/2019,

Exp dt: 08/2021,

Mfd by: M/s. Swiss Garnier Biotech Pvt. Ltd. 21, Ind. Area, Mehatpur, Dist. Una, Himachal Pradesh-74315.

Dissolution

CDSCO,

East Zone, Kolkata.

CDL,

Kolkata

7.

Cefotaxime Sodium Injection IP 250 mg

B. No.: 0322,

Mfg dt: 07/2019,

Exp dt: 06/2021,

Mfd by: M/s. Hindustan Antibiotics Ltd., Pimpri, Pune -411018.

Water

CDSCO,

East Zone, Kolkata

CDL,

Kolkata

8.

Glicot -60 (Gliclazide Extended release Tablets 60 mg)

B. No.: MT190903,

Mfg dt: 07/2019,

Exp dt: 06/2021,

Mfd by: M/s. Mascot Health Series Pvt. Ltd., Plot No. 79, 80, Sector 6A, IIE, SIDCUL, Haridwar -249403, India. (Uttarakhand).

Dissolution

CDSCO,

East Zone, Kolkata

CDL,

Kolkata

9.

Fexcor-120 (Fexofenadine Hydrochloride Tablets I.P. 120 mg)

B. No.: OBRP01,

Mfg dt: 08/2019,

Exp dt: 07/2021,

Mfd by: M/s. Akums Drugs & Pharmaceuticals Ltd., 19, 20, 21 Sector -6A, I.I.E, SIDCUL, Ranipur, Haridwar- 249403, India

Description

CDSCO,

East Zone, Kolkata

CDL,

Kolkata

10.

Auditon-MD 8 Tablets (Ondansetron Orally Disintegrating Tablets IP 8 mg)

B. No.: RT181032,

Mfg dt: 10/2018,

Exp dt: 09/2020,

Mfd by: M/s. Rachil Pharma, 18-19, Phase – I, Ind. Area, Sansarpur Terrace, Distt.

Kangra (H.P.) – 176501.

Description & Disintegration

CDSCO,

North Zone, Ghaziabad

CDL,

Kolkata
11.

Telmisartan Tablets I.P. 20 mg

B. No.: TLMT703,

Mfg dt: 07/2019,

Exp dt: 06/2021,

Mfd by: M/s. Unicure India Ltd., C-21, 22 & 23 Sector - 3, Noida-201301, Distt. Gautam Budh Nagar (U.P.).

Dissolution

CDSCO,

North Zone, Ghaziabad

CDL,

Kolkata

12.

Setnorm – 4 (Ondansetron Tablets IP 4 mg)

B. No.: SMT610Z,

Mfg dt: 02/2019,

Exp dt: 01/2021,

Mfd by: M/s. Unicure India Ltd., C-21, 22 & 23 Sector - 3, Noida-201301, Distt. Gautam Budh Nagar (U.P.).

Description

CDSCO,

Goa

CDL,

Kolkata

13.

Ocupol Dx. (Polymyxin B Sulphate, Chloramphenicol & Dexamethasone Eye/Ear Drops)

B. No.: CB013,

Mfg dt: 07/2019,

Exp dt: 12/2020,

Mfd by: M/s. Centaur Pharmaceuticals Pvt. Ltd., At. Vidhyanagar, Margao, Goa-403601.

Assay of Chloramphenicol

CDSCO,

Hyderabad

CDL,

Kolkata

14.

Pioglitazone & Metformin Hydrochloride (Prolonged Release) Tablets

B. No.: CT9620,

Mfg dt: 08/2019

Exp dt: 01/2022,

Mfd by: M/s. Cian Healthcare Ltd., Kh. No. 248, Village Sisona, Bhagwanpur, Roorkee, Haridwar, Uttarakhand, India.

Dissolution of Metformin Hydrochloride

CDSCO,

Ahmedabad

CDL,

Kolkata

15.

Dextromethorphan hydrobromide and Chlorpheniramine Maleate Syrup (Heel-DX Syrup)

B. No.: YHL-39,

Mfg dt: 08/2019,

Exp dt: 07/2021,

Mfd by: M/s. Yashwin Healthcare, Village Shahpur Taga, Ganaur, Sonipat- 131001 (HR.).

Assay of Dextromethorphan Hydrobromide and Chlorpheniramine Maleate

Drug Control, Haryana

RDTL,

Chandigarh

16.

Thyroxine Sodium Tablets IP 50 mcg (Thyroute 50 Tablets)

B. No.: LTA-4081,

Mfg dt: 11/2019,

Exp dt: 10/2021,

Mfd by: M/s. Life Vision Healthcare, Plot No.140- 141, E.P.I.P., Phase-I, Jharmajri, Baddi, Distt.Solan (H.P.)-174103.

Uniformity of content

CDSCO

Sub Zone, Badd, Himachal Pradesh

RDTL,

Chandigarh









17.

Sustained Release Capsules of Ferrous Sulphate with Folic Acid (Folron Capsules)

B. No.: F921K901,

Mfg dt: 10/2019,

Exp dt: 09/2021,

Mfd by: M/s. ZIM LABORATORIES LTD., B- 21/22, MIDC, Area, Kalmeshwar-441501, Dist.Nagpur, Maharashtra.

Assay of Folic Acid

CDSCO

Sub-Zone, Baddi, Himachal Pradesh

RDTL,

Chandigarh

18.

Amoxycillin and Potassium Clavulanate Tablets IP

B. No.: 18A310,

Mfg dt: 09/2018,

Exp dt: 08/2020,

Mfd by: M/s. Astam Healthcare Pvt. Ltd., Vill.

Theda, Teh. Nalagarh, Distt. Solan-174101 (H.P.).

Identification of Potassium Clavulanate and Assay of Amoxycillin Trihydrate and Potassium Clavulanate

Drug Control, Himachal Pradesh

RDTL,

Chandigarh

19.

Calcium And Vitamin D3 Tablets IP

B. No.: CVDT-1384,

Mfg dt: 04/2019,

Exp dt: 03/2021,

Mfd by: M/s. Wings Biotech 43 & 44 HPSIDC, Industrial Area, Baddi-173205 (H.P.).

Dissolution of Calcium Carbonate

CDSCO

Sub-Zone, Baddi, Himachal Pradesh

RDTL,

Chandigarh

20.

Calcium And Vitamin D3 Tablets IP

B. No.: CVDT-1653,

Mfg dt: 07/2019,

Exp dt: 06/2021,

Mfd by: M/s. Wings Biotech 43 & 44 HPSIDC Industrial Area, Baddi-173205 (H.P.).

Dissolution of Calcium Carbonate

CDSCO

(North- Zone), Ghaziabad

RDTL,

Chandigarh






For more details click on the link below-