CDSCO flags 22 drugs as not of standard quality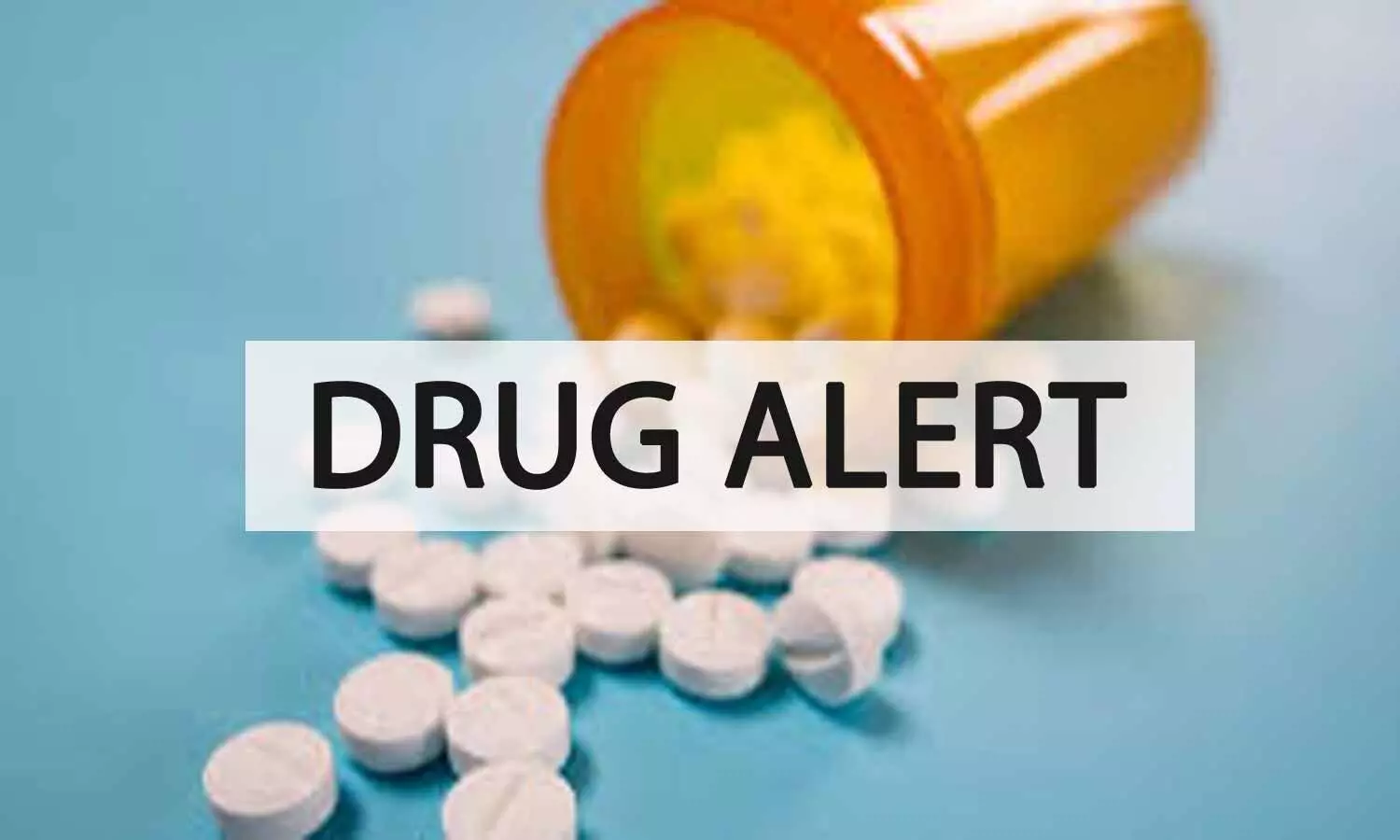 New Delhi: In its latest drug safety alert, the apex drug regulatory body, Central Drugs Standard Control Organization (CDSCO) has flagged 22 samples including drugs and a medical device as Not of Standard Quality for failing to qualify for a random sample test for the month of April-2021.
These drugs samples which are declared Not of Standard Quality include Aksum's PANTOWEL-40, Synokem's L-CETAM 500, Unimark Healthcare's MISOPROSTOL Tablets I.P. 200 mcg, Bharat Parenteral's OLANZAPINE Tablets I.P. 5 mg.
In addition, other popular drug samples that are declared Not of Standard Quality include Paracetamol Tablets IP 650 manufactured by Sotac Pharmaceuticals, GLUCORID (Metformin Hydrochloride Sustained-Release Tablets I.P. 500 mg) manufactured by Ridley Life Science, ZINC SULPHATE DISPERSIBLE TABLETS IP 20 mg manufactured by Hindustan Laboratories and others.
Apart from drugs, a medical device manufactured by Ramaraju Surgical Cotton Mills, an instant sterile mopping pad (Absorbent Gauze-BP Type 13 with X-Ray Detectable Thread) has been declared non-standard quality.
This came after analysis and tests were conducted by the CDSCO, Drugs Control Departments on 931 samples. Out of this, 908 samples were found of standard quality while 22 (legal) +1 (survey) of them were declared as Not of Standard Quality (NSQ).

A few of the reasons why the drug samples tested failed were the failure of the assay, failure of the dissolution test, failure of the Vitamin D3 assay, failure of Serratiopeptidase assay.
The samples collected were tested in four laboratories, namely CDL Kolkata, CDTL Mumbai, RDTL Chandigarh and RDTL Guwahati.
List of Drugs, Medical Devices and Cosmetics declared as Not of Standard Quality/Spurious/Adulterated/Misbranded, for the Month of April -2021
| | |
| --- | --- |
| Total number of samples tested | 931 |
| Total number of samples declared as of Standard Quality | 908 |
| Total number of samples declared as Not of Standard Quality | 22(Legal)+01(Survey) |
| Total number of samples declared as Spurious | 0 |
| Total number of samples declared as Misbranded | 0 |
S.No.

Name of Drugs/medical device/cosmetic

s

Batch No./Date of Manufacture/Date of Expiry/Manufactured By

Reason for failure

Drawn By

From

1.

INSTANT STERILE MOPPING PAD

(Absorbent Gauze- BP Type 13 with X-Ray Detectable

Thread)

B. No.:1017/20

Mfg dt: 03/2020 Exp dt: 02/2023

Mfd by: M/s.The Ramaraju Surgical Cotton Mills Ltd., 2/318 - 2/321,

Sankarankovil Road, Perumalpatti - 627 753 Tamil Nadu.

Threads per stated length

CDSCO,

South Zone, Chennai

CDL,

Kolkata

2.

RUTIN

(RutosideTrihydra te 95%) (as per F.M)

B. No.:20181126

(as per F.M) Mfg dt: 11/2018 (as per F.M) Exp dt: 11/2021 (as per F.M)

Mfd by: M/s.Ningbo Hi- Tech Biochemicals Co., Ltd, China (as per F.M).

Water, Related Substances and Assay

CDSCO,

Sub Zone Baddi

CDL,

Kolkata

3.

REALHIM-10

(Tadalafil Tablets

I.P. 10 mg)

B. No.:LC9L225 Mfg dt: 12/2019 Exp dt: 11/2021

Mfd by: M/s.LifecareNeuro Products Limited, 70/1, Dharampur, Nr. EPIP Phase-II, Baddi-173 205,

Himachal Pradesh.

Dissolution

CDSCO,

East Zone, Kolkata

CDL,

Kolkata

4.

SPINOBAK-10

(Baclofen Tablets

I.P. 10 mg)

B. No.:K3ALT001 Mfg dt: 06/2020 Exp dt: 05/2022

Mfd by: M/s. Sirmour Remedies (P) Ltd., Village

- Layarda, P.O.

Assay

CDSCO,

East Zone, Kolkata

CDL,

Kolkata
Missarwala, Paonta Sahib, Distt . Sirmour (HP) -173 205.

5.

PANTOWEL - 40

(Pantoprazole Sodium Tablets

B. No.:OBYA01 Mfg dt: 02/2020 Exp dt: 07/2022

Mfd by: M/s. Akums Drugs & Pharmaceuticals Ltd., 19, 20, 21 Sector-6A, I.I.E,

SIDCUL, Ranipur, Haridwar-249403 Uttarakhand.

Dissolution

CDSCO

East Zone Kolkata

CDL,

Kolkata

I.P. 40 mg)

6.

L-CETAM 500

(Levetiracetam Tablets I.P. 500 mg)

B. No.:20S1GTA508 Mfg dt: 11/2020

Exp dt: 10/2022

Mfd by: M/s.Synokem Pharmaceuticals Ltd., Plot No: 35-36, Sector-6A, I.I.E.

(SIDCUL). Ranipur (BHEL), Haridwar -249403 Uttarakhand.

Dissolution

CDSCO

East Zone Kolkata

CDL,

Kolkata

7.

MISOPROSTOL

Tablets I.P. 200 mcg

B. No.:UHT20096 Mfg dt: 07/2020 Exp dt: 06/2022

Mfd by: M/s.Unimark Healthcare Ltd., Plot No. 24, 25 & 37 Sector 6A,

SIDCUL, Haridwar 249

403 Uttarakhand.

Assay

CDSCO

Hyderabad Zone

CDL,

Kolkata

8.

GLUCORID

(Metformin

B. No.:GLU-2009 Mfg dt: 08/2020 Exp dt: 07/2022 Mfd by: M/s.

Ridley Life Science Pvt. Ltd., D-1651, DSIDC Indl.

Complex, Narela, New Delhi-110 040.

Dissolution

CDSCO

Hyderabad

CDL,

Kolkata

Hydrochloride

Sustained

Release Tablets

I.P. 500 mg)

9.

TLM-80

(Telmisartan Tablets I.P. 80 mg)

B. No.:31T20T02

Mfg dt: 08/2020 Exp dt: 07/2022 Mfd by: M/s.

Shine Pharmaceuticals Ltd., Plot No. 132, Karjan- Vemardi Road, JuniJitherdi, Ta. Karjan – 391 240, Dist.: Vadodara (Gujarat).

Dissolution

CDSCO

Hyderabad

CDL,

Kolkata
10.

OLANZAPINE

Tablets I.P. 5 mg

B. No.:T0434

Mfg dt: 08/2020 Exp dt: 07/2023 Mfd by: M/s.

Bharat Parenterals Ltd., Vill. Haripura Ltd, Ta.

Savli, Dist. Vadodara - 391520, Gujrat.

Dissolution

CDSCO

Hyderabad

CDL,

Kolkata

11.

ULTRAFLOX-500

(Ciprofloxacin Tablets I.P.)

B. No.:190112A

Mfg dt: 01/2019 Exp dt: 12/2021

Mfd by: M/s. Bal Pharma Limited, Plot No. 1, 2, 3 & 69, Sector-4, IIE, SIDCUL,

Pantnagar, Rudrapur,

Distt.-Udham Singh Nagar, Uttarakhand.

Dissolution

CDSCO

Hyderabad

CDL,

Kolkata

12.

ORVASTIN-20

(Atorvastatin Tablets IP 20 mg)

B. No.: P-0H0440

Mfg dt: 08/2020 Exp dt: 01/2023

Mfd by: M/s.Morepen Laboratories Ltd., Plot No.12-B, Sector-2, Parwanoo, Dist. Solan, Himachal Pradesh - 173220.

Dissolution

CDSCO,

West Zone, Mumbai

CDTL,

Mumbai

13.

REVOL-CC

(Calcium Carbonate, Magnesium Oxide, Manganese Sulphate, Zinc & Vitamin D3

Tablets)

B. No.:MT191326

Mfg dt: 08/2019 Exp dt: 07/2021

Mfd by: M/s.Mascot Health Series Pvt Ltd., Plot No.

79, 80, Sector 6A, IIE,

Sidcul, Haridwar 249 403, Uttarakhand.

Assay of Vitamin D3

CDSCO,

West Zone, Mumbai

CDTL,

Mumbai

14.

Aceclofenac, Paracetamol and Serratiopeptidase Tablets (ACEPRO-SP TABLETS)

B. No.:SST-0657 Mfg dt: 01/2021 Exp dt: 12/2022

Mfd by: M/s. SHRI SAI BALAJI PHARMATECH PVT. LTD. Plot No.20,

Ext. HPSIDC Industrial Area, Baddi, Distt. Solan Himachal Pradesh 173205.

Assay of Serratiopeptidase

CDSCO,

Sub Zone, Baddi

RDTL,

Chandigarh
15.

Paracetamol Tablets IP 650 mg (MECIPAR 650 TABLETS)

B. No.:SP20641

Mfg dt: 07/2020 Exp dt: 06/2022 Mfd by: M/s. Sotac

Pharmaceuticals Pvt. Ltd. Plot No. PF/21 Nr. Acme Pharma Opp. Teva Pharma, GIDC-II, Sanad, Ahmedabad, Gujarat.

Dissolution

CDSCO,

Sub-Zone, Jammu

RDTL,

Chandigarh

16.

TELMISARTAN TABLETS IP 40 MG

B. No.:CLT-14747

Mfg dt: 03/2020 Exp dt: 02/2022

Mfd by: M/s. CAREMAX FORMULATIONS Plot

No.56 & 61, Industrial Area, Phase-III, Sansarpur Terrace, Distt. Kangra

Himachal Pradesh - 176501.

Uniformity of weight & Dissolution

CDSCO

NorthZone

RDTL,

Chandigarh

17.

Chlorhexidine Gluconate and Ethyl Alcohol Antiseptic Solution (CORUB)

B. No.:G-215

Mfg dt: 03/2020 Exp dt: 02/2022 Mfd by: M/s. Gag

Pharmaceuticals V.P.O. Mubarkpur-Shaikhan- 144025 Punjab.

Identification

Drug Control Department Himachal Pradesh

RDTL,

Chandigarh

18.

TRANEXAMIC ACID TABLETS IP

B. No.:T2002047

Mfg dt: 02/2020 Exp dt: 01/2022

Mfd by: M/s.Rhydburg Pharmaceuticals Ltd., C-2 & 3, S.I.E.L, Selaqui, Dehradun, Uttarakhand.

Related Substances

CDSCO

North Zone

RDTL,

Chandigarh

19.

Progesterone Sustained- Release Tablets (FULGEST SR 200 TABLETS)

B. No.:GFSM008 Mfg dt: 06/2019 Exp dt: 05/2021

Mfd by: M/s. Synokem Pharmaceuticals LTD. Plot No. 56-57, Sector-6A, IIE, (SIDCUL), Ranipur (BHEL), Haridwar-249403,

Uttarakhand.

Dissolution

CDSCO,

Sub-Zone, Baddi

RDTL,

Chandigarh
20.

Tranexamic Acid Tablets IP 250 mg

(TYRODIN TABLETS )

B. No.:T0164

Mfg dt: 12/2020 Exp dt: 11/2022

Mfd by: M/s.Canixa Life Sciences Pvt. Ltd.

K.No.313, Raipur Industrial Area, Bhagwanpur, Roorkee, Dist. Haridwar, Uttarakhand-247667.

Related Susbtances

CDSCO,

North Zone

RDTL,

Chandigarh

21.

70% Isopropyl Alcohol Hand Rub (ICANDY)

B. No.: I010520

Mfg dt: 05/2020 Exp dt: 04/2022 Mfd by:*RGG

COSMETICS PVT. LTD.

(Complete address of the

manufacturer not mentioned on the label).

Identification

Drug Control Department Himachal Pradesh

RDTL,

Chandigarh

22.

ZINC SULPHATE DISPERSIBLE TABLETS IP 20

mg

B. No.: TAC0006AL Mfg dt: 06/2020 Exp dt: 05/2022

Mfd by: M/s. Hindustan Laboratories, Plot No.5-9, Survey No. 38/2, Aliyali, Palghar-(W), Dist-Palghar- 401404 Maharashtra.

Disintegration Test

CDSCO Sub-

Zone, Guwahati

RDTL,

Guwahati
Also Read:AstraZeneca gets CDSCO nod for Dapagliflozin in CKD