Drug Alert: CDSCO Flags 19 formulations As Not Of Standard Quality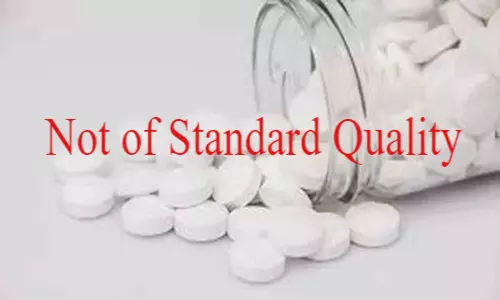 New Delhi: In its latest drug safety alert, the apex drug regulatory body, Central Drugs Standard Control Organization (CDSCO) flagged 19 medicine batches for failing to qualify for a random drug sample test for the month of March.

These drug samples including Paracetamol Tablets IP 650 mg (Febrex -650), Ondansetron Tablets IP 4 mg, MOXEL-250 (Amoxycillin Capsules IP 250 mg), HAVLOC INSTANT HAND SANITIZER GEL, I Clean Hand Sanitizer (Isopropyl Alcohol), and others are declared as 'Not of Standard Quality'.
Apart from drugs, a few medical devices that are declared not of standard quality are Operation Theatre Gauzee (Gauze Swabs B.P. 80) manufactured by M/s. Anand, Surgicom (Cotton Gauze Pad) (Absorbent Gauze – BP Type 13 Absorbent Cotton Wool IP) manufactured by M/s. The Ramaraju Surgical Cotton Mills Ltd, Combine Dressing Pad B.P. 1980 manufactured by M/s. Modern Healthcare.
This came after analysis and test were conducted by the CDSCO, Drugs Control Departments on 1572 samples. Out of this, 1553 samples were found of standard quality while 19 of them were declared as Not of Standard Quality (NSQ).

A few of the reasons why the drug samples tested failed were the failure of the assay, failure of the dissolution test, failure of the sterility test.
The samples collected were tested in four laboratories, namely CDL Kolkata, CDTL Mumbai, RDTL Chandigarh, CDTL Chennai.
List of Drugs, Medical Devices and Cosmetics declared as Not of Standard Quality/Spurious/Adulterated/Misbranded, for the Month of March-2021
| | |
| --- | --- |
| Total number of samples tested | 1572 |
| Total number of samples declared as of Standard Quality | 1553 |
| Total number of samples declared as Not of Standard Quality | 18+1 (Survey) |
| Total number of samples declared as Spurious | 0 |
| Total number of samples declared as Misbranded | 0 |
Sl.

No.

Name of

Drugs/medical device/cosmetics

Batch No./Date of

Manufacture/Date of Expiry/Manufactured By

Reason for failure

Drawn By

From

1.

Operation Theatre Gauze (Gauze Swabs

B.P. 80)

B. No.: 08

Mfg dt: 08/2020 Exp dt: 07/2023 Mfd by: M/s. Anand

Product, 8/162, J – 17, Vanniyampatti Road, Sankarapandiyapuram, Chatrapatti – 626 102, Tamil Nadu.

(Warp) Threads per 10 cm

CDSCO,

South Zone Chennai

CDL,

Kolkata

2.

Surgicom (Cotton Gauze Pad) (Absorbent Gauze – BP Type 13 Absorbent Cotton Wool IP)

B. No.: 1023/20

Mfg dt: 03/2020 Exp dt: 02/2023

Mfd by: M/s. The Ramaraju Surgical Cotton Mills Ltd., 2/318-2/321,

Sankarankovil Road, Perumalpatti-

627 753, Tamil Nadu.

Threads per stated length for the absorbent cotton gauze (13 light)

CDSCO,

South Zone Chennai

CDL,

Kolkata

3.

Combine Dressing Pad

B.P. 1980

B. No.: CD012 Mfg dt: 11/2018 Exp dt: 10/2021

Mfd by: M/s. Modern Healthcare, 782/15, North Street, Chatrapatti -626102 (Via) Rajapalayam,

TamilNaudu.

Sterility

CDSCO,

South Zone, Chennai

CDL,

Kolkata

4.

CORSAVE-10

(Rosuvastatin Calcium Tablets I.P. 10 mg)

B. No.: 19SGLT011 Mfg dt: 12/2019 Exp dt: 11/2021

Mfd by: M/s. Synokem Pharmaceuticals Limited, Plot No. 35-36, Sector-6A,

I.I.E. (SIDCUL), Ranipur

Related Substances

CDSCO

East Zone

CDL,

Kolkata
(BHEL), Haridwar -249

403, (Uttarakhand).

5.

XTER-250 (Terbinafine Tablets I.P. 250 mg)

B. No.: 419-1282

Mfg dt: 09/2019 Exp dt: 08/2021 Mfd by: M/s. Zee

Laboratories, 47, Industrial Area, Paonta Sahib – 173 025, Himachal Pradesh.

Dissolution

CDSCO

East Zone

CDL,

Kolkata

6.

CHYMOCIP (Trypsin & Chymotrypsin Tablets)

B. No.: G19CHP004 Mfg dt: 06/2019 Exp dt: 05/2022 Mfd by: M/s. Acme

Generics LLP, Plot No. 115, HPSIDC, Industrial Area, Davni, P.O. Gurumajra, Tehsil, Nalagarh, Distt. Solan Himachal Pradesh -

174101.

Assay of Trypsin and Chymotrypsin

CDSCO

East Zone

CDL,

Kolkata

7.

Paracetamol Tablets IP 650 mg (Febrex -650)

B. No.: FAP1D07 Mfg dt: 04/2020 Exp dt: 03/2022 Mfd by: M/s. Indoco

Remedies Ltd. Mumbai – 400 098.

Dissolution

CDSCO,

Visakhap atnam

CDL,

Kolkata

8.

Ondansetron Tablets IP 4 mg

B. No.: T13104

Mfg dt: 02/2020 Exp dt: 01/2022 Mfd by: M/s. Quest

Laboratories Pvt. Ltd., Plot No.45, Sector-III, Pithampur, Dist. Dhar- 454775,

Madhya Pradesh.

Dissolution

CDSCO,

Sub-Zone Indore

CDTL,

Mumbai

9.

MOXEL-250

(Amoxycillin Capsules IP 250 mg)

B. No.: VBC-19I25 Mfg dt: 09/2019 Exp dt: 08/2022 Mfd by: M/s. Venus

Biosciences P. Ltd., 116, Export Promotion Industrial Park, Phase I, Jharmajri, Baddi, Dist: Solan- 173205

Himachal Pradesh.

Assay

CDSCO,

West Zone

CDTL,

Mumbai

10.

ERA CARE HAND SANITIZER

B. No.: LTLAP035 Mfg dt: 06/2020 Exp dt: 05/2023

Mfd by: M/s. Nature's Boon Ayurvedic Pharmacy

Identification

Drug Control Department Himachal

Pradesh

RDTL,

Chandigarh
Punjab-141012.

11.

VEL-SAFE HAND SANITIZER

B. No.: VH-1505

Mfg dt: 11/2020 Exp dt: 11/2022

Mfd by: M/s. VELNEX MEDICARE 344-A, HSIIDC, SAHA (AMBALA)

Haryana-133104.

Assay of Glycerol and Hydrogen Peroxide

Drug Control Department Himachal Pradesh

RDTL,

Chandigarh

12.

Ofloxacin and Ornidazole Suspension (INTRACARE R.T.U. SUSPENSION)

B. No.: UIU-22120

Mfg dt: 06/2020 Exp dt: 05/2022 Mfd by: M/s. Senate

Laboratories, 252, 252, Sisona, Bhagwanpur, Roorkee-247661

Uttarakhand.

Assay of Ofloxacin and Ornidazole

Drug Control Department Jammu & Kashmir

RDTL,

Chandigarh

13.

LEEGRA 120 Tablets (Fexofenndine Hydrochloride Tablets IP 120 mg)

B. No.: OLST – 035 Mfg dt: 02/2020 Exp dt: 01/2022

Mfd by: M/s. Oaksun Life Sciences, Plot No. 36, 37,

38, 46 & 47, Chengicherla (V), Medipally (M), Medchal-Malkjigiri (Dist.)

T.S.500 092 Telangana.

Dissolution

CDSCO

Hyderabad Zone

CDTL,

Chennai

14.

HAVLOC INSTANT HAND SANITIZER GEL

B. No.: BR0402 Mfg dt: 04/2020

Exp dt: 18 months from the date of Mfg

Mfd by: M/s. BRP Industry Pvt. Ltd., No. 42/2, First Floor, Govindan Street, Ayyavoo Colony, Aminjikarai, Chennai, TamilNadu – 600029.

Assay of Ethyl Alcohol

CDSCO,

South Zone,

CDTL,

Chennai

15.

HAVLOC INSTANT HAND SANITIZER LIQUID

B. No.: BR0401 Mfg dt: 04/2020

Exp dt: 18 months from the date of Mfg

Mfd by: M/s. BRP Industry Pvt. Ltd., No. 42/2, First Floor, Govindan Street, Ayyavoo Colony,

Aminjikarai, Chennai, TamilNadu – 600029.

Assay of Ethyl Alcohol

CDSCO,

South Zone,

CDTL,

Chennai
16.

HAVLOC INSTANT HAND SANITIZER GEL

B. No.: BR0412 Mfg dt: 04/2020

Exp dt: 18 months from the date of Mfg

Mfd by: M/s. BRP Industry Pvt. Ltd., No. 42/2, first Floor, Govindan Street, Ayyavoo Colony, Aminjikarai, Chennai, TamilNadu – 600029.

Assay of Ethyl Alcohol

CDSCO,

South Zone,

CDTL,

Chennai

17.

i Clean Hand Sanitizer (Isopropyl Alcohol)

B. No.: IC328 Mfg dt: 03/2020

Exp dt: 24 Months. from Date of Mfg

Mfd by: Not Stated on the lable.

Assay of Isopropyl Alcohol

CDSCO,

South Zone,

CDTL,

Chennai

18.

i Clean Hand Sanitizer (Isopropyl Alcohol)

B. No.: 1220

Mfg dt: 12/2020

Exp dt: 24 Months from Date of Mfg

Mfd by: Not Stated on the lable.

Assay of Isopropyl Alcohol

CDSCO,

South Zone,

CDTL,

Chennai
For more details click on the link below;
Also Read:CDSCO Extends Licence Validity For 8 Medical Devices By Additional 6 Months