CDSCO Flags 14 Drug Samples including Aspirin, Rosuvastatin As Not Of Standard Quality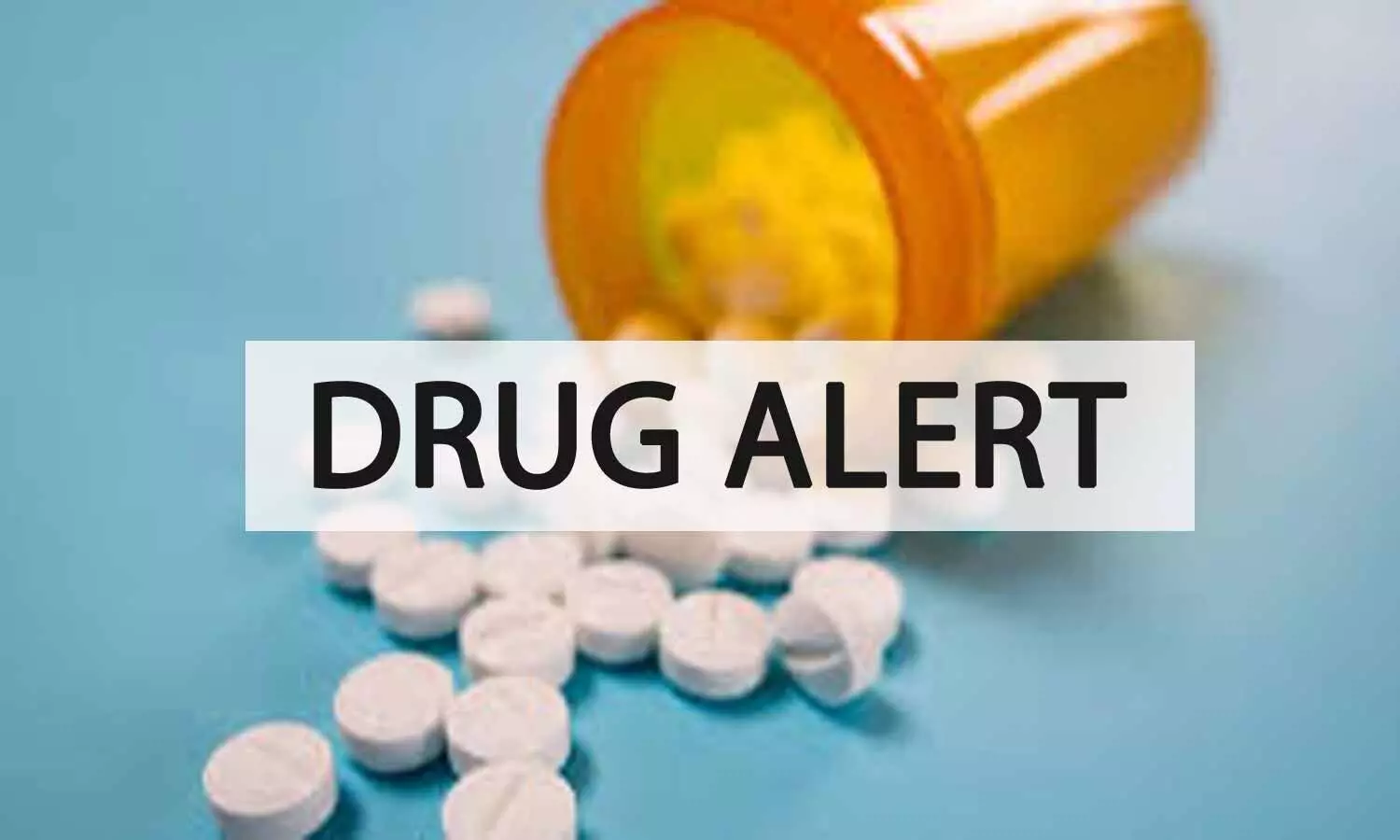 New Delhi: In its recent drug safety alert, the apex drug regulatory body, Central Drugs Standard Control Organization (CDSCO) flagged 14 medicine batches for failing to qualify for random drug sample test for the month of February 2021.

These drug samples including Amoxycillin and Potassium Clavulanate Tablets, Amoxycillin Capsules IP 500 mg, Doxylamine Succinate and Pyridoxine Hydrochloride Tablets, Aspirin Gastro-Resistant Tablets IP 150 mg, Ciprofloxacin Hydrochloride Tablets IP 500 mg and others are declared as Not of Standard Quality.
This came after analysis and test conducted by the CDSCO, Drugs Control Departments, on 1204 drug samples. Out of this, 1190 samples were found of Standard quality while 14 of them were declared as Not of Standard Quality (NSQ).

Failure of the assay, failure of the dissolution test, failure of the Particulate Matter and Clarity of Solution test, failure of the Vitamin B12 Assay, and others were among the reasons why the drug samples tested failed.
The samples collected were tested in three laboratories namely CDL Kolkata, CDTL Mumbai, RDTL Chandigarh.
List of Drugs, Medical Devices and Cosmetics declared as Not of Standard Quality/Spurious/Adulterated/Misbranded, for the Month of February 2021

| | |
| --- | --- |
| Total number of samples tested | 1204 |
| Total number of samples declared as of Standard Quality | 1190 |
| Total number of samples declared as Not of Standard Quality | 14 |
| Total number of samples declared as Spurious | 0 |
| Total number of samples declared as Misbranded | 0 |
S. No.

Name of Drugs/medical device/cosmetics

Batch No./Date of Manufacture/Date of Expiry/Manufactured By

Reason for failure

Drawn By

From

1.

ULGEL – A 200 ml

(Magaldrate, Simethicone & Oxetacaine Oral Suspension)

B. No.: 1808001807

Mfg dt: 12/2018

Exp dt: 11/2021

Mfd by: M/s. Alembic Pharmaceuticals Ltd., Samardung Basti, Karek Block, Namthang Ilaka, South Sikkim – 737 126.

Assay of Oxetacaine

CDSCO, North Zone

CDL,

Kolkata

2.

DELSONE-M 16 Tablets (Methylprednisolone Tablets I.P. 16 mg)

B. No.: ART29005

Mfg dt: 11/2019

Exp dt: 10/2021

Mfd by: M/s.

Psychotropics India Ltd., Plot No. 46 & 49, Sector- 6A, IIE, SIDCUL, Ranipur, Haridwar-249403 Uttarakhand.

Dissolution

CDSCO, Hyderabad

CDL,

Kolkata

3.

Amoxycillin & Potassium Clavulanate Tablets I.P. 625 mg

B. No.: 0017

Mfg dt: 11/2019

Exp dt: 04/2021

Mfd by: M/s. Stride Organics Private Ltd., Sy. No. 265/P, Kondapur (Vill.), Ghatkesar, Medchal District (T.S.), Telangana.

Dissolution & Assay of Potassium Clavulanate

CDSCO,

Hyderabad

CDL,

Kolkata

4.

Cardirid (Carvedilol Tablets IP)

B. No.: CAR-2001

Mfg dt: 06/2020

Exp dt: 05/2022

Mfd by: M/s. Ridley Life Science Pvt. Ltd., D 1651, DSIDC Indl. Complex, Narela, Delhi-110 040.

Uniformity of Content and Related Substances

CDSCO,

Hyderabad

CDL,

Kolkata
5.

RAMZE-5 (Ramipril Tablets I.P.)

B. No.: 420-578

Mfg dt: 05/2020

Exp dt: 04/2022

Mfd by: M/s. Zee

Laboratories, 47, Industrial Area, Paonta Sahib – 173025 Himachal Pradesh.

Assay

CDSCO, East Zone, Kolkata

CDL,

Kolkata

6.

Theopenam -1g (Meropenem Injection I.P.)

B. No.: MERM19015A

Mfg dt: 07/2019

Exp dt: 06/2021

Mfd by: M/s. Theon Pharmaceuticals Ltd., Village Saini Majra, Teh. Nalagarh, Distt. Solan Himachal Pradesh – 174101.

Particulate Matter and Clarity of Solution

CDSCO, East Zone, Kolkata

CDL,

Kolkata

7.

Rosuvas 20 (Rosuvastatin Tablets I.P.)

B. No.: EMX0174

Mfg dt: 01/2020

Exp dt: 06/2022

Mfd by: M/s. Sun Pharma Laboratories Ltd., Plot No. 107-108, Namli Block, P.O. Ranipool, East-Sikkim-737 135.

Uniformity of Weight, Dissolution and Assay

CDSCO, East Zone, Kolkata

CDL,

Kolkata

8.

Amoxycillin Capsules IP 500 mg

B. No.: YAT91054

Mfg dt: 11/2019

Exp dt: 10/2021

Mfd by: M/s. Yeluri Formulations Pvt. Ltd., Sy. No. 296/7/6, I.D.A. Bollaram, Sangareddy, District-502325, Telangana.

Assay

CDSCO,

West Zone, Mumbai

CDTL,

Mumbai

9.

Doxylamine Succinate & Pyridoxine Hydrochloride Tablets

B. No.: PF8B101

Mfg dt: 08/2019

Exp dt: 07/2021

Mfd by: M/s. Pure & Cure Healthcare Pvt. Ltd., Plot No. 26A, 27-30, Sector-8A, I.I.E., SIDCUL, Haridwar- 249403, Uttrakhand.

Disintegration Time

CDSCO,

West Zone, Mumbai

CDTL,

Mumbai

10.

Prolonged-release Diltiazem Tablets BP 90mg

B. No.: GM20128

Mfg dt: 11/2020

Exp dt: 10/2022

Mfd by: M/s. Skymap Pharmaceuticals Pvt. Ltd., B-3, Dev Bhoomi Industrial Estate, Puhana Iqbalpur Road, Roorkee-247667 Uttarakhand.

Dissolution

CDSCO,

West Zone, Mumbai

CDTL,

Mumbai
11.

Revol-CC (Calcium Carbonate Magnesium Oxide, Manganese Sulphate, Zinc & Vitamin D3 Tablets)

B. No.: MT191325

Mfg dt: 08/2019

Exp dt: 07/2021

Mfd by: M/s. Mascot Health Series Pvt. Ltd., Plot No. 79, 80, Sec-6A, IIE, Siducul, Haridwar- 249403, Uttrakhand.

Assay of Vitamin D3

CDSCO,

West Zone, Mumbai

CDTL,

Mumbai

12.

Aspirin Gastro-Resistant Tablets IP 150 mg

B. No.: APET716

Mfg dt: 06/2019

Exp dt: 05/2021

Mfd by: M/s. Unicure India ltd., C-21, 22 & 23, Sector- 3, Noida- 201301, Distt: Gautam Budh Nagar (U.P).

Test for Salicylic Acid

CDSCO,

West Zone, Mumbai

CDTL,

Mumbai

13.

Ciprofloxacin Hydrochloride Tablets IP 500 mg

B. No.: 0703419

Mfg dt: 09/2019

Exp dt: 08/2022

Mfd by: M/s. Karnataka Antibiotics & Pharmaceuticals Limited Plot No. 14, II Phase, Peenaya, Bengaluru- 560058.

Dissolution

CDSCO,

North Zone

RDTL,

Chandigarh

14.

Cefpodoxime Proxetil Dispersible Tablets (BROTOCEF-100 DT TABLETS)

B. No.: CT1904E

Mfg dt: 12/2019

Exp dt: 11/2021

Mfd by: M/s. J.M. Laboratories Village- Bhanat, P.O. - Ghatti, Subathu Road, Solan Himachal Pradesh- 173211.

Assay

CDSCO,

Sub-Zone, Jammu

RDTL,

Chandigarh
To view the official notice, click on the following link:

https://cdsco.gov.in/opencms/opencms/system/modules/CDSCO.WEB/elements/download_file_division.jsp?num_id=NzAzMg==

Also Read: Drug Alert: CDSCO Flags 25 Drugs As Not Of Standard Quality