CDSCO declares 16 drug samples including Clopidogrel, Aspirin Tablets as Not of Quality Standard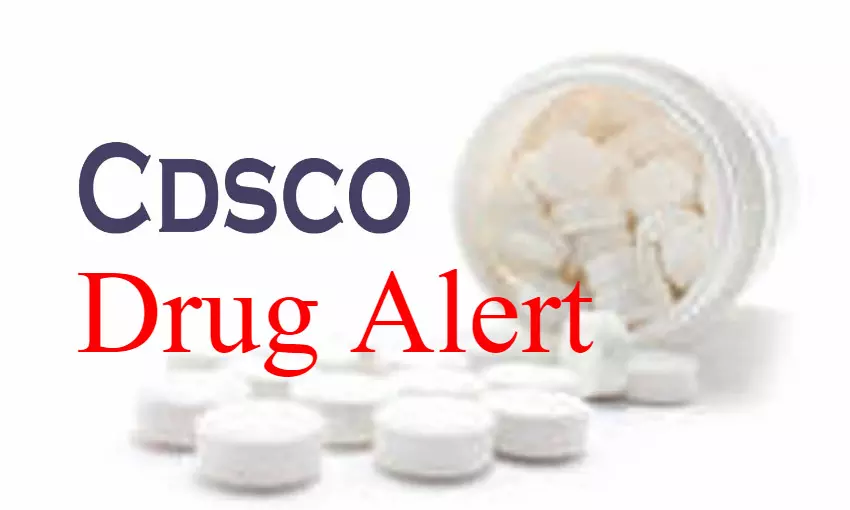 New Delhi: The apex drug regulatory body, Central Drugs Standard Control Organization (CDSCO) has flagged 16 drug samples including Clopidogrel and Aspirin Tablets as 'Not of Standard Quality' after they failed to qualify a random drug sample test for the month of January.

These drug samples included popular formulations and brands such as Diclofenac Gastro Resistant Tablets I.P. 50 mg (Regunac -50); Omecot Capsules (Omperazole Capsules IP); Clopidogrel and Aspirin Tablets; Amitriptyline Tablets I.P., Nitzo - 2.6 (Controlled-Release Tablets of Nitroglycerin) and others.
This came after the analysis and test conducted by the CDSCO, Drugs Control Departments, on 1001 drug samples. Out of this 985 samples were found of Standard quality while 16 of them were declared as 'Not of Standard Quality'.
A few of the causes why the drug samples failed to clear the test include Dissolution test failure, Microbial contamination, Particulate Matter & Clarity of Solution test failure, Assay of Ethyl Alcohol failure, and others.
The collected samples were tested in three laboratories namely CDL Kolkata, RDTL Chandigarh, CDTL Mumbai.
| | |
| --- | --- |
| Total number of samples tested | 1001 |
| Total number of samples declared as of Standard Quality | 985 |
| Total number of samples declared as Not of Standard Quality | 16 |
| Total number of samples declared as Spurious | 0 |
| Total number of samples declared as Misbranded | 0 |
List of Drugs, Medical Devices and Cosmetics declared as Not of Standard Quality/Spurious/Adulterated/Misbranded, for the Month of January 2021

S. No.

Name of Drugs/medical

device/cosmetics

Batch No./Date of Manufacture/Date of

Expiry/Manufactured By

Reason for failure

Drawn By

From

1.

Omnikacin – 250 (Amikacin Injection I.P.)

B. No.: C2VAR02 Mfg dt: 01/2020 Exp dt: 12/2021

Mfd by: M/s. Akums Drugs & Pharmaceuticals Ltd., 2, 3, 4 & 5, Sector 6-B, I.I.E., SIDCUL, Ranipur, Haridwar- 249403 Uttarakhand.

Assay

CDSCO,

South Zone

CDL,

Kolkata

2.

Ontic Syrup (Ondansetron Oral Solution I.P- 30 ml)

B. No.: CL19136

Mfg dt: 10/2019 Exp dt: 09/2021

Mfd by: M/s. Corona Remedies Pvt. Ltd., Vill. Jatoli, P.O. Oachghat,

Tehsil: Solan, Dist. Solan Himachal Pradesh - 173223.

Description

CDSCO,

Hyderabad

CDL,

Kolkata

3.

Tolvat 30 (Tolvaptan

Tablets 30 mg)

B. No.: BRA02174D Mfg dt: 02/2020 Exp dt: 01/2023 Mfd by: M/s. MSN Laboratories Private

Limited, Plot No. 42, Anrich Industrial Estate, Bollaram, Sangareddy District-502325, Telangana.

Dissolution

CDSCO,

Hyderabad

CDL,

Kolkata

4.

Disilox MPS (Aluminium, Magnesium & Simethicone Oral Suspension I.P.)

B. No.: C20C92 Mfg dt: 06/2019 Exp dt: 05/2022

Mfd by: M/s. Stadmed Private Limited, 15, Jawpore Road, Kolkata-700074.

Microbial Contamination (Total Aerobic Viable Count)

CDSCO,

East Zone, Kolkata

CDL,

Kolkata
5.

Nitzo - 2.6 (Controlled Release Tablets of Nitroglycerin)

B. No.: 419-1544

Mfg dt: 11/2019 Exp dt: 10/2021 Mfd by: M/s. Zee

Laboratories, 47, Industrial Area, Paonta Sahib – 173025, Himachal Pradesh.

Assay of Glyceryl Trinitrate

CDSCO,

East Zone, Kolkata

CDL,

Kolkata

6.

Diclofenac Gastro Resistant Tablets I.P. 50 mg (Regunac -50)

B. No.: FZ57K801 Mfg dt: 10/2018 Exp dt: 09/2021 Mfd by: M/s. Zim

Laboratories Ltd., B-21/22, MIDC Area, Kalmeshwar, Nagpur, Maharashtra.

Description

CDSCO,

East Zone, Kolkata

CDL,

Kolkata

7.

Amlor -2.5(Amlodipine Besylate Tablets I.P. 2.5 mg)

B. No.: KN20001

Mfg dt: 05/2020 Exp dt: 04/2022 Mfd by: M/s. Ortin

Laboratories Ltd., 275 & 278 (Part), I.D.A. Pashamylaram

-502307, Sangareddy Dist. T.S., Telangana.

Dissolution, Related Substances and Assay

CDSCO,

East Zone, Kolkata

CDL,

Kolkata

8.

Amitriptyline Tablets I.P.

B. No.: TAMF-026 Mfg dt: 03/2020 Exp dt: 02/2022

Mfd by: M/s. Medipol Pharmaceutical India Pvt. Ltd., 1199/3, Bhud, Baddi, Dist. Solan, Himachal

Pradesh.

Description

CDSCO,

East Zone, Kolkata

CDL,

Kolkata

9.

Ancef 1 gm (Ceftriaxone Injection

I.P.)

Sterile Water For Injection I.P. 10 ml

B. No.: 13018A

Mfg dt: 03/2019 Exp dt: 02/2021 Mfd by: M/s. Osper

Formulations Pvt. Ltd., Plot No. 134-B, Export Promotion Industrial Park, Phase- 1, Jharmajri Baddi, Dist. Solan, Himachal Pradesh.

B. No.: 1902022

Mfg dt: 02/2019 Exp dt: 01/2022 Mfd by: M/s.

legency Remedies Pvt. Ltd.,

P.O. Baddi, Dist. Solan Himachal Pradesh.

Particulate Matter & Clarity of Solution

CDSCO,

Sub Zone, Baddi

CDL,

Kolkata
10.

VEDARK INSTANT HAND SANITIZER

B. No.: A-142

Mfg dt: 05/2020 Exp dt: 04/2022

Mfd by: M/s. Gladios Products Pvt. Ltd., 31, Virat industrial Estate, Dhanot

Gandhinagar-382721 Gujarat.

Identification of Chlorhexidine Gluconate

CDSCO

North Zone

RDTL,

Chandigarh

11.

DAYS 2X HAND SANITIZER

B. No.: BYHS29 Mfg dt: 09/2020 Exp dt: 08/2023

Mfd by: M/s. Yadav's Health & Beauty Herbal Products Plot No.25, EPIP, Phase-2, Thana, Baddi, Distt. Solan, Himachal Pradesh -173205.

Assay of Ethyl Alcohol

Drug Control Departmen t Himachal Pradesh

RDTL,

Chandigarh

12.

Doxycycline and Lactic Acid Bacillus Capsules (Mesodox LB Capsules)

B. No.: HBC-4052 Mfg dt: 02/2020 Exp dt: 07/2021

Mfd by: M/s. Haustus Biotech Pvt. Ltd. 44-45, Indl.Area, Tahliwal, Distt.Una Himachal Pradesh.

Uniformity of filled weight

CDSCO

North Zone

RDTL,

Chandigarh

13.

Hand Sanitizer

B. No.: V20EL011 Mfg dt: 04/2020 Exp dt: 08/2022

Mfd by: M/s. Vowcare Products Plot No.77, Zone 4th, I.G.C., SIDCO

Lassipora, Dist. Pulwama Jammu & Kashmir 192305.

Assay of Isopropyl Alcohol Hydrogen Peroxide Glycerol

Drug Control Departmen t Srinagar

RDTL,

Chandigarh

14.

(Omeprazole Capsules I.P.) 20 mg

B. No.: 5703320

Mfg dt: 06/2020 Exp dt: 05/2022

Mfd by: M/s. Karnataka Antibiotics & Pharmaceuticals Ltd., (A Govt. of India Enterprise), Plot No.14, II Phase, Peenya, Bengaluru -

560 058 Karnataka.

Dissolution (Acid Stage)

CDSCO,

West Zone Mumbai

CDTL,

Mumbai

15.

Omecot Capsules (Omperazole Capsules IP)

B. No.: MC 19235

Mfg dt: 08/2019 Exp dt: 07/2021

Mfd by: M/s. Mascot Health Series Pvt Ltd., Plot No. 79, 80, Sector 6 A, IIE, Sidcul,

Haridwar 249 403, Uttarakhand.

Assay & Dissolution

CDSCO,

West Zone Mumbai

CDTL,

Mumbai
Also Read:CDSCO Declares 14 Drug Samples Including BP, dyslipidemia Drug As Not Of Standard Quality