BODY OF KNOWLEDGE (BOK) : J. B. Chemicals initiates a resourceful knowledge-sharing platform for the medical fraternity.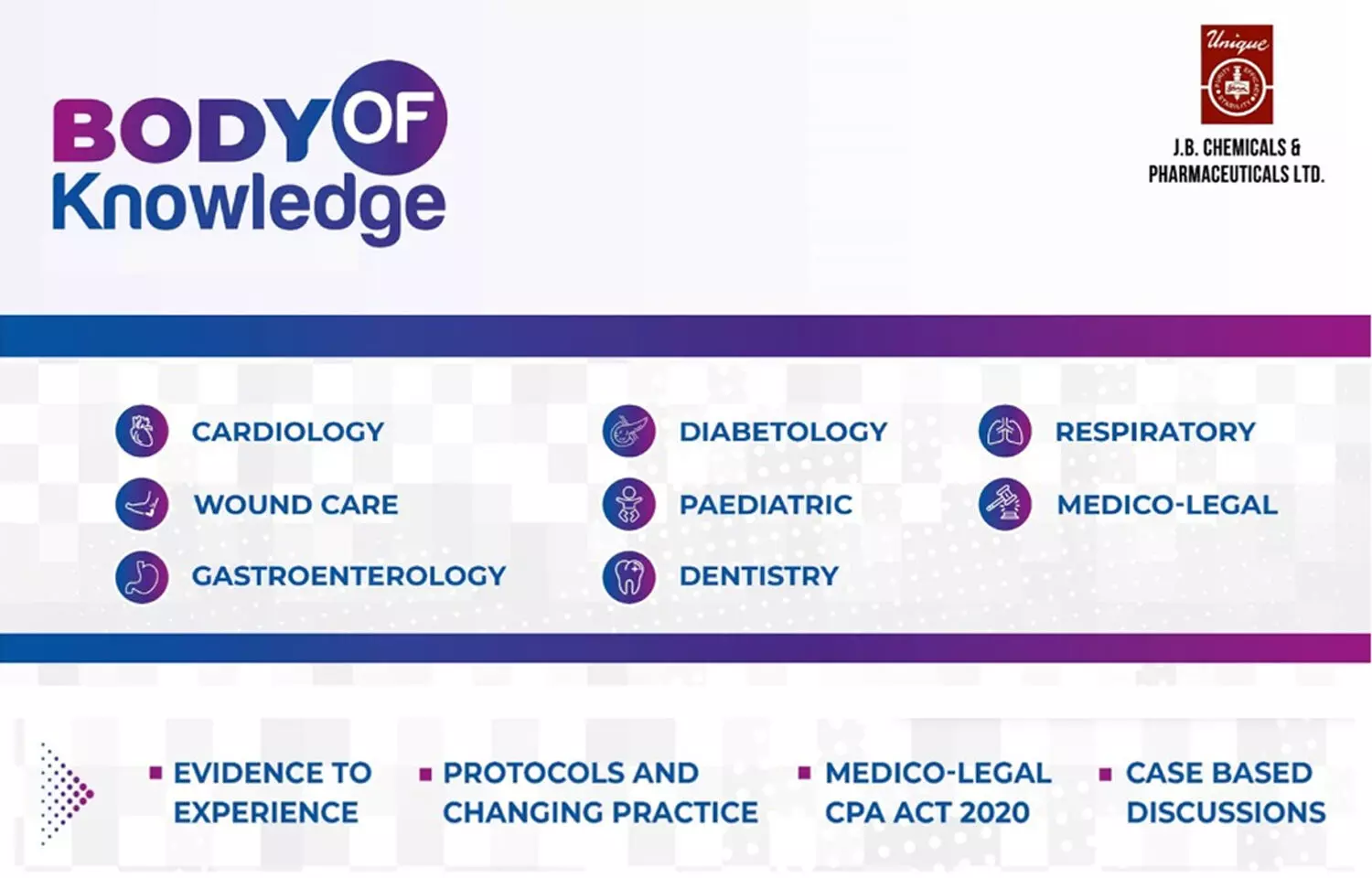 With an aim to provide updates on recent medical advancements and practice pearls to doctors, J.B. Chemicals and Pharmaceuticals Ltd. (JBCPL) has started its Flagship platform - Body Of knowledge the first of its kind event which was held recently saw attendance from more than 25,000 doctors across the country from various specialties, who participated in more than 40 interesting sessions held by 50+ eminent medical doctors over 3 days digitally. The sessions were organized under seven specialties namely: Cardiology, Diabetology, Paediatrics, Respiratory, Wound Management, Gastroenterology & Medico-legal.
The archives sessions are now available at Medical dialogues (https://medicaldialogues.in/JBCPL-BOK)

The company sources told that it aims to develop this platform into a resourceful knowledge-sharing platform for the medical fraternity. It has further initiated regional digital connect sessions under the name of Body of Knowledge (BOK). Several big names across the specialties were part of it as course directors.

In Cardiology, leading cardiologists saw undertaking important discussions on Hypertension Management in the Indian context. Sessions on cardiology were on the following topics:
· ARBs: The dilemma of Choice.
· CCBs: Yesterday, Today & Tomorrow.
Diabetology sessions were moderated by our course director Dr. Banshi Saboo which saw an interesting detailed discussion on "The diabetic Heart." The discussion consisted of 3 sessions which were followed by an informative panel discussion. The sessions were as follows:

· Long term impact of Diabetes on the heart.
· Reluctance in SGLT2 inhibitors usage.
· Vascular Protection in Diabetes
In Gastroenterology i.e. GI care, the talks revolved around the changing practice paradigms of GI care. Dr.Akash Shukla gives an insight on Alcoholic hepatitis with the help of a case on the same. The overall session on Gastroenterology care had a variety of topics ranging from alcohol, COVID to NASH and NAFLD. Interesting case-based discussions were held on the following topics.

· GERD: Case-based discussion.
· Alcoholic Hepatitis: Case-based discussion.
· Covid-19 Vaccination.
· NASH & NAFLD; Case-based discussion.
Dr. Indu Khosla welcomed and moderated the session on Paediatrics i.e. child care. It was an insightful discussion with the top doctors of our times. The session includes pediatric respiratory guidelines and disorders to food allergies and pediatric constipation.

The session moved as follows:

· Asthma New vs. Old Pediatric guidelines.
· CT Scan & Respiratory disorders
· Food Allergies: How to diagnose & manage?
· Paediatric Constipation.
In Respiratory care, the session was moderated and welcomed by Program Director Dr. Sundeep Salvi, chairman and director of Pulmocare Research and Education (PURE). The topics of the session on airway care were focused on current issues such as Chronic cough, a Paradigm shift in Respiratory Practice- Impact of COVID-19, and the Physician's role in smoking cessation. It was a vast and detailed session consisting of six topics and each by a panel discussion. The session was organized in the following manner:

· Approach to a patient with Chronic Cough?'
· Setting up a cough clinic in primary care practice
· Current ICMR GuidelinesManagement of Covid-19
· Post Covid infection: Follow up and Interventions
· Armamentarium is available with physicians for Smoking cessation.
· Case study.
Given the rising importance of the field of wound cases, there was a specific session on Wound management which was welcomed and moderated by course director Dr. Arun Bal. The topics of the session focused on the following:

· Diabetic foot and Biofilm
· Diabetes, COVID & Vasculopathy: A Triopathy worsening DFU.
There was a special session in the light of Medico-Legal by Adv. Amit Karkhanis & Dr. Dilip Walke on CPA Act 2020: The Impact on Medical Practice.

The session on Dentistry was headed by Chairperson and Chief Coordinator- Dr. Gopi Krishna. The session included Lectures on Pain Management in Endodontics, Pain Management in Periodontics, Pain and Anxiety Management in Pediatric Dentistry, Systematic Diseases, and Oral Health.
The course Directors for the sessions of Metabolic Diseases ( Cardiology, Diabetology), Gastroenterology, Paediatrics, Respiratory, Wound Management, Dentistry respectively are Dr. Banshi Saboo, Dr.Akash Shukla, Dr.Indu Khosla, Dr.Sundeep Salvi, Dr.Arun Bal, Dr.Gopi Krishan.

The sessions are available online for viewing by people who missed the event. The same can be accessed here:https://medicaldialogues.in/JBCPL-BOK