NIPER, Mohali Director given suspension orders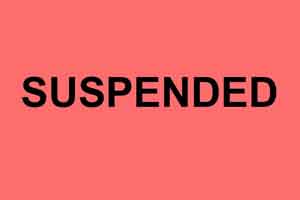 Chandigarh: Professor Raghuram Rao Akkinepally, the director of the National Institute of Pharmaceuticals Education and Research (NIPER), Mohali has been suspended by NIPER's Board of Governors. The move comes soon after the director refused to revoke the suspension order handed over by him to the registrar of the institute.
Raghuram Rao was given a show-cause letter issued by the government after he failed to implement the orders given by the NIPER's Board of Governors (BoGs) where it asked him to revoke the suspension letter of the institute's registrar.
On June 13, 2018, Raghuram Rao Akkinepally, gave a suspension to the institute's registrar, PJP Singh Waraich (retd) alleging him for acts of omission and commission that included the misuse of official accommodation for commercial interests. The registrar appealed against the suspension before the BoG. BoG ordered the director to revoke the suspension order earlier in the month of June 2018. However, the director moved toward the High Court against the order. For the same, he has also issued a show-cause notice in August
Now, an order issued by the BoG's chairman, Dr VM Katoch, stated, "The Board of Governors has decided to place Prof Akkinepally under suspension with immediate effect."
Earlier, the director had been served a show-cause notice for failure to implement the board's June 14 order to revoke the suspension of the registrar, Wg Cdr PJP Waraich, reported  Tribune ,
Professor Raghuram Rao, who was the faculty member of at the department of pharmacy at Kakatiya University. He received the designation of director of NIPER after the approval of then-President Pranab Mukherjee
He also got in on the issue where he was accounted for holding a dual post at the same time. He joined NIPER on May 10, 2017, to August 13, 2017, when he was on extraordinary leave from Kakatiya University, Warangal. His voluntary retirement from the University came in effect from August 31, 2017.