NMC Bill: Major Opposition to NEXT, reveals RTI with NITI Ayog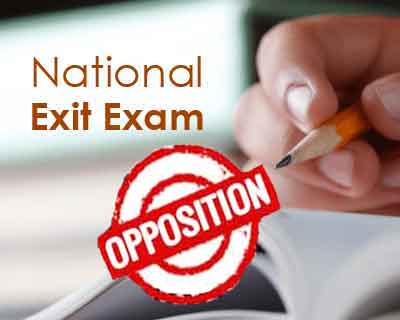 80% of the email responses had staunchly opposed the move of NEXT.
New Delhi: With the government planning to introduce National Exit Test (NEXT) as a common licentiate point for exit to MBBS courses as well as entry to PG courses, the move is reportedly being met with strong opposition from medical aspirants and general public.
Replying to an RTI filed with the NITI Aayog, the organisation has stated that while it had put up the National Medical Commission Bill in the public domain for comments, majority had replied showing their opposition to NEXT. A recent report in TOI reveals that 80% of the email responses had staunchly opposed the move of NEXT.
Medical Dialogues Team had earlier reported that the NITI Aayog had proposed a common licentiate exam after MBBS- NEXT. The test would not only provide an exit point for MBBS courses, but proposal went on to link it with the entry level of the PG medical education
Read more at Medical Dialogues:
Clear EXIT Exam if you want the Doctor Tag 
The proposal, which was a constituent of the National Medical Commission Bill, had been then put in the public domain, inviting comments
Read Also: 
Niti Ayog decides National Exit Exam for MBBS, asks for comments
The same had been then forwarded to various state governments for responses. A recent RTI with the Union Ministry of Health revealed that 12 states  including Jharkhand, Maharashtra, Bihar, Chhattisgarh, Gujarat, Haryana, Himachal Pradesh, Kerala, Madhya Pradesh, Meghalaya, Odisha and Punjab and and 4 UTs have shown their favour to the examination, while nine states have pointed out no need for it
Read more at Medical Dialogues:
NEXT Exam: 12 States, 4 UTs Favour National Exit Test For Doctor Title 
Medical Aspirants on the other hand, have shown their opposition to the exam.
"At present, MBBS students have to clear over 10 examinations to get the degree. How can one more theory exam do wonders and bring about change in quality of medicos?" said Mohamed Khader Meeran, an MBBS student from Mahatma Gandhi Institute of Medical Sciences (MGIMS) who had filed the RTI with the Aayog.
"Ideally, the government should drop NLE's idea and focus on giving hands-on training to the existing students," he told
TOI
.
Meeran has in this regard, has filed multiple RTIs with various government agencies and based on the responses received on the same, submitted a detailed 28-page report on the NMC bill to the PM, the FM and the group of ministers.