No decision on ordinance, NEET stands: Nadda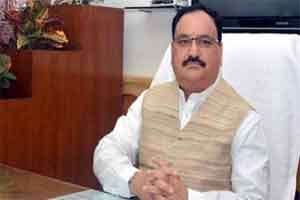 The central government is "fully committed" to the NEET system and no decision has been taken about any ordinance to defer its implementation, union Health Minister J.P. Nadda announced.
Issuing "clarification on certain misconceptions regarding National Eligibility-cum-Entrance Test (NEET)" for entrance to medical schools, Nadda, in a series of tweets, said: "Government of India is fully committed to #NEET. 1st phase has taken place, 2nd phase will also take place."
He also released a video of his media briefing on the subject.
"Aaj kucch media ke channelo mein kaha gaya hae ki kendra sarkar NEET ke exam ko kisi ordinance ke jariye samapt kaarna chahti hae. Yeh bilkul be-buniyad hae. Is mein koi bhi tathya nahi hae. (Today some TV channels have tried to say that the centre is trying to end the NEET exam through an ordinance route. There is absolutely no truth about it," he said in the video recording released along the tweets.
"I have said it earlier also that NEET is very much in existence. The first phase is over and the second phase will take place on 24 July," he said.
"I also want to clarify that some state governments have expressed their concern and these have come up at health ministers conference," he said.
Nadda said to sort out issues at a later stage an all-party meeting was called in which Congress was represented by Jairam Ramesh. "He also said in the meeting that the state governments concerns should be addressed," he said.
"NEET has been implemented and it will continue," he said that in Friday's cabinet meet also, the subject came up for deliberations.
But he repeatedly said the second phase NEET exam will be held on July 24.
"All issues are being looked into and latest by tomorrow or day after we will come to a conclusion, we will brief things in details.
"But I want to make it clear that any such misgiving (that NEET will be brought to an end) should not be spread as the centre itself is committed to NEET," he said.
Nadda said in another tweet: "Concerns of state governments and lakhs of aspiring medical students regarding #NEET (are) being addressed".
The central government, he said, "is in the process of taking decision in the spirit of collective view taken at all-party meeting and health ministers meeting".
SOURCE: IANS