No new cases of Nipah Virus in Kerala: Dr Harsh Vardhan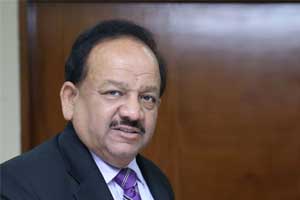 New Delhi:  Union Health and Family Welfare Minister Harsh Vardhan has recently stated that there have been no new cases of Nipah virus disease in Kerala and that he has also assured Kerala Health Minister K K Shailaja of Centre's all support to her state in this regard.
Soon after a case of Nipah virus was reported from Ernakulum district, Kerala on June 3, the Union Health Minister took stock of the situation and multidisciplinary Central teams were deployed which included experts from the NCDC, AIIMS and ICMR.
Read Also:Know Facts about Nipah virus
The team is supporting the state in investigations, contact tracing, sample testing and management of the NiVD.
Experts from NIHSAD, Bhopal, are supporting the local Animal Husbandry Department in the investigation. The team from the animal health side has collected samples from livestock and has also collected samples of bat droppings, an official statement here said.
NIV Team with three entomologists have been deployed in the two residential locations of the index case (where there is a possibility of the case getting the infection from bats / other sources). Strategic Health Operation Centre at NCDC has been activated since June 4 and coordinating with field teams on surveillance and response activities for Nipah containment.
Read Also:Nipah Virus Update: Sample of 7th person suspected tests negative
A dedicated phone line has been established at SHOC to answer queries of the general public. Till date, only 42 calls have been received. Point of Care Test facility has been established at Medical college Ernakulum. Karnataka has increased surveillance for NiVD in districts neighbouring Kerala, however, no suspects have been reported.
The condition of one positive case is stable. There have been no new cases. Out of eleven suspects, ten have tested negative and result for one is awaited. A total of 318 contacts are under quarantine.
Read Also:Nipah Virus Outbreak: Rajasthan Health Ministry issues advisory to medical officials
What is Nipah Virus?
Nipah virus (NiV) infection is a newly emerging zoonosis that causes severe disease in both animals and humans. The natural host of the virus are fruit bats of the Pteropodidae Family, Pteropus genus. Here are a few facts about the virus


The natural host of this virus is believed to be fruit bats of the Pteropus species, four of which have been demonstrated to have serologic evidence of infection with this virus. The virus has also been isolated from fetal tissue and uterine fluids of these bats.


Nipah and Hendra viruses are two related zoonotic pathogens that have emerged in the Asia-Pacific region. Both are RNA viruses that belong to the Paramyxoviridae family.


The viruses jump the species barrier and infect a secondary animal host (eg, pigs or horses), and transmit infections to humans. In addition, the Nipah virus may be able to spread from human to human.


Nipah virus primarily causes an encephalitic syndrome with a high mortality rate. The characteristic MRI abnormalities are multiple, small (less than 5 mm), asymmetric focal lesions in the subcortical and deep white matter without surrounding edema.


The incubation period ranges from 7 to 40 days. The initial presentation is non-specific, characterized by the sudden onset of fever, headache, myalgia, nausea and vomiting.Meningismus is seen in approximately one-third of patients although marked nuchal rigidity and photophobia are uncommon. Patients infected with Hendra virus have presented with fever and influenza-like illnesses, or with meningoencephalitis.


The diagnosis of Nipah virus can be established using an Enzyme-Linked Immunoassay (ELISA).  Supportive care is the mainstay of treatment and infected patients may requireintensive care monitoring.