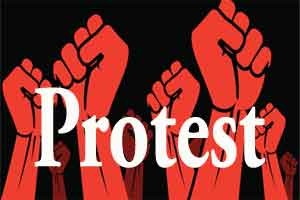 Mumbai: More than 1,000 resident doctors associated with The Maharashtra Association of Resident Doctors (MARD) went on protest by selling fruits in the campus of Sion Hospital as they have been facing irregularity in getting their stipend.
Doctors in the state have been protesting the delay in stipened. In Nagpur and Aurangabad, doctors were already on silent protest by tying black bands on their arms and selling fruit stalls on street.  According to the media reports, the resident doctors based in the hospitals of Nagpur, Nanded, Aurangabad, Latur and Ambajogai have not received their stipends for October and November.
Read Also: New Delhi: Black band protest by Hindu Rao Hospital resident doctors
................................ Advertisement ................................
Around 4,500 resident doctors in Maharashtra, members of Central MARD have decided to meet Girish Mahajan, Minister for Medical Education and Water Resources to talk on the matter.
................................ Advertisement ................................
Dr. Lokeshkumar Chirwatkar, president of Central MARD informed The Hindu, that "When we threatened to go on strike last week, a meeting was fixed with the minister. We are hoping that the meeting takes the issue is in a positive direction. Otherwise, we will not be left with any option other than agitating and staging a rasta rook."
Dr Abdul Vakil Khan, MARD president, Aurangabad told media, that "The doctors are scapegoats for the patients' kin's anger. But we are still working as we did not want the health of the poor patients to be affected," reports The Asian Age.
"We have started our protest Monday. All resident doctors are wearing a black ribbon as a token of protest. We are penniless since we are far away from our houses; we eat outside and depend on dry fruits for our health," Dr Khan further added.
Dr Shivaji Sukre, Vice Dean of Government Medical College and Hospital from Aurangabad said, "Today resident doctors have protested and done strike related to their stipend issue. There was some issue in the budget so there was the problem in their stipend as well. Soon, we will give them their stipend," reports ANI
Author Details
Shagufta Joined Medical Dialogues has been associated as Editor for Education Medical Dialogues since the year 2018.  She is a graduate from Delhi University. She can be contacted at editorial@medicaldialogues.in Contact no. 011-43720751
................................ Advertisement ................................
0 comment(s) on NO STIPEND: 4500 Maharashtra resident doctors on protest, sell fruits outside Sion Hospital