NPA is a part of Basic Pay of government doctors : Gujrat HC to govt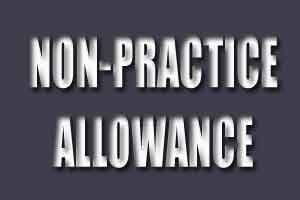 AHMEDABAD: Coming out clear in support of the medical fraternity, the Gujrat High court has directed the state government to treat Non-practicing Allowance (NPA) as a part of the basic pay in the salary computation of government doctors .
This comes after the state government decided to remove the NPA from the calculations of basic pay and hence further computation of the Dearness Allowance (DA) in 2004. The move was immediately opposed by the medical fraternity, who approached the state high court. However, the court at that time asked the doctors to make a representation to the state government in this regard. In 2008, the government refused to restore the old position so far as NPA's inclusion in basic pay was concerned report TOI, causing the doctors to again move the court.
The Court has now ordered the government to correct its interpretation, adding NPA to Basic pay for calculations of DA. Further the state government has been ordered by the court to compensate the doctors for the lost payments for the year 2004-2009.
The history of NPA in Gujrat goes back to the year 1965, when the government in order to attract doctors, and prevent them from indulging in private practice, began to give this allowance. Despite changes coming in the pay structure in the year 1970, NPA continued to be given and merged with basic pay for the purpose of computing TA and DA. Though the word 'allowance' was used, the amount was made part the basic pay with effect from 1986.
However, in 2004-05,  the government decided to merge 50% of DA to basic pay to be treated as Dearness Pay and a certain percentage of NPA as Dearness Pay to compute DA, reports the daily. While this completely changed the calculations received by the doctors, the state government justified the move stating the NPA has been treated as part of the basic pay only to compute DA.
The court, bringing relief to doctors stood by the initial interpretation of the NPA asking the government to include it as a part of the basic pay to compute DA. Justice J B Pardiwala observed, "The state government is incorrect in taking the view that the NPA is not a part of the Basic Pay, but is being taken into account only for the purpose of calculating the Dearness Allowance... I fail to understand why this objection is raised by the state government only for the period between 2004 and 2009."