Kerala: Private Nurses up against Private Hospitals over minimum wage issue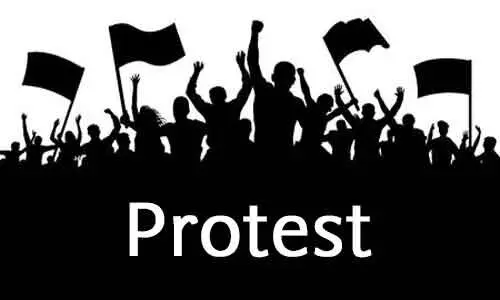 Kochi: In a major uproar, around 300 people including nurses and paramedical staffs associated with various private hospitals in the state went on a two-day strike under the ambit of Kerala State Private Hospital Employees Federation (KSPHEF). The protesting private hospital staffs demanded to resolve their minimum wage issue; to put an end to the contract employment system in private sectors; the intervention of the Labour Department to curb exploitation in hospitals and to release the list of departments where the minimum wage is yet to be declared.
The strike was initiated on February 4, 2020, at High Court junction and was inaugurated by K Chandran Pillai, National Secretary, Centre of Indian Trade Unions (CITU). Others including C B Chandrababu, CITU state secretary; C N Mohanan, CPM district secretary and one or two representatives from every private hospital in the state participated in the strike.
The private hospital nurses in Kerala had been on the warpath for the past two years, demanding a minimum basic salary of Rs 20,000 as fixed by the Supreme Court.
Last year, around 68000 private hospital nurses had threatened to go on a statewide strike, demanding implementation of the promised minimum monthly wage. However, they called off their agitation after the state government had issued a notification, ensuring a minimum basic salary of Rs 20,000 for nurses in private hospitals in Kerala.
Also Read: Nurses In Kerala To Get Minimum Salary Of Rs 20,000: Govt Notification
However, as per KN Gopinathan, CITU leader, almost 50% of the hospital managements have failed to implement the revised salaries that were introduced more than a year ago.
The issue has also been raised in the parliament, when members of the Lok Sabha recently questioned the Ministry of Health and Family Welfare (MoHFW) about many states not implementing the minimum salary for nurses according to the recommendation made by the supreme court on 29th January 2016.
Also Read: Issue Of Minimum Salary For Nurses Raised In Parliament
Commenting on the two-day strike in Kerala, M Anil Kumar, President, KSPHEF told TOI. "Though the government had notified the revised minimum wages, the private hospitals association went to the high court. The court didn't give a stay on the government notification of revised salary but later through an interim order restricted the labour department from taking any coercive steps for non-implementation of these minimum wages."
"We want the government to act fast on the issue and HC also needs to hear the matter at the earliest. At present, hospitals come under the Shops and Establishments Act and this needs to change," he added.
Source : with inputs