Case of Pemphigoid Gestationis reported in NEJM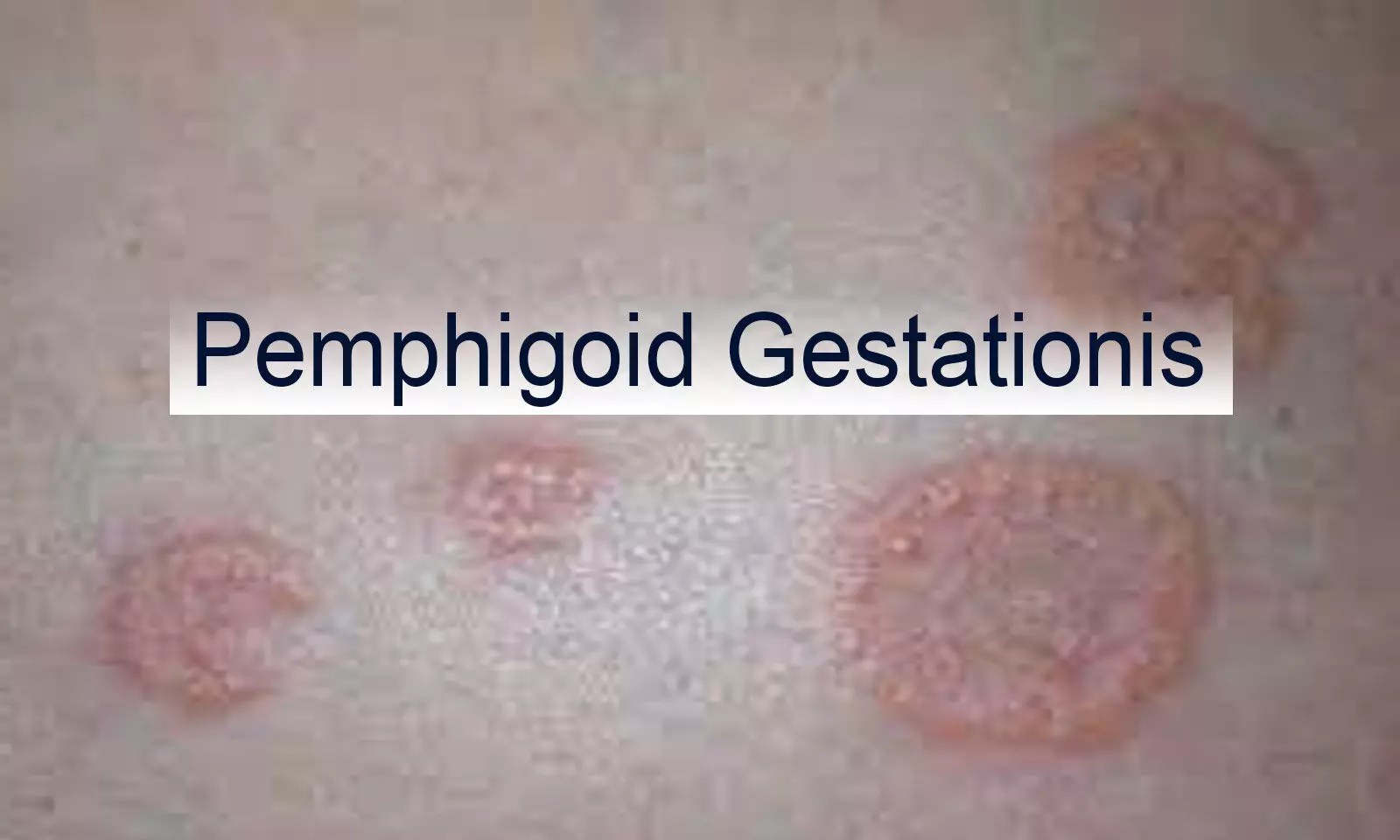 Dr Paolo Agostinis at Sant'Antonio Abate Hospital, Tolmezzo, Italy and associates have reported a rare case of Pemphigoid Gestationis which has been published in the New England journal of Medicine.
Pemphigoid gestationis is a rare pregnancy-associated autoimmune skin disease that is characterised by an itchy rash that develops into blisters. It is most common during the second and third trimesters of pregnancy.
Pemphigoid gestationis typically regresses without scarring within weeks to months after delivery. Pemphigoid gestationis may recur in subsequent pregnancies and may be precipitated by menses and the use of oral contraceptives.
A 30-year-old pregnant woman presented to the emergency department at 34 weeks of gestation with a 5-day history of an itchy rash. The rash had erupted across the abdomen and had spread to the thorax and to the arms and legs.
The head, neck, and mucosa of the mouth and nose were not affected. Physical examination revealed confluent papules and blisters on the arm (Panel A) and across the abdomen (Panel B). There was no palpable lymphadenopathy. A blood test indicated an anti–bullous pemphigoid 180 antibody level of greater than 200 U per milliliter, the upper limit of detection (normal range, 0 to 20).
The results of blood tests for antinuclear antibodies, anti–bullous pemphigoid 230 antibodies, and anti–desmoglein 1 and anti–desmoglein 3 antibodies were normal. A skin-biopsy specimen showed modest interpapillary spongiosis that extended to the skin adnexa and a mild leukocytic infiltrate with a few eosinophils around superficial vessels. IgM, IgG, and C3 were detected by immunofluorescence testing on the subdermal basal membrane.
A diagnosis of pemphigoid gestationis (formerly herpes gestationis) was made. Pemphigoid gestationis is an uncommon autoimmune skin disorder that is characterized by blistering and typically manifests in mid-to-late pregnancy. The patient was treated with systemic glucocorticoids, and the rash resolved within 3 months. She had a spontaneous vaginal delivery at 38 weeks of gestation. The infant was healthy and had no rash.
For further reference log on to:
DOI: 10.1056/NEJMicm2000922
Source : New England journal of Medicine