Barbed sutures in Laparoscopic Hysterectomy better than Vicryl Sutures: Study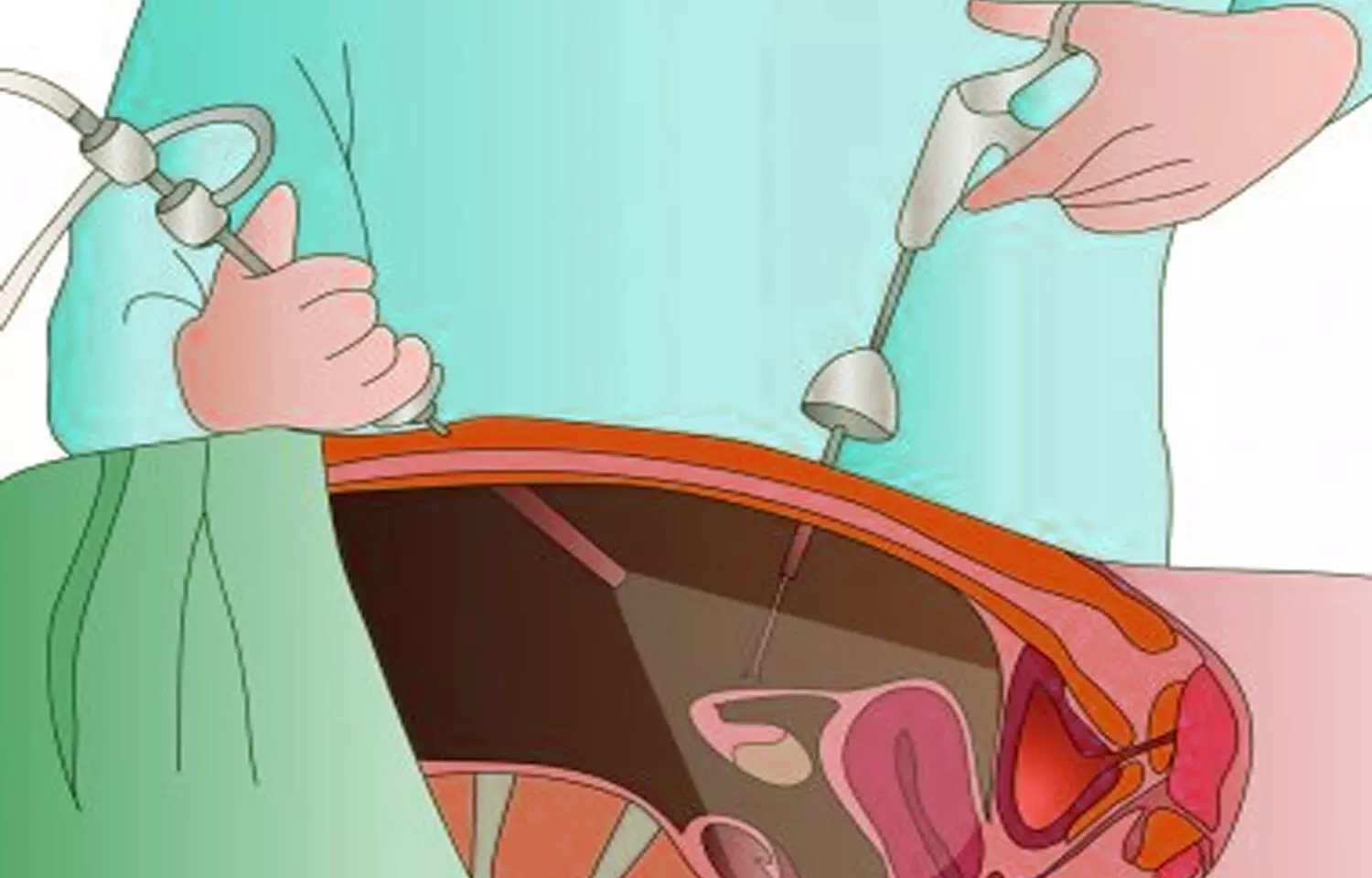 Laparoscopic suturing of the vaginal cuff and knotting is the most challenging step in total laparoscopic hysterectomy (TLH) and requires surgical skill. In TLH, the vaginal cuff can be sutured laparoscopically (either intracorporeal or extracorporeal) and vaginally. Suture material (e.g. polyglactin 910) and suturing technique (single/double layer or figure of eight) vary among surgeons and institutes. As vaginal cuff suturing constitutes a critical part of TLH, many techniques and variations in suture material have been developed to overcome surgical difficulties and associated complications.

Barbed sutures are the latest addition among sutures used for vaginal cuff closure. Conventionally, the Vicryl suture is used for this purpose in which knotting remains a major hurdle and needs expertise and a learning curve. Whereas barbed sutures are self-retaining, and knotting is not required due to its cutting barbs.
A prospective observational study was carried out at the department of obstetrics and gynecology, All India Institute of Medical Sciences (AIIMS), Rishikesh, for two years. The article has been recently published in Cureus Journal, a peer-reviewed Journal
Laparoscopic vaginal cuff closure was performed with the unidirectional barbed suture (V-Loc) in 44 patients and with the standard polyglactin 910 suture (Vicryl) in 65 patients. The primary outcome measure was vaginal cuff closure time. Secondary outcome measures included total operative time, blood loss, average number of stitches, postoperative pain perception, duration of hospital stay, vaginal cuff-related complications, and dyspareunia.
The vaginal cuff closure time was found to be significantly less in the V-Loc group (8.84 ± 2.18 min) in comparison to the vicryl group (11.66 ± 1.74 minutes) (p=<0.01) .
Operative variables, such as overall operating time, blood loss, and hemoglobin difference, were comparable in both groups.
Postoperative variables, such as pain, hospital stay, and complications, were comparable in both groups. At the six weeks, three months, and six months follow-up visits (physically or telephonically), no patients had vaginal discharge, vault hematoma, dehiscence, or abscess. No patient in either group had dyspareunia.
In the study, the researchers focused on the performance of the V-Loc suture on vault closure time primarily and found that V-Loc was easy to use and reduced vault closure time by 2.82 minutes than the Vicryl suture. The reduced time of suturing might be attributed to its knotless property and non-dependence of the surgeon on an assistant to hold the suture for tension. But it also depends on the surgeon's expertise, as passing the needle through the loop of the V-Loc suture takes extra time at the beginning of the learning curve and comes with experience.
The high cost is a potential drawback of the barbed suture, which stops its widespread use. However, the knotless property and non-dependence on the assistant make the barbed suture an easy, convenient, and safe substitute to the conventional vicryl suture.
" The unidirectional barbed suture significantly reduces vaginal cuff closure time. It is a safe, effective, and well-tolerated alternative to the conventional Vicryl suture for vaginal cuff closure in total laparoscopic hysterectomy without increasing the risk of postoperative vaginal complications, particularly where affordability is not an issue and resources are accessible," the authors concluded
The article titled" Unidirectional Barbed Suture Versus Polyglactin 910 Suture for Vaginal Cuff Closure in Total Laparoscopic Hysterectomy" is available at Cureus Journal
DOI: 10.7759/cureus.14257
Source : Cureus