Odisha: Female govt doctor accused of calling patient at home, taking Rs 2700 bribe for treatment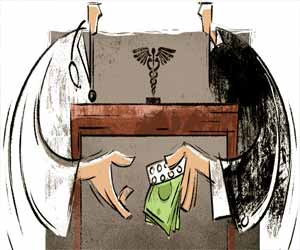 Paralakhemundi: A female doctor associated with Community Health Centre (CHC) has fallen under the radar of the authorities for allegedly taking bribe from a pregnant woman.
This came after a couple registered a complaint against the female doctor of Community Health Centre (CHC) in Mohana of Gajapati district that she allegedly took Rs 2700 from them.
The incident happened on Wednesday last week when one Philip Nayak of Jhinjhigura village took his wife to the CHC after she complained of some gynaecological issues. At the hospital, the lady doctor asked them to visit her at home. According to them, she purportedly took Rs 2700 on account of treatment from them when they visited her house.
Read also: https://medicaldialogues.in/caught-red-handed-mbbs-doctor-arrested-for-taking-rs-30-bribe/
The complainant also provided certain eye witnesses "Philip came to me to borrow money and told that it was for the doctor's fee. I visited the doctor with the couple," Manmath Mishra, an eye witness told Odisha tv
BDO Banshidhar Khosla visited the CHC for enquiry after receiving the complaint. He then directed the complaint to the Chief District Medical Officer (CDMO) to take action against the concerned doctor
CDMO while talking to OTV informed that they are conducting an enquiry and will take strict action against the doctor if they find her guilty.
The accused doctor denied providing any clarification in this.
Read also: https://medicaldialogues.in/hernia-govt-doctor-takes-rs-6000-bribe-to-operate-on-patient-arrested/