Management of bone sarcoma: ESMO-EURACAN-GENTURIS-ERNPaedCan Guideline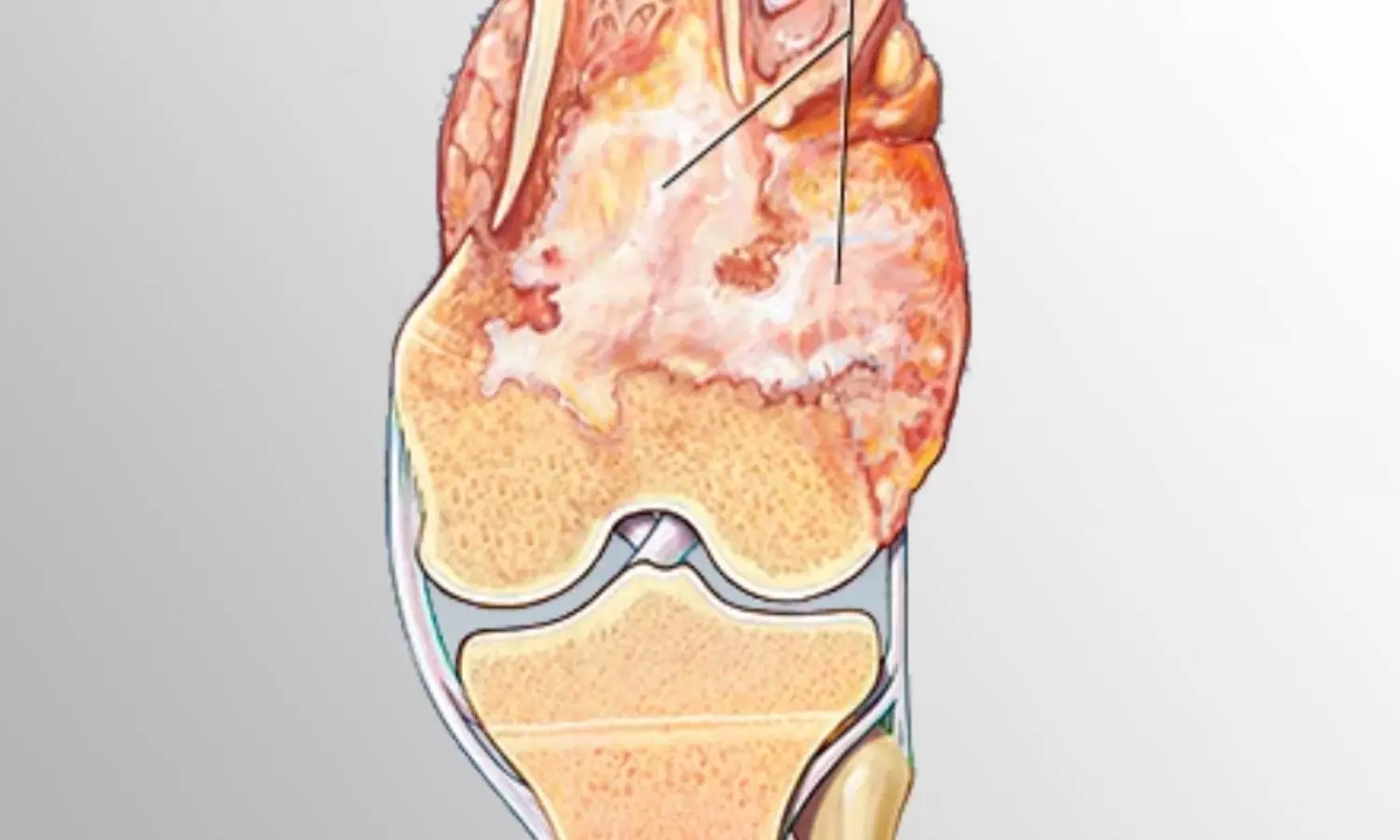 Delhi: A recent clinical practice guideline published in the journal Annals of Oncology provides key recommendations on the management of bone sarcomas. The recommendations were agreed upon following a consensus meeting of representatives from ESMO, EURACAN, GENTURIS, and ERNPaedCan.
Primary bone sarcomas (BSs) constitute <0.2% of malignant neoplasms across all ages. The overall incidence rate lies between 0.8-0.9 cases per 100,000/year with single BS types having no more than 0.3 incident cases per 100,000/year. Osteosarcoma and Ewing sarcoma (ES) have a relatively high incidence in the second decade of life, whereas conventional chondrosarcomas are more common in older age.
Diagnosis, pathology and molecular biology
The initial work-up of a suspected primary BS tumour should be carried out at a sarcoma reference centre, and should include medical history, physical examination, radiological assessment and biopsy.
Pathological diagnosis should be made by a bone tumour expert dedicated pathologist according to the 2020 WHO classification and should be supported by ancillary investigations whenever relevant.
For surgical specimens, tumour size and local extent of spread, site, status of surgical margins and percentage of pathological response to preoperative ChT should be described.
Staging and risk assessment
General staging should be carried out to assess the extent of distant disease, including chest CT, bone scintigraphy and/or WB-MRI and and/or FDG-PET-CT/MRI as clinically indicated. Baseline serum analysis in ES and osteosarcoma should include AP and LDH.
Treatment
Osteosarcoma
Low-grade central and parosteal osteosarcoma are malignancies with a low metastatic potential that should be treated by surgery alone.
urative treatment of high-grade osteosarcoma consists of multimodal ChT and surgery.
oxorubicin, cisplatin, HD-MTX and ifosfamide have anti-tumour activity in osteosarcoma [I, A]. In patients >40 years, preferred regimens combine doxorubicin, cisplatin and ifosfamide.
igh-grade craniofacial osteosarcoma should be treated the same way as high-grade osteosarcoma of other sites [IV, B]. In this location, RT can be proposed when complete surgery is not feasible and in patients undergoing resection with positive margins.
eavy-particle RT and IMRT can be considered, particularly for unresectable primary tumours.
rimary metastatic osteosarcoma patients are treated with a curative intent following the same principles of non-metastatic osteosarcomas.
he treatment of recurrent osteosarcoma is primarily surgical in the case of isolated lung metastases or local recurrence.
RFA and stereotactic RT are potential alternative local treatment options in patients unfit for surgery and for small lung or bone metastases.
Second-line ChT for recurrent osteosarcoma includes ifosfamide or cyclophosphamide, possibly in association with etoposide and/or carboplatin [III, B], and other active drugs including gemcitabine and docetaxel.
Ewing sarcoma
Molecular confirmation is mandatory for the distinction between ES and other RCSs.
The interval-compressed VDC/IE regimen is currently the preferred first-line treatment in ES.
The use of BuMel could be considered for selected patients with poor response to VIDE induction ChT and/or tumour volume >200 ml.
The role of high-dose ChT has not been evaluated with interval compressed VDC/IE. The selection of the most appropriate consolidation should take into account the ChT regimen received and the need for RT.
Complete surgical excision, when feasible, rather than RT as a sole modality is regarded as the best modality of local tumour control.
RT alone should be used if complete surgical excision is not possible and in primary sites where surgery will lead to unacceptable morbidity.
Adjuvant RT (pre- or post-operative) is indicated where the originally involved tissues cannot be completely resected with adequate surgical margins, for large-volume tumors or poor histological response [IV, B]. It should be considered in patients with non-sacral pelvic ES regardless of surgical margins, tumour volume or histological response.
Treatment of patients with extraskeletal ES follows the same principles as bone ES.
For cutaneous/subcutaneous ES the number of ChT cycles should be discussed on an individual case basis.
For patients with metastases at diagnosis, ChT is similar to that for localised disease.
ChT regimens for relapsed disease include alkylating agents in combination with topoisomerase inhibitors, irinotecan with temozolomide, gemcitabine and docetaxel, high-dose ifosfamide or carboplatin with etoposide.
Source : Annals of Oncology