One doctor available for every 1,681 persons in country: Govt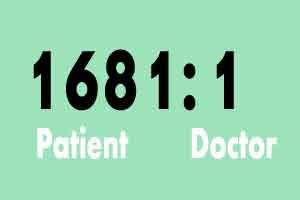 There is one doctor available for every 1,681 persons in the country, Rajya Sabha was informed on Tuesday.

However, if allopathic and AUM (ayurvedic, unani and homeopathic) streams are considered together, then the doctor population ratio stands at 1:893, Health and Family Minister J P Nadda said in a written reply in Rajya Sabha.

Nadda said that as on June 30, 2015, there were 9,59,198 doctors registered with the State Medical Councils and the Medical Council of India.

"Assuming 80 per cent availability, it is estimated that around 7.67 lakh doctors may be actually available for the active service. It gives a doctor-population ratio of 1:1681," he said.

Besides, there are 6.77 lakh AUM doctors in the country, the minister said, adding if  allopathic and AUM are considered together, "it gives a doctor population ratio of 1:893".

To augment the availability of doctors in the country, he said the government has taken various measures such as relaxation in the norms for setting up a medical college, strengthening or upgradation of existing state and Central government medical colleges to increase MBBS seats, and establishment of new medical colleges by upgrading district/referral hospitals preferably in underserved districts of the country.

Other measures, he said, include revising ratio of teachers to students for all MD/MS disciplines, recognising DNB qualification for appointment of faculty, enhancement of maximum intake capacity at MBBS level, and enhancement of age limit for appointment/extension/re-employment against posts of teachers/dean/principal/director in medical colleges.