Only 1 Anaesthetist for 1 lakh Indians: World Anaesthesiology Workforce Map
New Delhi: While the severe shortage of physicians in the country is a known fact, the figures became glaring for the specialty of anaesthesiology , as the World Federation of Societies of Anaesthesiologists (WFSA) released World Anaesthesiology Workforce map, online resource tool mapping the total number of anaesthesia providers worldwide.
The map highlights many statistics regarding the availability of anaesthetists in the country. As per WFSA,  the density 
Anaesthesia Providers per 100,000 population stands at a mere 
1.27. Other statistics include:
[caption id="attachment_39687" align="alignnone" width="720"]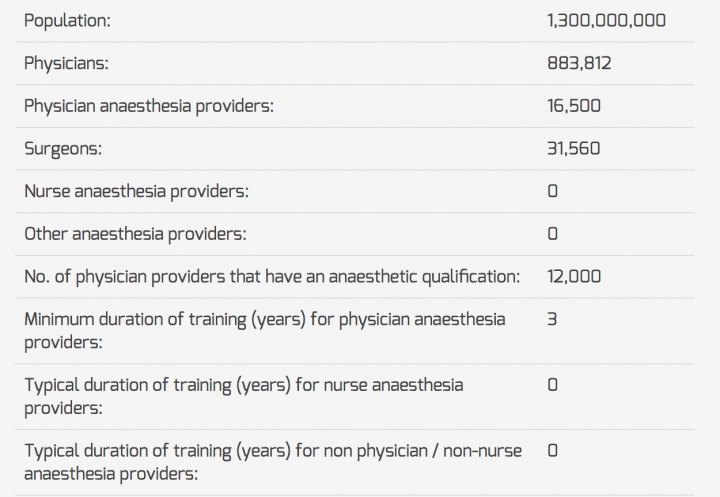 Source:http://www.wfsahq.org[/caption]
Across the world the map highlighted huge shortages impacting 5 billion people worldwide. It also showed a large difference between the average anaesthesia provider workforce densities in high income countries compared with low income countries.
"The crisis in anaesthesia is perhaps most apparent in terms of workforce. Safe anaesthesia requires a trained provider and yet across large parts of Sub-Saharan Africa, South-East Asia, and beyond, ratios of far less than 1 trained provider per 100,000 population are commonplace. In high income countries we are used to ratios of 20 per 100,000 or higher, and we experience very low mortality from anaesthesia, yet in low income countries we actually have examples of there being 1,000 times fewer trained providers and 1,000 times higher mortality rates. It's wrong." Julian Gore-Booth, WFSA Chief Executive, explained.
The position statement issued by the organisation stated"There is an urgent need to address deficiencies in access to safe anaesthesia care. An additional 1.27 million surgical, obstetric and  anaesthesia providers will be required by 2030 to achieve Universal Health Coverage. In many countries, particularly those with limited resources, anaesthesia is associated with unacceptably high mortality rates. Training and ongoing maintenance of standards are essential for increasing the number of providers and increasing the safety of anaesthesia for patients worldwide."
Indeed, increasing the anaesthesia workforce is essential to achieving universal health coverage. A lack of human resources in the health sector, and particularly a deficit in the surgery and anaesthesia workforce, means that safe adequate care cannot be provided for the neglected surgical patient.
"In some countries, the anaesthesia need will be met by training anaesthesiologists. In other countries, especially those with limited resources, the need may, in part, be met by training non-anaesthesiologist providers."
"Anaesthesia is complex and potentially hazardous, and optimal patient care depends on anaesthesia being provided, led or overseen by an anaesthesiologist. The WFSA recognises that effective teamwork is a vital component of patient safety."
The indicated data concerning anaesthesia providers has been collected by a WFSA survey 2015-16 and has been checked for veracity. Data concerning numbers of physicians and surgeons has been collated from a variety of sources including the WHO, the Lancet Commission on Global Surgery and COSECSA.
To access the map click on the following link
http://www.wfsahq.org/workforce-map