Kawasaki-like syndrome associated with COVID-19 in an adult: AJO Case Report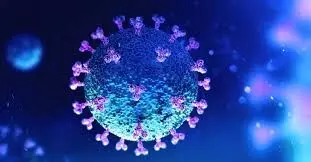 Kawasaki-like syndrome associated with COVID-19 may be life-threatening and needs to be recognized early
Alcina K. Lidder from NYU Langone Health Department of Ophthalmology, USA and colleagues have reported a case of Kawasaki-like syndrome in an adult patient of COVID-19, similar to paediatric patients.
The case report has been published in the American Journal of Ophthalmology Case Reports
A 45-year-old male presented to the hospital with five days of fever, sore throat, diarrhoea, eye redness, eyelid swelling, and a diffuse rash including bilateral upper and lower eyelids and mouth. He was found to be COVID-19 positive on PCR testing. Blood work up revealed lymphopenia and severely elevated inflammatory markers including ferritin, CRP, ESR, and D-dimer, and troponin. A transthoracic echocardiogram demonstrated global hypokinesis and a reduced ejection fraction of 40%. CT imaging showed unilateral cervical lymphadenopathy with a lymph node measuring 1.8 cm.
On ophthalmic examination, uncorrected near visual acuity was 20/20 bilaterally. There was diffuse conjunctival hyperaemia with chemosis. There was bilateral superficial punctate keratitis and anterior chamber (AC) reaction with around 10–15 cells per high power field. Fundus examination was grossly normal except for one small peripheral cotton wool spot in each eye.

Punch biopsy of the erythema multiforme-like rash showed sparse superficial perivascular infiltrate of lymphocytes with neutrophils and scattered eosinophils, suggestive of toxic shock syndrome. Rheumatology work-up including ANA, RF, anti-CCP, anti-Smith, anti-dsDNA, p-ANCA/MPO, c-ANCA/PR3 was unremarkable. Blood culture and HIV testing were negative.

Kawasaki- like syndrome associated with COVID-19 has been reported in pediatric patients and adolescents below 19 years of age. The WHO definition for this syndrome differs slightly from the classical criteria for Kawasaki disease in children.
World Health Organization (WHO) Preliminary Case Definition of COVID-19 Kawasaki Syndrome in Children and Adolescents criteria are:
1. Fever for more than 3 days
2. At least two of the following features

• Rash or bilateral non-purulent conjunctivitis or muco-cutaneous inflammatory signs (oral, hands, feet)
• Hypotension or shock
• Myocardial dysfunction, pericarditis, valvulitis, or coronary abnormalities
• Evidence of coagulopathy on laboratory testing
• Acute gastrointestinal problems (diarrhoea, vomiting, abdominal pain)
3. Laboratory criteria

• Elevated inflammatory makers on laboratory testing
• No other obvious microbial cause of inflammation
• Evidence of COVID-19 infection
The patient fulfilled the criteria for Kawasaki syndrome according to the old as well as the revised definition. He was treated with topical steroid and lubricating eye drops with topical steroid ointment. Systemically, IVIG and an IL-6 inhibitor (Tocilizumab) were administered. The patient responded well to therapy. The fever resolved with disappearance of the periorbital and perioral rash. Conjunctival hyperaemia, keratitis and AC reaction had also decreased significantly at 2 weeks.
COVID-19 is a new entity with novel presentations of the disease being reported every day. According to the authors, Kawasaki like syndrome associated with COVID-19 has not been previously reported in adults.
"Kawasaki-like syndrome reported in paediatric patients has serious and even life-threatening consequences. Clinicians should remain vigilant and alert about a similar possibility in adults," conclude the authors.
For further reading and clinical photographs, please click on the link
https://www.journals.elsevier.com/american-journal-of-ophthalmology-case-reports/
Article Source :
American Journal of Ophthalmology Case Reports