Febuxostat has similar CV safety as Allopurinol when used in Gout: Study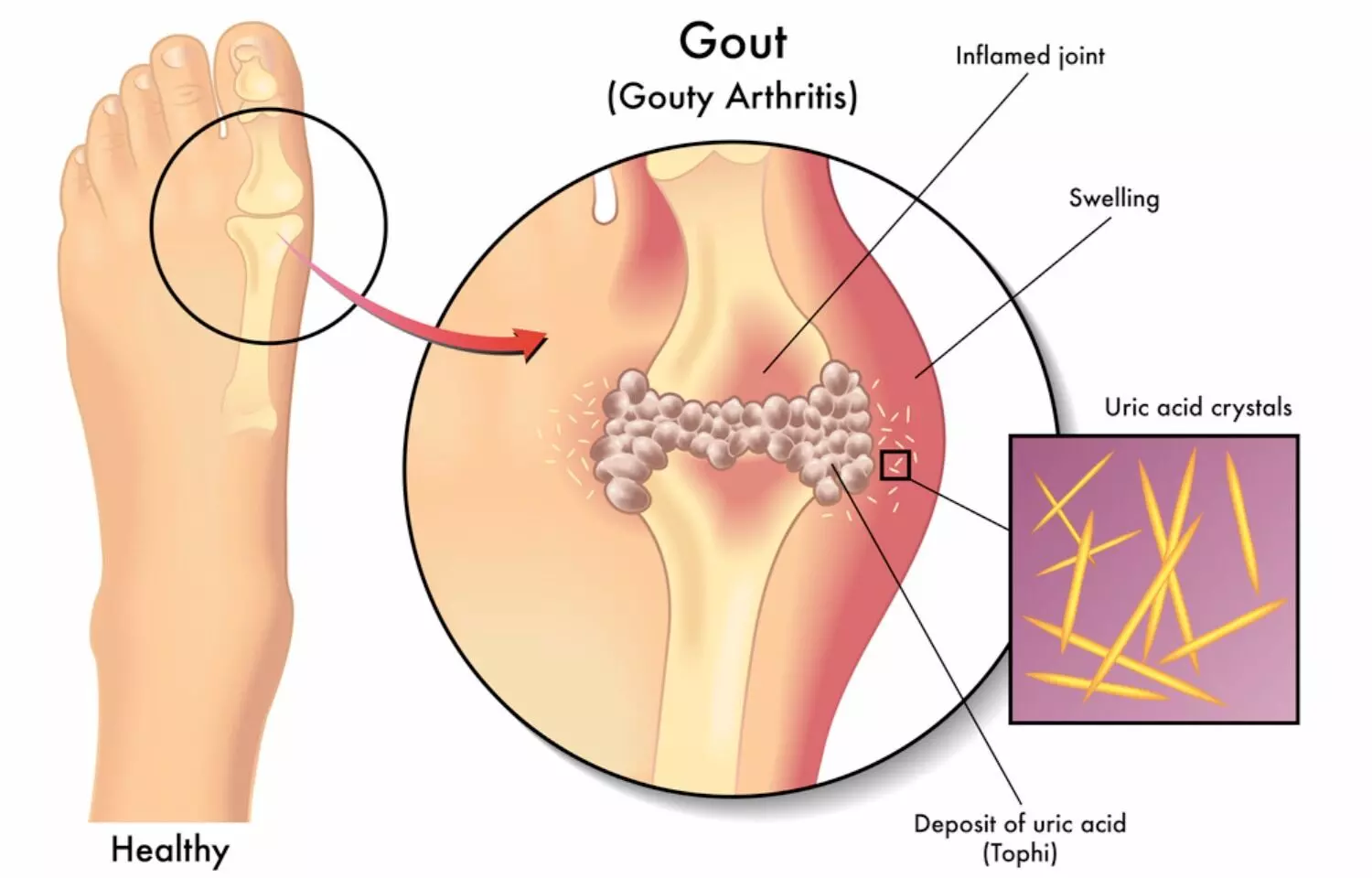 Febuxostat used for Gout did not substantially increase the risk of cardiovascular events or death when compared to the usage of Allopurinol, suggests a study published in Clinical Cardiology.

Gout is a very common yet complex form of arthritis that can affect individuals of all ages. It's characterized by sudden, intense attacks of pain, swelling, redness, and tenderness in one or more joints, most commonly in the big toe. The affected joint feels like it is on fire. Also, it becomes so swollen and tender that even the weight of the bedsheet on it may seem intolerable. These symptoms come at intervals and there are ways to manage them and prevent future flare-ups.

Currently, drugs are the first choice for the treatment of gout in clinical practice, the most commonly used are Febuxostat and Allopurinol. However, there have been contradictory studies highlighting the cardiovascular safety profile of febuxostat as compared to allopurinol. But any evidence for a causal relationship between xanthine oxidase inhibitors and cardiovascular diseases (CVD) remains equivocal.
Therefore, a study was conducted by Gao L et. al to conduct a review of the relevant clinical trials published in In recent years to deeply study the adverse cardiovascular events and death risks of febuxostat compared with allopurinol in patients treated for gout.
The researchers searched for articles published in MEDLINE and Embase between March 1, 2000, and April 4, 2021, without any language restrictions. Following which they conducted a systematic review and meta-analysis of all the relevant clinical trials to assess the cardiovascular safety of febuxostat compared to allopurinol for treatment of chronic gout. Two reviewers independently selected studies evaluated study quality and extracted data. Next, risk ratios were calculated with random effects and were reported with corresponding 95% confidence intervals (CI).From 240 potentially relevant citations, 224 papers were excluded; 16 studies were ultimately included in the analysis.
The results of the study are as follows:

Ø In terms of urgent coronary revascularization and stroke Febuxostat had a better safety outcome compared with allopurinol.
Ø However, that difference was not found in nonfatal myocardial infarction, cardiovascular-related mortality and all-cause mortality.
Ø Also, there was no significant difference in cardiovascular-related mortality and all-cause mortality observed across any subgroup.
Thus, the researchers concluded that febuxostat had a safe cardiovascular profile in patients being treated for gout. And initiation of febuxostat in patients was not associated with an increased risk of death or serious cardiovascular-related adverse events compared with allopurinol.

Reference:

A study titled, "Cardiovascular safety of febuxostat compared to allopurinol for the treatment of gout: A systematic and meta-analysis" by Gao L et. al published in the Clinical Cardiology.
https://doi.org/10.1002/clc.23643

Source : Clinical Cardiology Journal