Glucocorticoid addition in periarticular infiltration analgesia safe after TKA: Study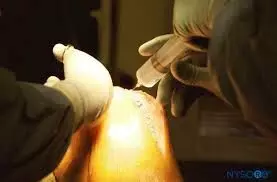 Total knee arthroplasty (TKA) has been reported to be the most effective procedure for pain relief in patients with advanced osteoarthritis. Multimodal and pre-emptive approaches are currently used for perioperative pain relief. Periarticular injection of a drug cocktail has been particularly effective in decreasing pain and improving early function after TKA.
In a recent study, researchers have found that glucocorticoid supplementation in periarticular infiltration analgesia (PIA) is effective and does not increase complications or side effects for patients with either unilateral or bilateral TKA. The research has been published in The Journal of Arthroplasty on April 09, 2021.

Many surgeons refrain from using periarticular steroids as
there is a possible complication of postoperative infection and patellar tendon rupture. Recently, several randomized controlled trials have compared the efficacy of multimodel cocktail periarticular injection (MCPI) with or without steroids in TKA, but the conclusions were controversial. Therefore, researchers of the Peking Union Medical College and Chinese Academy of Medical Sciences, China conducted a study to examine the effect and safety of multimodal cocktail protocols implemented with or without glucocorticoids on periarticular infiltration analgesia (PIA) in patients undergoing total knee arthroplasty.
It was a systemic review and meta-analysis of randomized controlled trials (RCTs) in which researchers have searched the PubMed, Medline, Embase, and Cochrane Library databases for studies on glucocorticoids as a component of the cocktail protocol used in PIA for patients with TKA up to November 2020. They included a total of 11 RCT studies with 1051 primary TKAs (930 patients).
Key findings of the study were:
Upon analysis, the researchers found that Visual analog scale (VAS) scores at postoperative day (POD) 1 and POD 2 in the glucocorticoid groups were significantly lower than those in the control group.
They also found that the glucocorticoid group was associated with a statistically significant improvement in the range of motion (ROM) at POD 1with a reduction in total morphine consumption at 24 hours and lower levels of C-reactive protein on POD 2/3 compared with the control group.
However, they found no difference in the length of hospital stays nor the long-term Knee Society Knee Score between the two groups.
Upon subgroup analysis, they noted that triamcinolone acetonide is better than betamethasone, methylprednisolone and dexamethasone regarding the postoperative VAS scores and ROM.
The authors concluded, "Glucocorticoid supplementation in PIA is effective and does not increase complications or side effects for patients with either unilateral or bilateral TKA. Moreover, triamcinolone acetonid could be recommended in multimodal cocktail protocols for glucocorticoid supplementation."
For further information:
DOI:https://doi.org/10.1016/j.arth.2021.03.056
Article Source :
The Journal of Arthroplasty