Use of ultrasound of no benefit for treat-to-target therapy in rheumatoid arthritis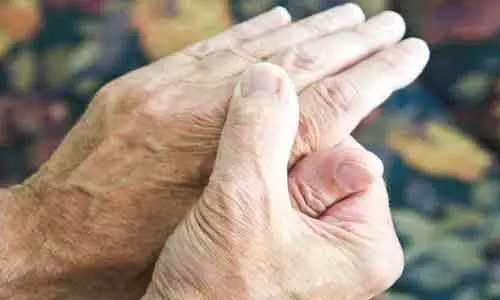 Oslo, Norway: Systematic use of ultrasound does not provide a benefit in the follow-up of patients with early rheumatoid arthritis (RA), finds a recent study published in the journal Rheumatology.
According to the study, compared with a conventional treatment strategy incorporation of ultrasound information in treatment decisions does not lead to reduced magnetic resonance imaging (MRI) inflammation or less structural damage.
Rheumatoid arthritis is a common autoimmune disorder causing painful inflammation and damage to the joints of affected patients. The objective of RA care today is to treat patients to clinical remission, but these patients may still have subclinical inflammation visible on ultrasound or magnetic resonance imaging.
Ulf Sundin, University of Oslo, Oslo, Norway, and colleagues investigated whether an ultrasound-guided treat-to-target strategy for early RA would lead to reduced MRI inflammation or less structural damage progression compared with a conventional treat-to-target strategy.
For the purpose, a total of 230 DMARD-naïve early RA patients were randomized to an ultrasound tight control strategy targeting DAS <1.6, no swollen joints and no power Doppler signal in any joint or a conventional strategy targeting DAS <1.6 and no swollen joints. The patients were treated according to the same escalation strategy.
MRI of the dominant hand was performed at six-time points over 2 years and scored according to the OMERACT RA MRI scoring system. A total of 218 patients had baseline and one or more follow-up MRIs and were included in the analysis. The mean MRI score change from baseline to each follow-up and the 2-year risk for erosive progression were compared between arms.
Key findings of the study include:

MRI bone marrow oedema, synovitis and tenosynovitis improved over the first year and was sustained during the second year of follow-up, with no statistically significant differences between the ultrasound and the conventional arms at any time point.
The 2 year risk for progression of MRI erosions was similar in both treatment arms: ultrasound arm 39%, conventional arm 33% [relative risk 1.16].
"The MRI results, with no trend towards less joint damage progression in the ultrasound arm, support the conclusions of the primary outcomes of the above-mentioned trials—that an ultrasound-guided strategy does not lead to improved treatment outcomes," wrote the authors.
"Our findings support the current treatment recommendations for early RA," they concluded.
The study, "Conventional versus ultrasound treat to target: no difference in magnetic resonance imaging inflammation or joint damage over 2 years in early rheumatoid arthritis," is published in the journal Rheumatology.

Source : journal Rheumatology