Over 11 lakh Allopathic Doctors in India, 8.93 lakh Availabe for active service: Health Minster informs Parliament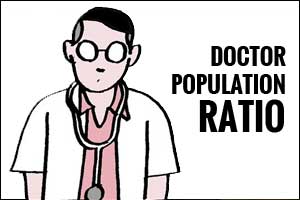 New Delhi: There are 11,15,835 MBBS doctors registered allopathic medical practitioners in the country, of which 8.93 lakh are available for active service, MOS Health Ashwini Kumar Choubey recently informed the Rajya Sabha.
In an ongoing parliamentary session, Rajya Sabha member P.L. Punia had questioned the Health and Family Welfare department in regard of availability of MBBS doctors in the country, the extent of statewise shortage and also the details of the allopathic doctors recruited in the last three years.
Through a written response, Ashwini Kumar Choubey, the Minister of State for Health and Family welfare responded to the questions and answered according to the information provided to the Ministry by Medical Council of India (MCI) about the total number of MBBS doctors in the country.
He informed that as on 30
th
March 2018, there are 11,15,835 MBBS doctors are registered with the respective State Medical Councils or Medical Council of India. The details of all the doctors registered with the councils are available State-wise are given below.
Assuming 80% availability, it is estimated that around 8.93 lakh doctors may be actually available for active service.
According to the existing data, the current population estimate of India is around 1.35 billion. As per the World Health Organisation (WHO) standards, the doctor-population ratio must be 1:1000, but India does not match this standard. The existing doctor-population ratio in the country is 1:1511, therefore, hence highlighting the shortage of qualified medical practitioners in the country
According to the details released by the Government, the highest number of doctors registered are in the state of Maharashtra with 1,58,998 registered with the Maharashtra Medical Council followed by 1,28,200 registrations with Tamil Nadu State Council and 1,18,727 with Karnataka Medical Council.
The minister later mentioned that Public Health and Hospitals being a state subject, therefore the central government does not collect maintain a record of the doctors who have been recruited by the state.
As compared to the 2017 released data of registered MBBS doctors, 2018 has seen an increment in the registered MBBS doctors with the councils. It increased from 10,22,859 to 11,15,835.
Read Also: Shortage of Allopathic Doctors: Health Ministry Statistics
Number of Doctors Registered with State Medical Councils / Medical Council of India as

on 30
th
June, 2018
| | | |
| --- | --- | --- |
| Sr. | Name of the Medical Council | Number of Doctors |
| 1. | Andhra Pradesh | 96,248 |
| 2. | Arunachal Pradesh | 914 |
| 3. | Assam | 23,665 |
| 4. | Bihar | 40,649 |
| 5. | Chattisgarh | 8,386 |
| 6. | Delhi | 20,514 |
| 7. | Goa | 3,776 |
| 8. | Gujarat | 65,723 |
| 9. | Haryana | 5,717 |
| 10. | Himachal Pradesh | 3,054 |
| 11. | Jammu & Kashmir | 14,789 |
| 12. | Jharkhand | 5,596 |
| 13. | Karnataka | 1,18,727 |
| 14. | Madhya Pradesh | 36,455 |
| 15. | Maharashtra | 1,58,998 |
| 16. | Medical Council of India | 52,666 |
| 17. | Mizoram | 58 |
| 18. | Nagaland | 106 |
| 19. | Orissa | 22,521 |
| 20. | Punjab | 46,264 |
| 21. | Rajasthan | 42,550 |
| 22. | Sikkim | 1,381 |
| 23. | Tamil Nadu | 1,28,200 |
| 24. | Travancore | 57,850 |
| 25. | Uttar Pradesh | 75,349 |
| 26. | Uttrakhand | 7,729 |
| 27. | West Bengal | 71,290 |
| 28. | Tripura | 1,718 |
| 29. | Telangana | 4,942 |
| | Total | 11,15,835 |