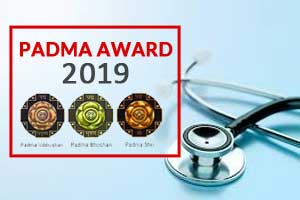 New Delhi – Fourteen doctors ( inclduing one-duo) have been conferred Padma Shri awards for their contribution to the field of medicne and healthcare as well as one doctor have been honoured with a Padma Bhushan for his contribution to Indian Healthcare. The awards are announced on the occasion of Republic Day every year.
Padma Awards – one of the highest civilian Awards of the country, are conferred in three categories, namely, Padma Vibhushan, Padma Bhushan and Padma Shri. The Awards are given in various disciplines/ fields of activities, viz.- art, social work, public affairs, science and engineering, trade and industry, medicine, literature and education, sports, civil service, etc. 'Padma Vibhushan' is awarded for exceptional and distinguished service; 'Padma Bhushan' for distinguished service of high order and 'Padma Shri' for distinguished service in any field.
These awards are conferred by the President of India at ceremonial functions which are held at Rashtrapati Bhawan usually around March/ April every year. This year the President of India has approved conferment of 112 Padma Awards including one duo case (in a duo case, the Award is counted as one) as per list below. The list comprises 4 Padma Vibhushan, 14 Padma Bhushan and 94 Padma Shri Awards. 21 of the awardees are women and the list also includes 11 persons from the category of Foreigners/NRI/PIO/OCI, 3 Posthumous awardees and 1 transgender person.
................................ Advertisement ................................
While no medical practitioner was conferred Padma Vibhushan This year, one doctor was given a Padma Bhuashan award for his contribution in the field of Medicine- Affodable care . 13 doctors were conferred Padma Shri. Folwing are the detauls of doctors category wise
Padma Bhushan
Shri Ashok Laxmanrao Kukade– Maharashtra- Medicine- Afforable care
................................ Advertisement ................................
Padma Shri
Dr Illias Ali– Assam- Medicine – Illias Ali
Dr Omesh Kumar Bharti– Himachal Pradesh-Medicine- Rabies
Dr Mammen Chandy– West Bengal- Medicine- Hematology
Dr Sandeep Guleria– Delhi- Medicine- Surgery
Dr Pratap Singh Hardia– Madhya Pradesh- Medicine-Opthalmology
Dr Sudam Kate– Maharashtra- Medicine Sickle Cell
Dr Ravindra Kohle– Smita Kohle ( Duo)- Maharashtra- Medicine- Affordable Care
Dr Shadab Mohammad– Uttar Pradesh- Medicine- Dentistry
Dr Shyama Prasad Mukherjee– Jharkhand- Medicine- Affordable Care
Dr Tsering Norboo– Jammu and Kashmir- Medicine- Surgery
Dr Jagat Ram– Chadigarh- Medicine- Ophthalmology
Dr RV Ramani– Tamil Nadu- Medicine- Ophthalmology
Dr Ramaswami Venkataswami- Tamil Nadu- Medicine- Surgery
Author Details
Meghna A Singhania is the founder and Editor-in-Chief at Medical Dialogues. An Economics graduate from Delhi University and a post graduate from London School of Economics and Political Science, her key research interest lies in health economics, and policy making in health and medical sector in the country.
She can be contacted at editorial@medicaldialogues.in.
Contact no. 011-43720751
................................ Advertisement ................................
22 comment(s) on Padma Honours for Doctors: 14 Doctors conferred Padma Shri, One Padma Bhushan