Padma Shri Awardee Nephrologist Dr H L Trivedi no more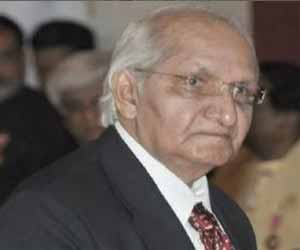 Ahmedabad:
Medical fraternity has lost a renowned kidney transplant surgeon and Padma Shri recipient Dr H L Trivedi who died on October 2nd 2019 after prolonged illness. He suffered from neurological and liver ailments, as well as Parkinson's disease.
He was a pioneer of transplantation medicine in India and a founding director of the Kidney Hospital in Ahmedabad. He and his team performed more than 5200 kidney transplantations. Dr H L Trivedi was awarded the Padma Shri,the fourth highest civilian award, in 2015 for his contribution to the society as a nephrologist.
He completed his MBBS from the B J Medical College, Ahmedabad in 1963. He had higher training for two years in the Cleveland Clinic in the US, and practiced for eight years in Hamilton, Ontario, Canada. Dr Trivedi then returned to Ahmedabad in 1977 to continue his practice in India.
Dr Trivedi also established dialysis centre network in district hospitals across Gujarat with the help of the state government. He was a founding director of the Institute of Kidney Diseases and Research Centre and Institute of Transplantation Sciences (IKDRC-ITS, founded in 1981 and 1997 respectively) located in the Ahmedabad Civil Hospital campus. It is the largest kidney hospital in the world with 438 beds. Dr Trivedi and his team completed more than 5200 kidney transplantations in the institute. It is also the only public-sector liver transplantation institute in India. IKDRC-ITS was upgraded into the Gujarat University of Transplantation Sciences in 2015 and Trivedi was appointed its Pro-Chancellor.
He was also a faculty member of the B J Medical College.
 He founded the Indian Society of Organ Transplantation. He was also the founding chief editor of the Indian Journal of Transplantation and Indian Journal of Nephrology. He held several patents on stem-cell therapy for transplantation tolerance and insulin-producing stem cells.
Offering his tribute to the renowned doctor, Prime Minister Narendra Modi said that Dr Trivedi was a stalwart of the medical world and his work in nephrology would ensure better health for several people in the times to come.



Dr. HL Trivedi was a stalwart of the medical world. He made a mark as an excellent doctor, known for his dexterity and compassion. His work in nephrology will ensure better health for several people in the times to come. Pained by his demise. Condolences to his family. Om Shanti.


— Narendra Modi (@narendramodi) October 2, 2019