Paras Healthcare Brings Superlative Health Services to Darbhanga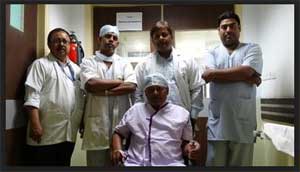 DARBHANGA: Paras Healthcare brings superlative health services to Darbhanga; a vision to bring tertiary healthcare needs in Tier III cities in India
Following his vision to bring tertiary healthcare solutions to smaller Tier III cities in India, ensuring every patient in these cities does not have to seek solutions in metros, Dr. Dharminder Nagar, Managing Director, Paras Healthcare realised his dream. Paras Healthcare conducted a path-breaking surgery at their hospital chain in Darbhanga, Bihar recently. The cardiac surgeons performed a mitral valve replacement procedure using the highly advanced Minimally Invasive Cardiac Surgery Technique. This sets a precedent in the canvass of the healthcare industry to the increasing new players for new entrepreneurial ventures and to millions of patients a hope towards better treatment solutions without increased expenses.
Paras Healthcare was established in 2006, with the mission of providing specialized tertiary medical care services at affordable prices to underserved communities across the country. This private healthcare provider stands apart from others in its vision of making healthcare a reality for people in rural and remote regions. Every single individual working in a 'Paras' Hospital - from doctors to nurses and the management, is united in the endeavor to deliver top-quality healthcare to all. They are indeed differentiators as compared to the other healthcare players in India with their vision for being instrumental players in bridging the gap.
Dr. Dharminder Nagar, Managing Director, Paras Healthcare says, "At Paras Healthcare, we have closely studied the discrepancies in India's healthcare delivery - the north-south divide along with the urban and rural healthcare issues. They are the reasons that as a healthcare entity, we have consciously planned our expansion keeping in mind the skewed status of healthcare delivery in North India. Not only are we working to expand our footprint in smaller towns and tier III cities of India which are bereft of quality healthcare, we are also working to strengthen delivery of specialized treatments and procedures in these areas."
The availability of tertiary healthcare facilities in India is skewed heavily in favour of urban areas despite the fact that they are home to less than 30% of the population. According to estimates, almost 70% of the doctors in India are concentrated in urban centres, which enjoy access to almost 65% of the country's hospital beds.
Patients travel long distances, often from rural Haryana, Uttar Pradesh, Bihar, even West Bengal for a basic facility that is every individual's right - quality healthcare. Often, patients requiring critical emergency surgeries fail to reach the nearest metro cities on time resulting in situations beyond their control. While India's much-celebrated healthcare sector - a hub of medical tourism - receives lofty praise for providing highly affordable world-class care to patients from across the world, it fails to provide millions of its own citizens quality and affordable healthcare. Even as high-quality private tertiary care hospitals have mushroomed in metropolitan cities, small towns in India have remained off the radar of the private sector.
"Paras Healthcare believes in working at the grass-root level with patients and their families. The idea is to provide the highest quality of healthcare that is affordable and accessible to all. It has established super specialty hospitals based on Affordability, Accessibility & Quality at locations that have no access or scarce availability of specialized healthcare," Dr. Dharminder Nagar adds, referring to the morals and beliefs embedded in the people at Paras Healthcare.
What deters private players from moving to tier III centres is the lack of profitability. With people having limited ability to pay and low penetration of insurance, revenue realization in these areas is naturally constrained. Healthcare services in these areas have to be significantly priced much lower as compared to metros. Here, hospitals have to focus on devising intelligent and innovative cost-cutting measures that provide quality healthcare comparable in standards to metros but at a much lower cost. Basically, a no-frills attached service module works in these regions.
Paras Healthcare has taken the lead in this direction by centering its focus on tier III cities such as Patna, Darbhanga, and Panchkula. Five years from now, Paras Healthcare projects will have a bed strength of 1500, most of these in small towns and cities.