Patients shifted from hospital following fire scare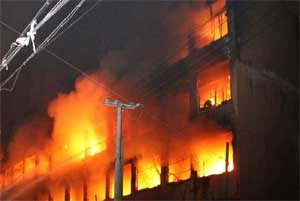 Krishnagar: At least 12 heart patients of Gandhi Memorial Hospital at Kalyani in Nadia district were today shifted after smoke was noticed in its AC control room, hospital authorities said.
Panic gripped the hospital when smoke from the AC control room near a ward in the first floor of the hospital filled a portion of it.
Some of the patients who can move fled, while workers shifted 12 others to a safe place.
"There was only smoke and no fire. There was no reason to fear. Two fire tenders controlled the situation quickly. We shifted 12 patients from the area," Superintendent Nilay Sinha said.
He said some wires of the room got melted due to short circuit and smoke was billowing from inside the room.