DKA incidence increases among children during COVID-19 pandemic, finds Study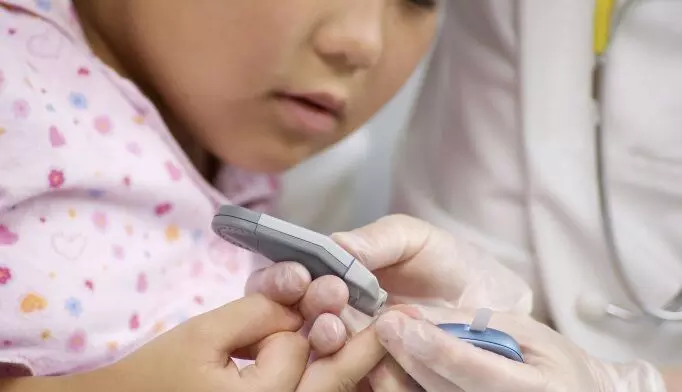 COVID-19 has spread rapidly across the entire globe and also the pandemic has also resulted in harm to patients who were not affected by COVID-19. Admissions for health care during the pandemic have markedly declined. As a result, diagnoses were delayed, and diseases were identified at an advanced stage. This delay has been quantified for instance by an increase in the frequency of diabetic ketoacidosis(DKA) at onset of type 1 diabetes in children and adolescents.

Dr.Kamrath et al from Germany conducted a research to quantify the relative risk (RR) of diabetic ketoacidosis at diagnosis of type 1 diabetes during the year 2020 and to assess whether it was associated with the regional incidence of coronavirus disease 2019 (COVID-19) cases and deaths.

In this multicenter cohort study ,data was collected from the German Diabetes Prospective Follow-up Registry of children and adolescents aged between 6 months and 18 years living in Germany with the diagnosis of new-onset type 1 diabetes during the year 2020 that consisted of 3238 children who were compared against a control group of 42 417 children and adolescents living in Germany with new-onset type 1 diabetes diagnosed during the years 2000–2019.

The study yielded following findings:

-Of the 3238 diabetic children, 33.8%(1094 patients) presented with DKA of which 12.1%(401) were severe.
-From the analyses,the standardized observed monthly rates of ketoacidosis during the year 2020 ranged from 22.6% in January to 43.3% in August which is in contrast to the standardized expected monthly proportions of ketoacidosis for the year 2020 ranged from 20.1% in January to 25.3% in October by multivariate logistic model.
-Researchers also observed the increased incidence of severe DKA during the pandemic in the months of April to September in year 2020.
-The regional COVID-19 incidences of new cases and deaths during the first wave of the pandemic were associated with the risk of ketoacidosis in children and adolescents at diagnosis of type 1 diabetes but similar findings were not observed during second wave.
The findings of the study suggest that the local severity of the pandemic rather than health policy measures appear to be the main reason for the increase in diabetic ketoacidosis and thus the delayed use of health care during the pandemic.
Authors conclude-"Information and education campaigns must communicate that avoiding the use of health care can lead to significant harm that is disproportionately higher than the negligible risk of contracting COVID-19".
Source: Kamrath C, Rosenbauer J, Eckert AJ, Pappa A, Reschke F, Rohrer TR, Mönkemöller K, Wurm M, Hake K, Raile K, Holl RW. Incidence of COVID-19 and Risk of Diabetic Ketoacidosis in New-Onset Type 1 Diabetes. Pediatrics. 2021 Sep;148(3):e2021050856. doi: 10.1542/peds.2021-050856.

Source : American academy of Pediatrics