Topical Timolol safe but has limited benefit in Infantile hemangiomas: JAMA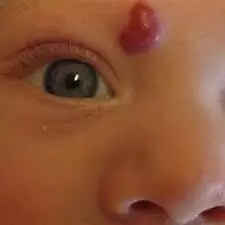 Infantile hemangiomas (IHs) are the most common benign tumours of infancy. Most IHs regress spontaneously without treatment, but complications needing treatment arise in approximately 10% to 15% of cases. A recent study suggests that topical use of timolol is well tolerated but provides limited benefit in lesion resolution when given during the early proliferative stage. The study findings were published in the JAMA Pediatrics on April 07, 2021.

In recent years, timolol maleate, a nonselective β-adrenergic drug, has been used as a topical agent to treat superficial IHs. Results of previous studies suggest that treatment of IH with topical timolol in the first 2 months of life (early proliferative phase) may prevent further growth and the need for treatment with oral propranolol. However, no studies have determined whether beginning early treatment with timolol for IH is better than in other proliferative stages. Therefore, researchers of Spain conducted a study to evaluate the efficacy and safety of timolol maleate solution, 0.5%, for the early treatment of IH in infants younger than 60 days.
It was a multicenter, randomized, double-blind, placebo-controlled, phase 2a pilot clinical trial of 69 patients aged 10 to 60 days with focal or segmental hemangiomas (superficial, deep, mixed, or minimal/arrested growth). The researchers randomly assigned the patients to treatment with topical timolol maleate solution, 0.5% (n=26), or placebo (n=31) twice daily for 24 weeks. They evaluated the changes in lesion size (volume, thickness) and colour from photographs taken at 2, 4, 8, 12, 24, and 36 weeks. They also recorded vital signs and adverse effects at each visit. The major outcome assessed was complete or nearly complete IH resolution. They also assessed for changes in lesion thickness, volume, and colour.
Key findings of the study were:
Among 69 patients, the researchers observed that 51 (74%), 11 (16%), 6 (9%), and 1 (1%) had superficial, mixed, abortive, or deep IHs, respectively.
They noted that the IHs were localized in 60 patients, segmented in 7 patients, and indeterminate in 2 patients.
They mentioned that the IHs were located on the head and/or neck (n = 23) or other body sites (n = 46).
Upon analysis, the researchers found no significant differences between timolol (n = 11 [42%] ) and placebo (n = 11 [36%]) for complete or nearly complete IH resolution at 24 weeks.
They noted that the odds ratio of complete or almost complete response vs no response at week 24 was 1.33.
They also found no between-group differences in IH size (volume, thickness).
However, they observed an improvement in colour was observed at week 4 in the timolol group.
They reported that timolol was well tolerated with no systemic adverse effects.
The authors concluded, " In this randomized clinical trial, results demonstrated that topical timolol is well tolerated for the treatment of early proliferative IH but provides limited benefit in lesion resolution when given during the early proliferative stage."
For further information:
https://jamanetwork.com/journals/jamadermatology/fullarticle/2778172
Article Source :
JAMA Pediatrics