PGIMER Pulmonary Medicine Professor to head American Society of Clinical Oncology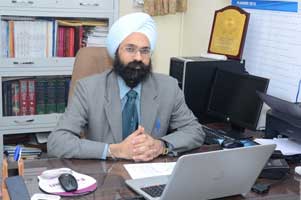 Chandigarh: Bringing pride to the indian medical fraternity a professor at Postgraduate Institute of Medical Education and Research (PGIMER), has been invited to head the IDEA Working Group of the American Society of Clinical Oncology (ASCO), a professor attached to one of the premier medical institutes in India
Dr Navneet Singh, Additional Professor in the Department of Pulmonary Medicine took over as the chair at the 54th annual meeting of the ASCO held in the first week of June at Chicago, USA, as per a recent report in The Tribune. He will hold this position for two years.
Dr Navneet Singh completed his MBBS in 1997 from Government Medical College, Chandigarh and MD (Medicine) in 2001 from Christian Medical College, Ludhiana.
Dr Singh leads the multidisciplinary Thoracic Oncology group at the PGIMER and specialises in thoracic medical oncology, especially targeted therapies and immunotherapy, for advanced/metastatic non-small cell lung cancer (NSCLC).
The doctor has more than 120 publications in peer-reviewed international and national journals and has served as a reviewer for several journals (including the New England Journal of Medicine). Dr Singh has been a recipient of several awards and honours for his research in the area of lung cancer, including the Kamal Satbir Award of the Indian Council for Medical Research (ICMR) in 2014.
ASCO is a diverse network of nearly 45,000 oncology professionals. The association aims at providing the highest-quality resources in education, policy, the pioneering of clinical research, and above all, advancing the care for patients with cancer.