Experimental drug shows significant, meaningful improvement in schizophrenia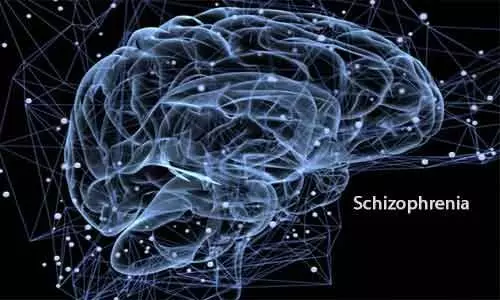 Researchers have reported the successful results of a clinical trial testing an experimental drug that represents a new class of psychotropic agent for the treatment of psychosis in schizophrenia.The drug is different from any other existing anti-psychotic medication, and is without many of their negative side effects.
The new study has been published in The New England Journal of Medicine.
The latest experimental anti-psychotic drug that has reported positive results is called SEP-363856. The new oral compound doesn't target D2 receptors, but instead activates a pair of different neural receptors, known as TAAR1 and 5-HT1A.
SEP-363856 was granted Breakthrough Therapy status by the FDA in early 2019.A large clinical trial is underway though a full market approval for the experimental drug may be several years away.
The clinical trial recruited nearly 250 subjects who were suffering from an acute bout of psychosis. The cohort was randomly and blindly split into active and placebo groups, receiving one daily dose of the drug for four weeks.
Efficacy in the trial was calculated using a scale called the Positive and Negative Syndrome Scale (PANSS). The scale ranges from 30 to 210, and the mean score for subjects in the trial experiencing acute psychosis was 101. After the four-week trial the average PANSS score for those in the active treatment group had dropped by 17.2 points, compared to an average drop in the placebo group of 9.7.
In this study, once-daily, flexible-dose (50-75 mg) treatment with SEP-363856 demonstrated a statistically significant and clinically meaningful improvement in the Positive and Negative Syndrome Scale (PANSS) total score compared to placebo after four weeks of treatment (-17.2 vs. -9.7, respectively; p=0.001). Patients treated with SEP-363856 also showed improvement in the overall severity of illness as assessed by the Clinical Global Impression Scale - Severity (CGI-S) (p<0.001). In addition, improvement was observed in all major PANSS (positive, negative and general psychopathology) subscales (p<0.02). SEP-363856 was well tolerated throughout the study and the overall discontinuation rate was comparable for SEP-363856 and placebo.1
"These data represent an exciting step forward in schizophrenia research. The steps that led to identifying this new mechanism of action, targeting TAAR1, were very novel and they reflected a courageous and innovative approach by Sunovion to identifying new ways to treat schizophrenia," said John Krystal, M.D., Chair of Psychiatry and Co-Director, Yale Center for Clinical Investigation at Yale School of Medicine and co-author of the NEJM publication. "For the last 60 years, antipsychotics that bind to dopamine receptors have been the standard of care, despite their side effect profile. It is my hope that these results for SEP-363856 support a new schizophrenia treatment for people who have been diagnosed with this serious mental health condition. SEP-363856 could have a big impact on people with schizophrenia, their families, and on the public health burden posed by schizophrenia."
For further reference log on to:
DOI: 10.1056/NEJMoa1911772
Source: Sunovion
Source : The New England Journal of Medicine