CDC confirms first case of person-to-person transmission of coronavirus in US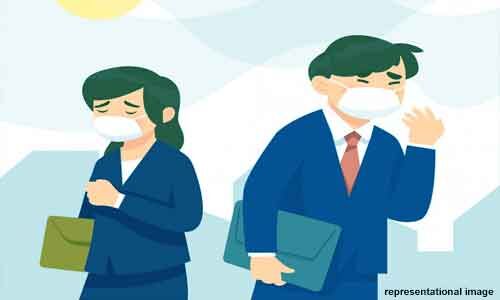 USA: The CDC has confirmed person-to-person transmission of the 2019 Novel Coronavirus (2019-nCoV) in the US, representing the first such case of the person-to-person spread of the virus here in the US. The virus has already been reported to kill at least 171 people in China and infected more than 8,200 since its emergence in December 2019.
In this latest case, a Chicago man in his 60s with no history of travel to Wuhan, China has been affected by the virus through his wife who had tested positive for 2019-nCoV after returning from Wuhan. For now, both the patients are said to be in stable condition.
Previously, all confirmed U.S. cases had been associated with travel to Wuhan, China, where an outbreak of respiratory illness caused by this novel coronavirus has been ongoing since December 2019. Recognizing early on that the 2019-nCoV could potentially spread between people, CDC has been working closely with state and local partners to identify close contacts of confirmed 2019-nCoV cases. Public health officials identified this Illinois resident through contact tracing.
"Given what we've seen in China and other countries with the novel coronavirus, CDC experts have expected some person-to-person spread in the US," said CDC Director Robert R. Redfield, M.D. in a press release. "We understand that this may be concerning, but based on what we know now, we still believe the immediate risk to the American public is low."
Limited person-to-person spread with 2019-nCoV has been seen among close contacts of infected travelers in other countries where imported cases from China have been detected. The full picture of how easily and sustainably the 2019-nCoV spreads is still unclear. Person-to-person spread can happen on a continuum, with some viruses being highly contagious (like measles) and other viruses being less so.
Coronaviruses (nCoV) are a large family of viruses that cause illness ranging from the common cold to more severe diseases such as Middle East Respiratory Syndrome (MERS-CoV) and Severe Acute Respiratory Syndrome (SARS-CoV). A novel coronavirus is a new strain that has not been previously identified in humans. Common signs of infection include respiratory symptoms, fever, cough, shortness of breath and breathing difficulties. In more severe cases, the infection can cause pneumonia, severe acute respiratory syndrome, kidney failure, and even death. CDC has been proactively preparing for the introduction of 2019-nCoV in the U.S. for weeks, including:
First alerting clinicians on January 8 to be on the look-out for patients with respiratory symptoms and a history of travel to Wuhan, China.
Developing guidance for preventing 2019 novel coronavirus (2019-nCoV) from spreading to others in homes and communities.
Developing guidance for clinicians for testing and management of 2019-nCoV, as well as guidance for infection control of patients hospitalized or being evaluated by a health care provider.
It is likely there will be more cases of 2019-nCoV reported in the U.S. in the coming days and weeks, including more person-to-person spread. The best way to prevent infection is to avoid being exposed to this virus. Right now, 2019-nCoV has not been found to be spreading widely in the United States, so CDC deems the immediate risk from this virus to the general public to be low. However, the risk is dependent on exposure, and people who are in contact with people with 2019-nCoV are likely to be at greater risk of infection and should take the precautions outlined in CDC's guidance for preventing spread in homes and communities.
For the general public, no additional precautions are recommended at this time beyond the simple daily precautions that everyone should always take. It is currently flu and respiratory disease season, and CDC recommends getting vaccinated, taking everyday preventive actions to stop the spread of germs, and taking flu antivirals if prescribed. Right now, CDC recommends travelers avoid all nonessential travel to China.
For travel health information, visit https://wwwnc.cdc.gov/travel/notices/watch/pneumonia-china.
Source : CDC