Treatment of Sleep Apnea with CPAP lowers risk of cardiovascular events: Study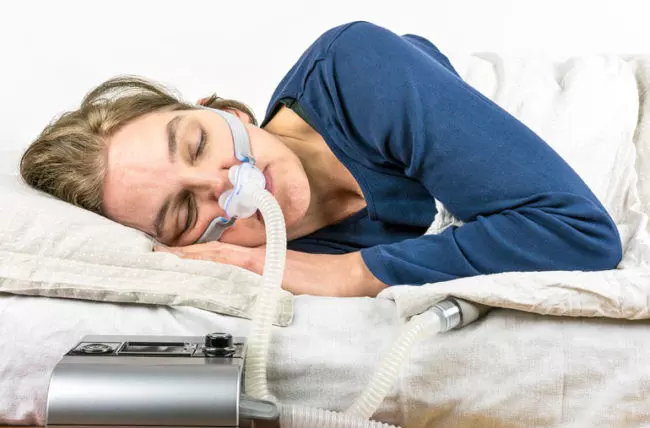 Management of Obstructive Sleep Apnea lowers the risk of such CVD outcomes suggests a peer-reviewed study published in the Clinical Correlations.

In recent years, Obstructive sleep apnea (OSA) is an emerging disorder that has well-defined linkages with cardiovascular disease. Obstructive sleep apnea (OSA) currently affects around 20–30% of males and 10–15% of females in North America. Additionally, to the male gender, other risk factors for OSA include obesity, older age, and hypertension.
The most common treatment for obstructive sleep apnea (OSA) is CPAP. Untreated OSA has been linked with an increased risk of cardiovascular morbidity and mortality. Numerous physiologic determinants have been implicated in this association.
In this study, author Rubinfeld G went through previous researches to evaluate the association between obstructive sleep apnea and cardiovascular events. This study was peer-reviewed by Dr. Nishay Chitkara.
The author went through a recent meta-analysis of observational studies corroborated these findings, noting a hazard ratio (HR) of 0.37 for cardiovascular mortality in CPAP treated patients compared to untreated patients. But he noted that these studies are marred by their lack of randomization and hence the patients compliant with CPAP may have enjoyed their cardiovascular benefit from any number of downstream effects of their general aptitude towards making healthy lifestyle choices (the healthy user bias) rather than from CPAP alone.
Additionally, the author pointed out that the positive results from these observational studies were not borne out in larger randomized controlled trials (RCTs). A multicentre study out of Spain randomized 725 patients with moderate to severe OSA (but no daytime sleepiness or history of cardiovascular disease) to receive either CPAP or no intervention.21 After a median follow up of 4 years, the trial demonstrated that there was no significant difference in cardiovascular events between groups. Only a post hoc analysis of patients who used CPAP for 4 hours per night or longer suggested.22 that CPAP was associated with a reduction in the incidence of adverse cardiovascular outcomes.
After reviewing a significant amount of data, the author concluded that typical use of CPAP does not ameliorate the risks of fatal and nonfatal cardiovascular events in patients with Obstructive Sleep Apnea (OSA), though it may reduce symptoms of daytime sleepiness and snoring. Subgroup analyses of patients wearing CPAP over 4 hours per night suggest that CPAP may lower cardiovascular events; however, these findings are subject to significant bias.
Reference:
Does CPAP ameliorate the risk of cardiovascular events in patients with obstructive sleep apnea? By Gregory Rubinfeld peer-reviewed by Dr. Nishay Chitkara published in the Clinical Correlations.
https://www.clinicalcorrelations.org/2019/02/01/does-cpap-ameliorate-the-risk-of-cardiovascular-events-in-patients-with-obstructive-sleep-apnea/
Source : Clinical Correlations