Battling Lower Respiratory Tract Infections: Scope of Levofloxacin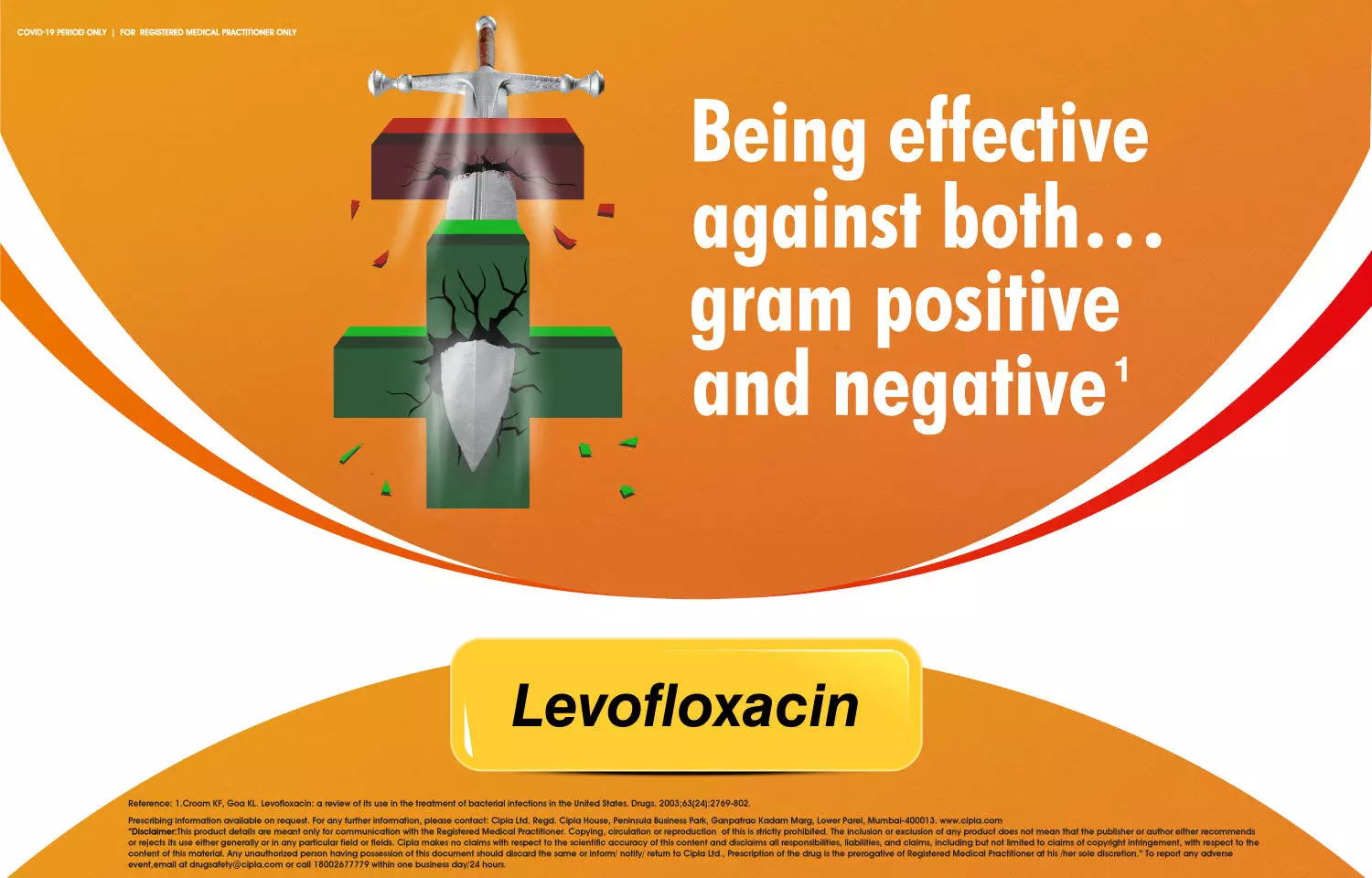 Fluoroquinolones are highly effective antibiotics with many advantageous pharmacokinetic properties including high oral bioavailability, a large volume of distribution, and broad-spectrum antimicrobial activity. Levofloxacin is a broad-spectrum, third-generation fluoroquinolone antibiotic, used to treat bacterial infections. Levofloxacin is a safe and effective medicine on the World Health Organization's essential medicines list (1).
Lower respiratory tract infections (LRTI) are a major cause of morbidity and mortality. Community-acquired pneumonia (CAP), Hospital-acquired pneumonia (HAP), Acute Exacerbations of Chronic Bronchitis (AECB) are among the most commonly encountered LRTIs (2).
Pharmacodynamics:
Levofloxacin is the synthetic L-isomer of the racemic quinolone ofloxacin. It interferes with critical processes in the bacterial cell, such as DNA replication, transcription, repair and recombination, by inhibiting type II topoisomerases (3). Levofloxacin is active against a broad range of Gram-positive (+), Gram-negative (-), and atypical bacteria that may be causative pathogens in AECB, CAP and HAP (3) The bactericidal activity of levofloxacin is concentration-dependent and the minimum bactericidal concentration (MBC) of levofloxacin was < 4 x MIC against the majority of isolates for several causative pathogens of LRTI (2).
Following oral administration, levofloxacin is quickly absorbed and shows linear pharmacokinetics over the single and multiple-dose (once daily) range for approved regimens. The absolute bioavailability of oral levofloxacin is 99% and the oral solution or tablet formulations and intravenous formulation are bioequivalent (5). Levofloxacin is eliminated mainly through the kidneys 75%-87% of the dose excreted being unchanged in the urine within 48-72 hours of administering oral levofloxacin 500 or 750 mg. After single or multiple doses of oral or intravenous levofloxacin 750 mg the mean terminal plasma elimination half-life is 7.5-8.8 hours in pharmacokinetic studies (2).
Mechanism of action
Fluoroquinolones directly inhibit bacterial DNA synthesis. All fluoroquinolones bind to complexes of DNA with each of two enzymes that are essential for DNA replication, DNA gyrase and DNA topoisomerase IV, and this binding generates DNA cleavage. The potency with which fluoroquinolones inhibit one enzyme or the other varies among bacterial species. In general, fluoroquinolone generation of DNA cleavage complexes results in cessation of DNA replication, DNA damage, and ultimately cell death (6).
Spectrum of activity
Levofloxacin has a broad spectrum of antibacterial activity that encompasses numerous Gram(+) and Gram(-) aerobes and atypical bacteria (Mycoplasma pneumonia. Chlamydia pneumoniae and Legionella pneumophila). It provides clinical and bacteriological efficacy in a range of infections, including those caused by both penicillin-susceptible and -resistant strains of S. pneumoniae (7). Levofloxacin has also variable activity against Staphylococcus Aureus (8).
Levofloxacin has good in vitro activity against Gram negative bacteria including the common respiratory tract pathogens Haemophilus influenzae, Haemophilus parainfluenzae and Moraxella catarrhalis. It was also highly active against b-lactamase negative and positive isolates of H. influenzae and M. catarrhalis (9).
CAP: The efficacy of levofloxacin for the treatment of CAP has been studied extensively. The study enrolled patients with CAP who were admitted to hospital, S. pneumoniae. Legionella sp. H influenzae and S. aureus were the primary causative pathogens. The American Thoracic Society and Infectious Diseases Society of America. (ATS and IDSA) guidelines recommend respiratory fluoroquinolone monotherapy or b-lactam plus macrolide combination therapy for patients admitted to the hospital with CAP based on improved patient survival (10). The guidelines, recommend the use of intravenous or oral levofloxacin 750 mg once daily or 500 mg twice daily CAP in hospitalized adults and especially severe CAP. Finally, levofloxacin is almost 100% orally bioavailable, meaning hospitalized CAP patients can be discharged on the same antibacterial dose they received in the hospital (11).
HAP: The ATS/IDSA guidelines for the treatment of HAP recommend the use of an antipseudomonal fluoroquinolone, levofloxacin 750 mg daily in combination therapy for HAP with risk factors for Multi-Drug Resistance (MDR) pneumonia. In the management of Ventilator-associated pneumonia (VAP), the patient has to be treated promptly with appropriate and adequate antibiotic therapy (12). Levofloxacin demonstrates good safety, bioavailability, and tissue penetration, thus maintaining adequate concentrations at the site of infection. High-dose (750 mg), short-course (5 days) therapy regimens may offer improved treatment, especially in HAP, due to higher drug concentrations, increased adherence, and the potential to reduce the development of resistance (13).
AECB: It is estimated that 50-70% of AECB are caused by bacterial infections (14). In patients admitted to hospital with AECB, H. influenzae and S. pneumoniae are the most common infective pathogens. In patients with AECB, as lung function worsens, there is an association with a higher rate of pathogens such as Enterobacteriaceae and Pseudomonas spp. that would put the patient at risk. Levofloxacin is used as first-line treatment in patients with comorbidity, severe airway obstruction, or recurrent exacerbations. The clinical efficacy of levofloxacin as treatment of AECB has been evaluated in at least 5 trials (15).
Resistance
Resistance to Levofloxacin may occur via mutations in bacterial chromosomal genes or via the acquisition of resistance genes on plasmids.
Mutations in chromosomal genes occur in genes that encode the subunits of DNA gyrase and topoisomerase IV or that regulate the expression of cytoplasmic membrane efflux pumps (16).
Major plasmid-mediated resistance mechanisms include Qnr proteins, which protect DNA gyrase and topoisomerase IV from quinolone activity (17).
Adverse effects
The primary adverse effects of levofloxacin include photosensitivity, nausea, diarrhea, headache, tendinitis, tendon rupture, hyper-hypoglycemia, seizures, prolonged QT interval, and peripheral neuropathy (18). Older patients, those patients taking corticosteroids and with kidney, heart, or lung transplants are at increased risk of severe tendon disorders. Research has determined that prolonged use of levofloxacin is associated with an increased risk of fungal or bacterial superinfection (e.g., pseudomembranous colitis). Due to the increased risk of hepatotoxicity, patients should be educated on signs or symptoms of liver injury so they can discontinue treatment (19).
Guidelines
Clinical practice guidelines approved by the ATS 2019 and the IDSA 2019 suggest treatment in non-severe and severe inpatient pneumonia patients with b-Lactam + macrolide or respiratory fluoroquinolone as standard treatment. Treatment with Levofloxacin 750 mg per day either as IV or oral route is suggested (10).
Patients with HAP are treated with Levofloxacin for Gram-Negative coverage with antipseudomonal activity in combination (12).
Summary
Fluoroquinolones are bactericidal antibiotics with many advantageous pharmacokinetic properties including high oral bioavailability, a large volume of distribution, and broad-spectrum antimicrobial activity.
Resistance to fluoroquinolones is growing worldwide and is commonly reported in most target bacteria, with the exceptions of S. pneumoniae, H. influenzae, and M. catarrhalis.
Fluoroquinolones should generally be avoided in pregnant women, lactating women, and children unless a safer alternative is not available. This avoidance is due to the potential for musculoskeletal toxicity in developing fetuses and children.
The most common adverse effects are mild and involve the gastrointestinal tract (e.g., nausea) and central nervous system (e.g., headache and dizziness). Less common but potentially severe adverse effects include QT interval prolongation, tendinopathies.
References


Bush LM, Chaparro-Rojas F, Okeh V, Etienne J. Cumulative clinical experience from over a decade of use of levofloxacin in urinary tract infections: critical appraisal and role in therapy. Infect Drug Resist. 2011; 4:177-89

Noreddin AM, Elkhatib WF, Cunnion KM, Zhanel GG. Cumulative clinical experience from over a decade of use of Levofloxacin in community acquired pneumonia: critical appraisal and role in therapy. Drug health Patient Saf. 2011;3:59-68.

Vanessa R. Anderson and Caroline M. Perry. Levofloxacin. A Review of its Use as a High-Dose, Short-Course Treatment for Bacterial Infection. Drugs 2008; 68 (4): 535-56

Schito GC, Varaldo PE Nicoletti G. Activity of levofloxacin on respiratory pathogens: results of the SEMPRE Italian Study (2000-2002), ICAAC, Chicago, 2003.

Levaquin (levofloxacin tablets, oral solution, injection): US prescribing information. Raritan (NJ): Ortho-McNeil Pharmaceutical, Inc. 2008 Jan

Drlica K, Zhao X. DNA gyrase, topoisomerase IV, and the 4-quinolones. MicrobiolMolBiol Rev. 1997;61(3):377.

Croom KF, Goa KL. Levofloxacin: a review of its use in the treatment of bacterial infections in the United States. Drugs. 2003;63(24):2769-802. doi: 10.2165/00003495-200363240-00008. PMID: 14664657

Frei CR. Burgess DS. Pharmacodynamic analysis of ceftriaxone, gatifloxacin, and levofloxacin against Streptococcus pneumoniae with the use of Monte Carlo simulation. Pharmacotherapy 2005 Sep: 25 (9): 1161-7

Kitzis MD, Goldstein FW, Miegi M, Acar JF. In-vitro activity of levofloxacin, a new fluoroquinolone: evaluation against Haemophilus influenzae and Moraxella catarrhalis. J AntimicrobChemother. 1999 Jun;43Suppl C:21-6. doi: 10.1093/jac/43.suppl_3.21. PMID: 10404333.

Joshua P. Metlay,Grant W. Waterer, Ann C. Long, et.al, Diagnosis and Treatment of Adults with Community-acquired Pneumonia. An Official Clinical Practice Guideline of the American Thoracic Society and Infectious Diseases Society of America. Am J RespirCrit Care Med Vol 200, Iss 7, pp e45–e67, Oct 1, 2019

Frei, C.R., Labreche, M.J &Attridge, R.T. Flouroquinolones in Community Acquired Pneumonia. Drugs71, 757-770 (2011).

Kalili A, Metersky M, Klompas M, et al. Management of adults with hospital-acquired and ventilator-associated pneumonia: 2016 clinical practice guidelines by the Infectious Diseases Society of America and the American Thoracic Society. Clin Infect Dis. 2016;63(5):e61-e111.

Torres A, Liapikou A. Levofloxacin for the treatment of respiratory tract infections. Expert OpinPharmacother. 2012 Jun;13(8):1203-12. doi: 10.1517/14656566.2012.688952. PMID: 22594848.

Gotfried MH, Grossman RF. Short-course fluoroquinolones in acute exacerbations of chronic bronchitis. Expert Rev Respir Med. 2010 Oct;4(5):661-72. doi: 10.1586/ers.10.52. PMID: 20923343.

Rafael Canton, HarmutLodeb. Wolfgang Graninger, Gary Milkovich. Respiratory tract infections: at-risk patients, who are they? Implications for their management with levofloxacin. International Journal of Antimicrobial Agents 285 (2006) S115-S127

Hooper DC. Mechanisms of fluoroquinolone resistance. Drug Resist Updat. 1999;2(1):38.

Fish DN. Fluoroquinolone adverse effects and drug interactions. Pharmacotherapy. 2001 Oct;21(10 Pt 2):253S-272S. doi: 10.1592/phco.21.16.253s.33993. PMID: 11642691.

Zhang L, Wei MJ, Zhao CY, Qi HM. Determination of the inhibitory potential of 6 fluoroquinolones on CYP1A2 and CYP2C9 in human liver microsomes. ActaPharmacol. Sin. 2008 Dec;29(12):1507-14.

Ball P. Efficacy and safety of levofloxacin in the context of other contemporary fluoroquinolones: a review. CurrTher Res Clin Exp. 2003 Nov;64(9):646-61. doi: 10.1016/j.curtheres.2003.11.003. PMID: 24944413; PMCID: PMC4053061.