Pune: a batch of pentavalent vaccine banned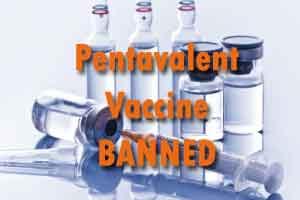 After a reported incident of a two-month old baby girl dying in Ratnagiri district in Pune in December last year following vaccination, the state health department has banned a particular batch of pentavalent vaccine. The reported incident happened in the month following the launch.

This batch of vaccine was launched only in November 2015, is currently under investigation by the health department. The Adverse Effects Following Immunisation (AEFI) committee will be looking in to the matter, and identify the cause of the child's death.

In a statement by a health official it is implied that infant deaths are coincidental, and some more co-factors linked to them. The issue can be further investigated by the AEFI team at the district level.

AEFI can connote different causes for the death including various reasons such as bad vaccine quality due to break in the cold chain, contamination and complications because of pre-existing conditions in the child.

Commenting on the issue, Archana Patil, additional director, State Family Welfare Bureau is implied to have said that vaccines from the batch should not be further administered by the health care units, till the matter is factually established. We are also concerned about the fact that the vaccination of the pentavalent vaccine is prevalent all across the state.

As reported by TOI, "We have sent 10 vialsrom the particular batch to the designated laboratory a Kasauli for analysis. We have directed health officials to stop its use forthwith. Vacci nes from the batch were sen to Nagpur, Akola, Auranga dad, Latur, Nashik, Kolha pur, Pune and Thane," said a state health official. The baby girl was administered the vaccine at the state's healthcare unit at Kolthar village in Dapoli taluka of Ratnagiri district on December 9. "The girl was vaccinated at 10am and she died around 6.50 pm the same day," said a health official from Ratanagiri.

Infant deaths following immunization have been steadily rising in Maharashtra.The health department's report released in May last year pegs infant deaths after immunization in 2009-10 at 33, up from 26 and 15 in 2008-09 and 2007-08 respectively.

The Union health ministry's statistics obtained under the RTI Act shows that 128 children died in 2010 in the country due to AEFI. That count has increased in the past three years. Calling vaccines safe, paediatricians claimed that side-effects like mild fever were common.

Adverse reactions occur in one out of 10 to 20 million doses globally, they added.