Punjab: Doctor caught in Medical Certificate Controversy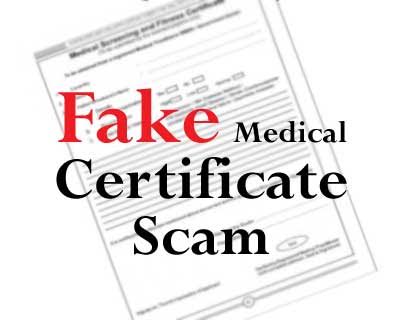 Officials at the Panjab University were in for a shocker, when in a span of mere 8 days, nearly 800 students at the university produced medical certificates that required them take bed rest from 5-40 days, as a proof of their inability to attend the classes at the university.
Ironically, majority of these certificates trace back to a single medical practitioner in Sector 34, Chandigarh. It is being alleged that the concerned doctor, identified by HT as one Dr R Gupta, used to take Rs 2000 per medical certificate, if apologies given by students are to be believed.
Dr Devinder Dhawan, the on-campus CMO of the University at Bhai Ghanaiya Ji (BGJ) Institute of Health, confirmed this, "We have received medical certificates in bulk from the same doctor, and some of them seem to be fictitious."
It is reported that any student who wants to cite medical reasons for absence has to submit certificates, if issued by off-campus doctors, to the CMO.
The certificates range in their disease criterias including fever, cough, muscle pull, minor injury by road accident, and even jaundice. Some of the certificates don't make much clinical sense, with 15 days of bed rest being advised for viral fever, while only five days of rest for a disease like typhoid.
When contacted Dr Gupta denied having issued any medical certificate and attributed this to the shenanigans of the staff.


"Around 1,000 letterheads are always lying in my laboratory; my staff must have misused those. I keep scolding them," he said, and added, "Also, anybody can get a stamp made for, say, Rs 500 in my name. "


The doctor also pointed out he runs a diagnostic clinic and had stopped issuing medical certificates long time ago.
Possibility of a Racket
Names of other medical practitioners have also come out in this scandal.
Many certificates were on the letterhead of 'Dr Anupam Jindal, NINS Brain and Spine Hospital, Sector 34', with Dr R Gupta's name-stamp on it. Dr Jindal, who works for a leading private hospital, told HT, "It's been over two years that our hospital closed down, and we never had a colleague named R Gupta. This shows our letterheads were stolen. We will move the police."
Another medical certificate came out along with a discharge summary from Fortis Hospital, SAS nagar with a stamp of one Dr Manuj Wadhwa being the primary consultant. The doctor, however had left Fortis in 2012.
Commenting on it, chief medical officer (CMO), PU, Dr Devinder Dhawan said, "Fortis has been conducting a medical camp on the campus and this is how we confirmed that Dr Manuj, whose stamp has been used on the medical certificate, had left Fortis a couple of years back to join Max Hospital."
PROBE ordered
The university has ordered an
enquiry
,while denying the students who furnished the medical certificates from taking exams.
This is not the first time such a case has come to light, according to PU dean for university instructions (DUI), AK Bhandari, who said, "We reported such a case and complained to the Medical Council of India (MCI). We will get an inquiry done by our CMO." "I had submitted a fake medical certificate issued by Dr R Gupta. He took Rs 2,000," reads the apology letter by a 6th-semester student of BCom-LLB.