Punjab: Government pegs worth of a MBBS doctor at Rs 15,600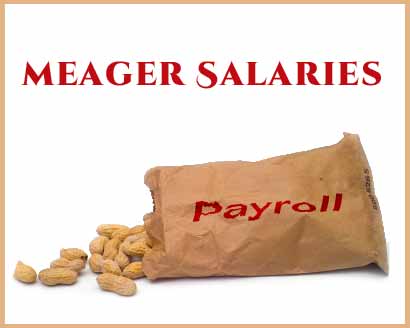 Punjab: The field of Medicine is supposed to be one of the most coveted fields for a young student. Lakhs of students sit for entry towards the MBBS exams and becoming a part of the glorified field of doctors. One assumes that becoming a doctor would allow a person to serve the society in a dedicated manner without having to worry about other things   Little do they know, the monetary struggle awaits them immediately after clearing their studies.
Such struggle is clearly evident with the policies of Punjab government that provide a meager starting salary of Rs 15600 per month to an MBBS doctors which is paid for a duration of  two years of probation.
Obviously, this offer of Punjab Health Department of meager Rs 15600 per month and 2 years probation for the post of Medical Officers has found few takers. The doctors have clearly objected, pointing out the pay to be too low for the bare sustenance of qualified medical professional.
Its been almost a year since the Punjab government came out this new scheme, that Rs 15,600 as the initial salary for the two-year probation period for MBBS doctors. Since then a little over 400 Medical Officers have been recruited.
The government advertised for position of 404 doctors last year but off the selected 100 refused to join. Recently 345 offers had been made, but yet again 95 didn't join reports HT.
"How can we expect the MBBS pass-outs to survive on a paltry sum of Rs 15,000. Money is too meager, especially considering the fact that most of these doctors are posted far away from their native places," said Dr Gagandeep Singh, president of the PCMS Association told
HT
. The association also ogranised a Strike protesting the said pay on 3rd of May, 2016
The doctors had demanded the government to do away with the probation period of two years. Instead, it is reported that while facing the severe shortage of doctors, government is not planning to increase the probation to three years. This is expected to be applicable to the already appointed Medical officers as well
There exists a stark difference in the salaries given during the probation period and thereafter. While a regular medical officer in Punjab earns about Rs 61500, a probational medical officer is only offered, Rs 15,600.
Currently, there exists a high shortage of doctors in the state, particularly to work in rural areas as well as specialist positions. HT reports there exists a 23% shortfall for the posts of specialists. Not a single candidate turned up at a walk-in interview for 41 posts of radiologists and 28 that of psychiatrists last month. Against the 111 posts of pediatrician and 49 that of medicine advertised by the government, only one selection was made in each category. Only seven of the total 47 posts advertised for anesthetists could be filled up during the drive, besides six surgeons against 43 posts, seven gynaecologists against 19 posts and three orthopedics against 13 posts were selected.
It is reported, that given the non-joining of doctors, although  principal secretary, health, Vini Mahajan wrote to the finance department, seeking nod to allow recruitment of doctors at full salary. The finance department, however, rejected the plea for the post of MOs, while permitting recruitment of specialists at full pay-scale.