Punjab Govt, PGIMER join hands to promote Artificial Intelligence in Health Sector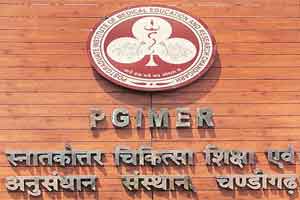 Chandigarh:
Focusing on the institutional strength of the region to meet the challenges of 'Artificial Intelligence' sector, the Punjab Government and Post Graduate Institute of Medical Education and Research (PGIMER) have agreed to jointly promote the AI in the Health Sector.
Disclosing this here on Tuesday, the Principal Secretary Science, Technology and Environment Rakesh Verma said that the AI was an efficacious mechanism to address health related issues referring AI as the latest and most powerful 4th Industrial revolution after the earlier three revolutions of coal & steam, electricity, electronics and computers, which brought phenomenal transformation in the global development.
Also read:- Budgetary allocation in Health Sector is INADEQUATE: IMA
He emphasized that the institutional strength of Medical Device Hub at PGI, high end instrumentation and expertise at IIT Ropar, Centre of Excellence at Software Technology Parks of India (STPI) Mohali on AI for startups, etc to meet the emerging requirements of this sector. Further, Global Innovation Hub and Lifesciences Park being set up at Mohali will also have special focus to promote AI and Medical Devices, he added.
Presenting details about recently launched Mission Innovate and Mission Tandrust Punjab 2.0, he highlighted the significance and role of AI to scientifically and more accurately deal with the highly complex health related problems.
Also read:- Budget 2019: Rs 62,398 crore outlay for health sector; Rs 6,400 crore earmarked for AB-PMJAY
He also pointed out that India's per capita expenditure on healthcare and medical devices was far below against the global average and currently 70–75 pc medical devices were being imported.