Punjab health officials seal illegal drug de-addiction centre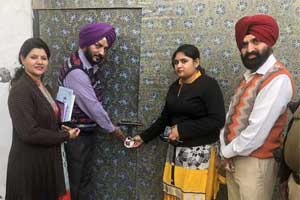 Phagwara:  A high-level team of health officials on Tuesday raided and sealed an illegal drug de-addiction centre being run in the name of "Santulan Foundation Drug Counselling and Rehabilitation Centre" on the Phagwara bypass.
Talking to UNI during the raid Kapurthala Civil Surgeon Dr Balwant Singh said that the centre was being run without a valid license since June 6, 2014, and former Civil Surgeon in his letter dated March 17, 2017, also recommended the higher authorities not to renew the license of the Centre.
Twenty-six persons, including 21 patients and five said to be staff members who had been confined in the centre in an unhygienic condition here for the past several months, were released and sent to Drugs De-Addiction Centre in Phagwara Civil Hospital, the Civil Surgeon said.
However, the CMO said they have hired a BAMS doctor and a retired Senior Medical Officer for the centre. How they counsel addicts, he asked. Moreover, the centre was being run in unhygienic conditions, he added.
The Civil Surgeon said he would recommend to the Principal Secretary Health and Director, Health Services to take stern legal action against the owners of the Centre.
Notably, former Civil Surgeon Dr Harpreet Singh Kahlon raided this Centre on July 11 last year and then the police arrested an employee, Sunil Kumar, and booked 12 persons, including foundation chairman Rajesh Chauhan of Paharganj (Delhi) and Bhupindervir Singh of Raipur Ballan, Shanak Puri of Vijay Nagar (Delhi), Rahul Grover of Amritsar, Mohammad Yamin of Delhi, Naresh Kumar of Gurugram, Sansaar Pal of Meerut, Vinod Kumar of Rajasthan, Amit Jha of Bihar, Ranjeeta Thomas of Bangalore and Sabita of West Bengal under Sections 342/34 and 120-B of the Indian Penal Code for running a de-addiction centre illegally.