................................ Advertisement ................................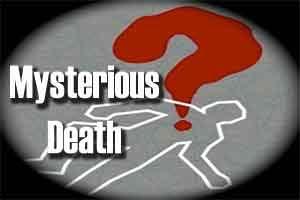 Puri: Wife of a railway based medical practitioner was mysteriously found dead in a pool of blood in her official residence in the railway quarter.
The deceased woman was identified as 47-year old wife of one Dr Sahu who has been working in Railway as chief assistant medical superintendent (SCMS) for the last five years.
According to the media report, Dr Sahu left for the work and their son too left for the school leaving the wife alone in the house. They both returned home in the afternoon for lunch and rang the door bell several times. When no answer arrived, they jumped the fence to get inside the house. They found the woman lying dead with blood all around having injuries on her head. Dr Sahu immediately informed the sea beach police who reached the spot and recovered the body and also registered a murder case.
The scientific team was involved in the case and the body of the deceased was immediately sent for the autopsy.
Read Also: Odisha Doctor found dead on Railway Tracks
................................ Advertisement ................................
According to the Superintendent of Police, Puri, Sarthak Sarangi, informed Indian Express, "Since there was a deep injury on the back of her head, it is suspected that Sujata may have been hit with a hard object. It seems the motive was not loot and further investigation into the matter is underway."
When Dr Sahu was inquired on the matter, if he suspects anyone for the said incident, he informed that few days back he had a quarrel with a nurse in the hospital.  "I suspect that the nurse and her husband have murdered my wife," Dr Sahu told Orissapost.
When people in the locality were asked on the issue, one of them said that after Dr Sahu and their son left home,  two electricians arrived at around 9:30 am at their house to address the issue of electricity. Sources added that the two electricians left the house 10 minutes after Dr Sahu left for the office, reports Orissapost.
Shagufta Joined Medical Dialogues has been associated as Editor for Education Medical Dialogues since the year 2018.  She is a graduate from Delhi University. She can be contacted at editorial@medicaldialogues.in Contact no. 011-43720751
................................ Advertisement ................................
0 comment(s) on Puri: Wife of railway doctor found dead in mysterious condition