Imaging with PET/CT with Ga-68 tracer helps in accurate staging in cancer patients: Study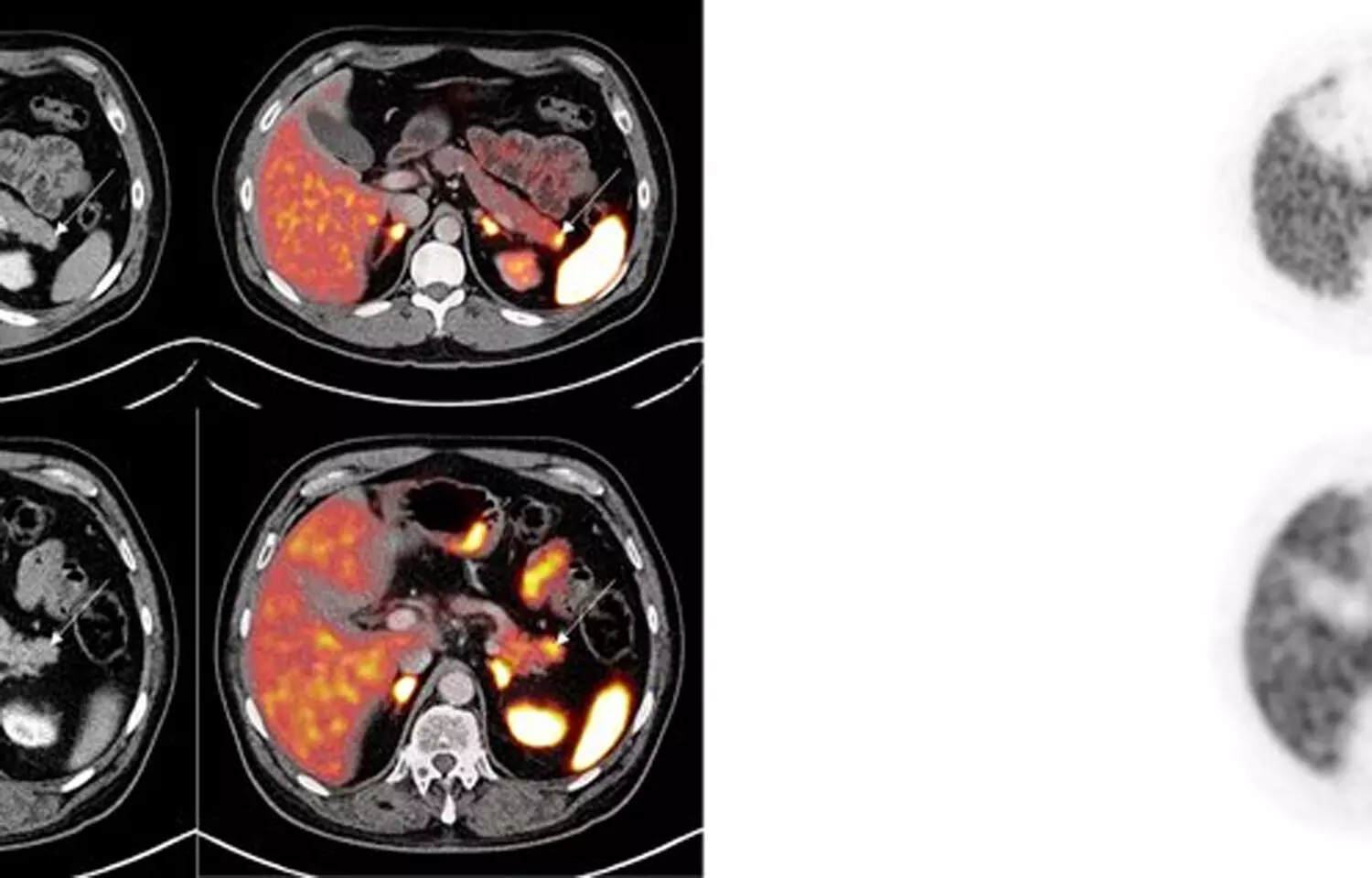 Germany: Attaching gallium-68 (Ga-68) to a fibroblast activation protein inhibitor (FAPI) may help to achieve greater accuracy with PET/CT in staging pancreatic ductal adenocarcinoma (PDAC) patients,finds a recent study. Findings of the study, published in the Journal of Nuclear Medicine, suggests that the clinical value of 68Ga-FAPI - PET/CT should be further investigated.

Early detection and accurate staging are critical to prolonging survival in PDAC -- a highly lethal cancer. PDAC has cancer-associated fibroblasts (CAFs) that expresses FAP -- a new target molecule for PET imaging of various tumors. Manuel Röhrich, University Hospital Heidelberg, Germany; and colleagues in this retrospective study, described the clinical impact of PET/CT imaging using 68Ga-labelled FAP-Inhibitors (68Ga-FAPI - PET/CT) in 19 patients with PDAC (7 primary, 12 progressive/recurrent).

All the patients who were included in this study had undergone enhanced Computed Tomography (ceCT) for TNM staging before being subjected to 68Ga-FAPI - PET/CT imaging. 60 minutes after administration of 150-250 MBq of 68Ga-labelled FAP-specific tracers, PET-scans were acquired. Additional scans after 10 minutes and/or 180 minutes were performed in six patients in order to characterize 68Ga-FAPI-uptake over time. SUVmax and SUVmean values of PDAC manifestations and healthy organs were analyzed. The tumor burden according to 68Ga-FAPI - PET/CT was compared to TNM staging based on ceCT and changes in oncological management were recorded.
Key findings of the study include:
Compared to ceCT, 68Ga-FAPI - PET/CT results led to changes in TNM staging in 10/19 patients. 8/12 patients with recurrent/progressive disease, were up-staged, 1 down-staged and 3 had no change.
In newly diagnosed PDAC, 1/7 patients was up-staged, the staging of 6 patients did not change.
Changes in oncological management occurred in seven patients.
Markedly elevated uptake of 68Ga-FAPI in PDAC manifestations after 1 hour was seen in most cases.
Differentiation from pancreatitis based on static imaging 1 hour p.i. was challenging.
With respect to imaging after multiple time points, PDAC and pancreatitis showed a trend for differential uptake kinetics.
"68Ga-FAPI - PET/CT led to restaging in half of patients with PDAC and most patients with recurrent disease compared to standard of care imaging. The clinical value of 68Ga-FAPI - PET/CT should be further investigated," concluded the authors.
The study, "Impact of 68Ga-FAPI-PET/CT imaging on the therapeutic management of primary and recurrent pancreatic ductal adenocarcinomas," is published in the Journal of Nuclear Medicine.
DOI: http://jnm.snmjournals.org/content/early/2020/10/23/jnumed.120.253062.abstract
Source : Journal of Nuclear Medicine