Rajasthan: 66 Hospitals de-empanelled for fraudulent claims, reinstated within a day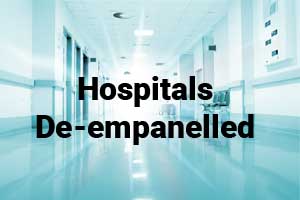 Rajasthan: Over 66 hospitals were de-empanelled from the state run health insurance scheme after the New India Assurance Company (NIAC) suspected the medical facilities of making fraudulent claims. However, within a few hours, the move was ruled back by the state government.
The government had chosen NIAC as the insurer in the state's Bhamashah health insurance scheme in 2015 to offer IPD patients with access to the cashless facility.
At the beginning of this scheme, the premium was Rs 370 per family, but due to very high claims, NIAC raised the premium to Rs 1,263 for the second phase in 2017 — from 90 percent in 2015-16, the claims ratios rose to 176 percent in 2016-17 under the first phase of the scheme. The second phase of the scheme began in December.
From December 2017 to May this year, the insurance claims were escalated from Rs 1.6 crore per day to Rs 3.7 crore. During this period, NIAC has been regularly rejecting claims from those hospitals where it felt the claims were fraudulent.
The managing director of Rajasthan's National Rural Health Mission confirmed the de-empanelment and its cancellation to the Financial Express, "The insurance company did not give any opportunity of hearing to these hospitals" and added that, after its intervention, NIAC is hearing the hospital's side on the action.
Immediately after the move, the joint CEO of the Rajasthan State Health Assurance Agency (RSHAA) sent a mail to NIAC's branch head in Jaipur stating that the de-empanelment was "completely unilateral, arbitrary, mala fide and in clear violation of the provisions of the … agreement" between NIAC and the government.
"De-empanelment is a separate clause and Insurer may initiate the process of de-empanelment irrespective of penalty clause for the hospitals," the mail added.
Soon after, canceling the de-empanelment, the government had said the hospitals shall continue to work as before and till it is satisfied there is a fraud, "all claims submitted by the hospitals shall be honored and shall NOT be rejected on this ground".